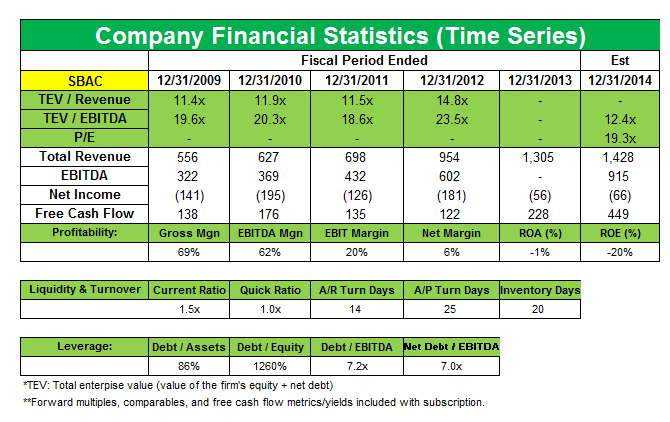 Why did Lone Pine Capital buy a stake in SBA Communications?
SBA Communications Corporation (SBAC) is a brand new 2.11% position initiated by Lone Pine Capital in the last quarter of 2013. SBA is a leading owner and operator of wireless communications infrastructure in North, Central, and South America. The company generates revenue from two primary businesses—site leasing and site development services.
SBA Communications reported a narrower net loss in 4Q 2013 of $19.2 million or $0.15 per share, from $52.5 million or $0.42 per share last year. Total revenues for the fourth quarter rose 14% to $335.40 million from $293.84 million in the year earlier period. Adjusted Funds From Operations (AFFO) increased 21.6% to $1.07 in the fourth quarter of 2013.

Article continues below advertisement
Site leasing revenue of $292.5 million was up 12.1% over the year-ago period driven by organic growth and portfolio growth. Site leasing contributed 96.1% of the company's total segment operating profit in the fourth quarter of 2013. The majority of the revenue came from U.S. and its territories, with approximately 8.6% of total leasing revenue in the quarter coming from international operations. The big four U.S. carriers contributed approximately 90% of SBA's consolidated incremental leasing activity in the quarter.
Site development revenues were up 29.6% to $42.9 million in the fourth quarter of 2013 compared to $33.1 million in the year-ago period, reflecting generally higher activity levels and work mandated to SBA by its Sprint Network Vision contract and T-Mobile 4G agreement. Through the site development business, SBAC assists wireless service providers in developing and maintaining their own wireless service networks.
Article continues below advertisement
In December, the company acquired 2,007 wireless sites in Brazil from Oi SA, one of Brazil's largest telecommunications service providers for $645 million. The sites currently have 1.6 tenants per site (including Oi) and include leases with all of the major wireless carriers in Brazil. This transaction follows SBA's previously announced acquisition of use rights to 2,113 sites from Oi, which closed November 26, 2013. By the end of 2013, SBA owned 20,079 towers that are leased to multiple wireless service providers. The company also managed/leased approximately 4,800 actual or potential towers, approximately 500 of which were revenue producing as of December 31, 2013.
In the U.S. SBA expects to benefit from demand in both leasing and services for the next several years as carriers build out their initial 4G coverage footprints to be followed by capacity spending as consumer adoption increases. Internationally, SBA is seeing strong growth in new cell sites with ongoing 3G coverage builds.
The company expects to execute well against a favorable macro environment, and add quality growth assets via acquisitions. SBA updated its full year guidance and expects revenue of $1,401 million to $1,441 million for 2014. The company competes with other wireless communication tower companies such as American Tower (AMT) and Crown Castle International Corp (CCI), which recently converted to an REIT.