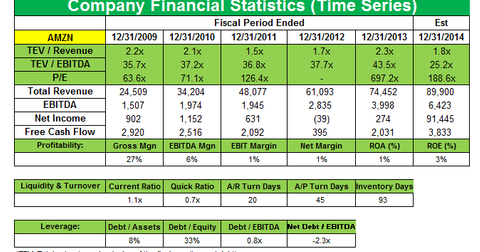 Must-know: Steven A. Cohen ups SAC Capital's stake in Amazon
By Samantha Nielson

Updated
SAC Capital Advisors and Amazon

SAC's top new positions are Twenty-First Century Fox (FOX), ARRIS Group Inc. (ARRS), Allegion Plc. (ALLE), and Foot Locker Inc. (FL). SAC increased its positions in Google Inc. (GOOG) and Amazon Inc. (AMZN).
SAC Capital Advisors added to its position in online retailer Amazon Inc. (AMZN) from 0.26% to 1.17% last quarter.
Amazon, which started as an online book retailer, has organized its operations into two segments: North America and International. In each of these two geographic segments, the company serves its primary customer sets, consisting of consumers, sellers, enterprises, and content creators. Plus, Amazon also provides services, such as advertising services and co-branded credit card agreements. Amazon.com operates retail websites and offers platforms that enable third parties to sell products on its websites. Amazon Prime is an annual membership program that includes unlimited free shipping on millions of items, access to unlimited instant streaming of thousands of movies and TV episodes, and a free Kindle lending library service. The company serves developers and enterprises of all sizes through Amazon Web Services (or AWS), which provides cloud computing services.
Article continues below advertisement
Amazon's earnings soared, but shares fell after results came below Street consensus. Net sales increased 20%, to $25.59 billion in the fourth quarter. Net income increased to $239 million in the fourth quarter, or $0.51 per diluted share, compared with $97 million, or $0.21 per diluted share, in fourth quarter 2012.
Amazon said it saw a record-setting holiday season for Amazon Prime, the $79 per year subscription service with tens of millions of members worldwide. The company is evaluating hiking the price for the service. In the North America segment, revenue grew 26%, to $15.33 billion, while in the International segment, revenue grew 13%, to $10.26 billion. According to news reports, Amazon's "other" revenue segment that includes Amazon Web Services grew to $1.234 billion. Shipping expenses and technology and contest costs for Kindle and licensing for media saw an increase. Costs related to marketing, warehouses, and distribution centers also surged.
The company's guidance was also considered soft, as Amazon is forecasting revenue of $18.2 billion and $19.9 billion for 1Q 2014. Growth catalysts for the company include innovation in retail, video streaming, cloud services, and Kindle tablets. The company is reportedly in talks for a music streaming service that will be bundled with Prime.
To learn more about investing in the online retailer space, see Market Realist's Why Icahn's proposed Paypal spinoff from eBay isn't a good idea.