Steven A. Cohen increases SAC Capital's position in Google
SAC Capital built up its stake in Google Inc. (GOOG) last quarter by 97,523 shares, to 193,550 shares. Google accounts for a 1.26% position in SAC's portfolio.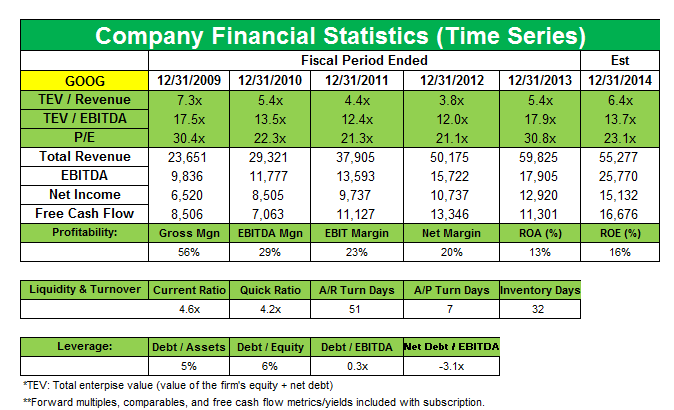 SAC Capital Advisors and Google

SAC's top new positions are Twenty-First Century Fox (FOX), ARRIS Group Inc. (ARRS), Allegion Plc. (ALLE), and Foot Locker Inc. (FL). SAC increased its positions in Google Inc. (GOOG) and Amazon Inc. (AMZN).
SAC Capital built up its stake in Google Inc. (GOOG) last quarter by 97,523 shares, to 193,550 shares. Google accounts for a 1.26% position in SAC's portfolio. Google's business primarily focuses on search, advertising, operating systems and platforms, enterprise, and hardware products.
Article continues below advertisement
Article continues below advertisement
In the Internet giant's latest fiscal quarter results, net income, EPS, and revenue increased even as ad rates declined 11%. Revenues jumped 17% year-over-year, to $16.86 billion, beating analysts' expectations. But earnings per share rose to $9.90, below estimates of $12.19. Google reported net income of $3.38 billion, compared to net in the same period last year of $2.89 billion. The company's shares have been up more than 50% over the last year.
Google generates revenue primarily by delivering relevant, cost-effective online advertising. Its advertising programs, which range from simple text ads to rich media ads, help businesses find customers and help publishers make money off their content. In 2013, 91% of Google's revenue, excluding Motorola, came from advertising. Total advertising revenues rose about 17%, to $14.07 billion in 4Q from the same period the year before. A decline in ad rates is proving to be a challenge for Google, which is still trying to find ways to increase its mobile earnings.
Article continues below advertisement
Google's non-advertising business, which includes revenue from movie rentals or app purchases through Google Play and the sale of hardware like Chromebooks and streaming media dongle Chromecast, grew its revenue 99% to $1.65 billion compared to $829 million in 4Q 2012. Google's non-ads business is expected to see significant growth in the coming years with the official roll-outs of products like wearable technology Google Glass, driverless cars, and Internet connection service Google Fiber. Google acquired a number of robotic companies last year and is reportedly in talks with Foxconn over using robots for automating manufacturing tasks. Techcrunch reported that Google's Project Tango is targeting developing Android phones with advanced 3D sensors for tracking motion and creating visual maps of a user's surroundings.
Google's stock rose after CFO Patrick Pichette told analysts during the 4Q conference call that Google's board approved a stock split. He said the board has formerly approved a Class C dividend and has set March 27, 2014, as the record date and April 2, 2014, as the issuance date. The Class C shares are expected to begin trading on April 3, 2014.
In January 2014, Google entered a definitive agreement to sell its Motorola Mobility smartphone business to Lenovo for approximately $2.91 billion. Google had acquired the handset maker for $12.5 billion in May 2012.
For more on Google, please read Must-know: An investor's essential guide to Google.