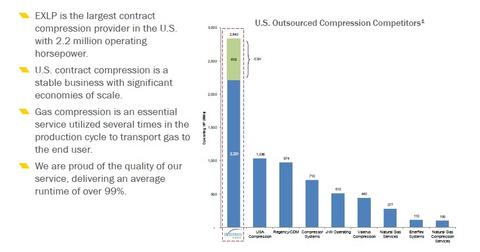 An overview of natural gas compression companies like Exterran
By Ingrid Pan

Updated
Applications of natural gas compression
Natural gas compression services are used to transport natural gas. Compression is often used to get natural gas from low-pressure wells to gathering systems, and to maintain production as reservoir pressure declines. Plus, compression is used to move natural gas throughout gathering systems and pipeline systems and maintain pressure over long distances. Natural gas compression services are also used to get the commodity into and out of storage and processing facilities.
Parties in the natural gas compression industry
Article continues below advertisement
Sometimes natural gas compression is done "in-house," by oil and gas producers. Other times, it's contracted out to other parties. Exterran Partners represents a pure-play natural gas compression name that provides contract natural gas compression services and is the largest independent provider of compression in the U.S. EXLP has a special relationship with its general partner, Exterran Holdings (EXH). Several other midstream companies, such as Access Midstream (ACMP) and Regency Energy (RGP), perform natural gas compression among a suite of other services. Exterran's closest comp is USA Compression Partners (USAC), another pure-play natural gas compression company. These companies affect the Oppenheimer SteelPath MLP Funds Trust (AMLP).
What drives demand for natural gas compression services?
The demand for natural gas compression services depends on the supply and demand dynamics of natural gas and oil. EXLP notes:
"Generally, our overall business activity and revenue increase as the demand for natural gas increases. Demand for our compression services is linked more directly to natural gas consumption and production than to exploration activities, which helps limit our direct exposure to commodity price risk."
However, prolonged low natural gas prices could cause upstream producers to scale back natural gas drilling activity and could dampen demand for natural gas compression services as a result. Plus, because oil-targeted drilling also generates natural gas production, a scale-back in oil drilling could also negatively affect demand for natural gas compression services. EXLP notes in its 10-K:
"Even the perception of longer-term lower oil or natural gas prices by oil and natural gas exploration, development and production companies can result in their decision to cancel, reduce or postpone major expenditures or to reduce or shut in well production."
In mid-2012, natural gas prices fell to lows of ~$2 per MMBtu, causing some companies to halt natural gas drilling, particularly in areas that were more mature or drier. (Note that "dry gas" means gas with little natural gas liquids content. Over the past few years, producers have favored wet gas, as natural gas liquids fetch a higher price per unit of energy, implying higher potential profitability for wet gas plays as compared to dry gas plays.) EXLP commented that the reduction in drilling activity negatively affected its business during that period. In 2013, while natural gas prices improved somewhat, prices remained relatively low from a long-term context. Demand for natural gas compression services continued to decline in mature and dry gas areas.
Meanwhile, EXLP notes that compression services for unconventional natural gas sources (like shale plays) have comprised a growing percentage of the company's business. EXLP's outlook is that the U.S. natural gas compression services industry has the potential to grow over the long term, as higher unconventional natural gas production and aging natural gas fields will require natural gas compression services to maintain a certain level of production.
To find out more about how EXLP and its 4Q13 earnings results, read on to the next part of this series.