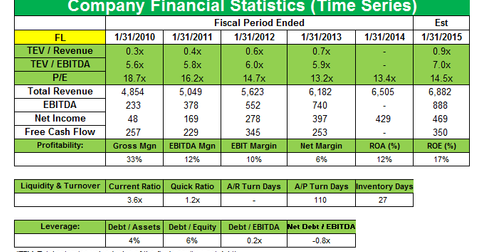 Cohen's SAC Capital reveals a new position in Foot Locker
By Samantha Nielson

Updated
SAC Capital Advisors and Foot Locker
SAC's top new positions are Twenty-First Century Fox (FOX), ARRIS Group Inc. (ARRS), Allegion Plc. (ALLE), and Foot Locker Inc. (FL). SAC increased its positions in Google Inc. (GOOG) and Amazon Inc. (AMZN).
SAC Capital Advisors opened a new 0.29% position in Foot Locker Inc (FL), the New York–based global retailer of athletically inspired shoes and apparel.
The company operates in two reportable segments—Athletic Stores and Direct-to-Customers. The Athletic Stores segment is one of the largest athletic footwear and apparel retailers in the world, with formats that include Foot Locker, Lady Foot Locker, Kids Foot Locker, Champs Sports, Footaction, and SIX:02, as well as the retail stores of Runners Point Group, including Runners Point, Sidestep, and Run2, which was acquired during the second quarter of 2013. The Direct-to-Customers segment is multi-branded and multi-channeled. This segment sells, through its affiliates, directly to customers through its Internet websites, mobile devices, and catalogs. The Direct-to-Customers segment operates the websites for eastbay.com, final-score.com, eastbayteamservices.com, ccs.com, as well as websites aligned with the brand names of its store banners.
Including 193 Runners Point Group stores, the company operated 3,473 stores in 23 countries in North America, Europe, Australia, and New Zealand as of February 1, 2014.
Article continues below advertisement
Foot Locker's 4Q results beat Street estimates. Despite a challenging retail environment, total fourth quarter sales increased 4.6%, to $1,791 million in 2013, compared with sales of $1,713 million in 2012, which included $81 million of sales in the extra week last year. Fourth quarter comparable-store sales increased 5.3%. Net income was up 19% to $121 million, or $0.81 per share, for the 13 weeks ended February 1, 2014. The strongest segment was the Direct-to-Customer business, which generated a 13% comparable sales increase.
Chief executive officer Ken C. Hicks said:
"Opportunities, such as the children's business, our store banner.com development, the expansion of shop-in-shops in partnership with our vendors, and the improvements we are making in our assortments, should continue to drive our performance to new heights for the next few years. "