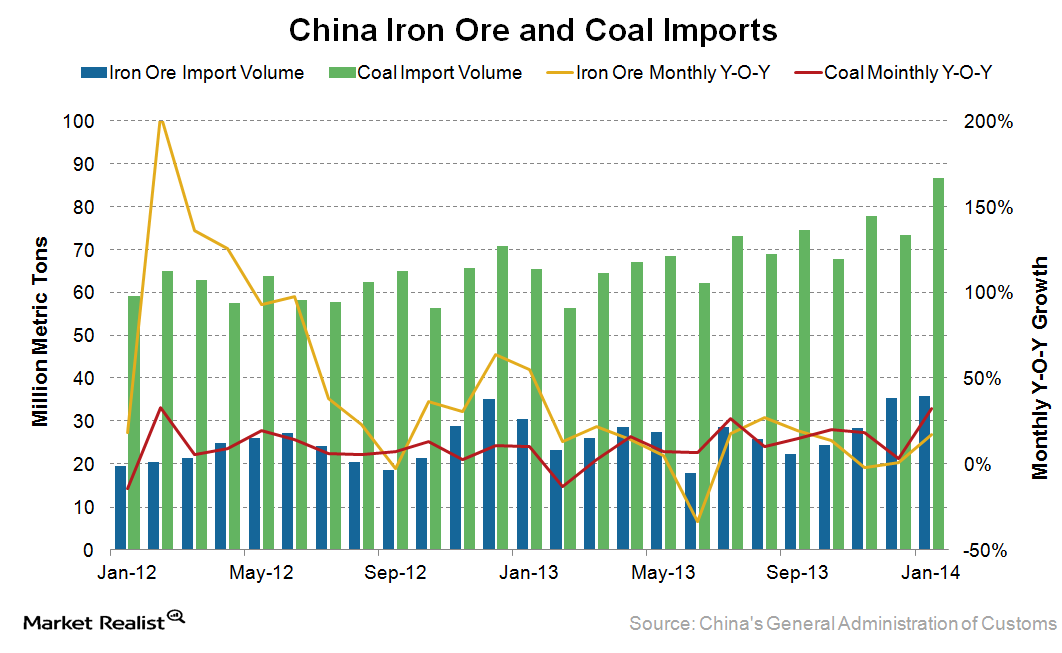 Why China saw high growth in iron ore and coal imports in January
The importance of iron ore and coal imports
China's iron ore and coal imports are key factors that drive shipping rates. Iron ore and coal each account for nearly 30% of the world's dry bulk trade volume, and China is the top importer for both commodities. Import data reflects China's economic health and demand for higher-quality imported commodities. Since more iron ore and coal imports mean more demand, shipping rates will rise, which is fundamentally positive for dry bulk companies that haul key dry bulk materials such as iron ore, coal, and grain across the ocean.
Record-high iron ore imports in January 2014
Article continues below advertisement
Last month, China's iron ore imports broke a record high, even as steel output slowed. The country's imports of iron ore rose 18% from December, to 86.83 million metric tonnes, which pushed stockpiles to the highest level in more than two years. Iron ore inventory at China's major ports reached 100.91 million tonnes as of January 14 after eight consecutive weekly increases, according to data from industry website Mysteel. Australia's Bureau of Resources and Energy Economics forecasts Chinese iron ore imports to grow 7.4%, or more than 60 million tonnes, in 2014 as high-quality iron ore from Brazil, South Africa, and Australia continue to edge out domestic iron ore.
Interestingly enough, some analysts argue that this growth is at least partly driven by non-fundamental factors such as financing demand. Typically, a company imports a commodity like iron ore or copper and then uses it as collateral for borrowing. These deals could also spur demand for iron ore imports.
Why we can expect imports to continue growing
There are a few reasons why we can expect continuing growth in China's iron ore imports this year. On the one hand, the construction season is about to begin after Chinese New Year, which boosted demand for steel. China's government aims at maintaining a stable growth rate in the near future by accelerating public projects. On the other hand, major iron ore exporters such as Australia and Brazil are projected to increase their export volume this year by 22.1%, to 709 million tonnes, and 9.1%, to 352 million tonnes, respectively.
Coal imports are also robust
China saw a high in coal imports in January as well. China's coal imports in January rose 17.5% year-on-year, to 35.91 million metric tonnes, according to the General Administration of Customs. The General Administration of Customs adds lignite to its calculation this year.
Unlike iron ore, coal imports may not experience significant growth this year, because the Chinese government will cut taxes on domestic coal firms and implement stricter import regulations to support domestic coal miners. In November 2013, the National Development and Reform Commission and National Energy Administration posted a joint statement to carry out new policies by the end of 2014. Domestic coal firms used to have trouble improving their margins, since imported coal is usually cheaper and of higher quality.