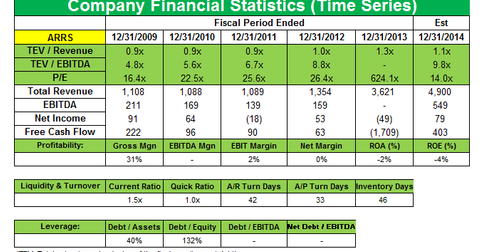 Cohen's SAC Capital opens a new position in ARRIS Group
By Samantha Nielson

Updated
SAC Capital Advisors and ARRIS Group

SAC's top new positions are Twenty-First Century Fox (FOX), ARRIS Group Inc. (ARRS), Allegion Plc. (ALLE), and Foot Locker Inc. (FL). SAC increased its positions in Google Inc. (GOOG) and Amazon Inc. (AMZN).
SAC Capital Advisors opened a new 0.33% position in ARRIS Group, Inc. (ARRS). ARRIS is a global media entertainment and data communications solutions provider, headquartered in Suwanee, Georgia.
Article continues below advertisement
ARRIS operates in two business segments, Customer Premises Equipment (CPE) and Network & Cloud (N&C), specializing in enabling multichannel video programming distributors (MVPDs), including cable, telephone, and digital broadcast satellite operators, and media programmers to deliver rich media, voice, and IP data services to end consumer subscribers. ARRIS is a developer, manufacturer, and supplier of interactive set-top boxes, end-to-end digital video and Internet protocol television (IPTV) distribution systems, broadband access infrastructure platforms, and associated data and voice customer premises equipment. Comcast (CMCSA) and Time Warner Cable (TWC) are the company's largest customers.
Shares rallied after ARRIS' fourth quarter revenue and earnings per share beat analyst estimates. Revenues in the fourth quarter 2013 were $1,199.1 million, compared to fourth quarter 2012 revenues of $344.0 million. Adjusted net income (a non-GAAP measure) in the fourth quarter 2013 was $0.54 per diluted share, compared to $0.28 per diluted share for the fourth quarter 2012, driven by new product launches. GAAP EPS came in below expectations due to higher taxes and higher integration costs.
ARRIS last year completed its acquisition of the Motorola Home business from a subsidiary of Google Inc. (GOOG) for approximately $2.2 billion in cash and equity. The transaction was expected to increase ARRIS' ability to provide next-generation consumer video products and services, supporting a more comprehensive product offering while also accelerating its ability to deliver a comprehensive set of industry-leading new products for broadband to a wide spectrum of customers. ARRIS also got access to a wide array of Motorola Mobility patents.
A Brean Capital analyst said ARRIS might overtake 2014 EPS estimates due to cost synergies from the Motorola deal. A Jefferies analyst considers the recent Comcast-TWC merger deal to be a "very positive event" for ARRIS due to ARRIS' strong relationship with Comcast.