Opportunities and risks that Dunkin' Brands investors must know
It's no big secret that Dunkin' Donuts has the highest relative leverage in the industry. Leverage comes with a number of risks— a substantial risk is the interest paid on debt.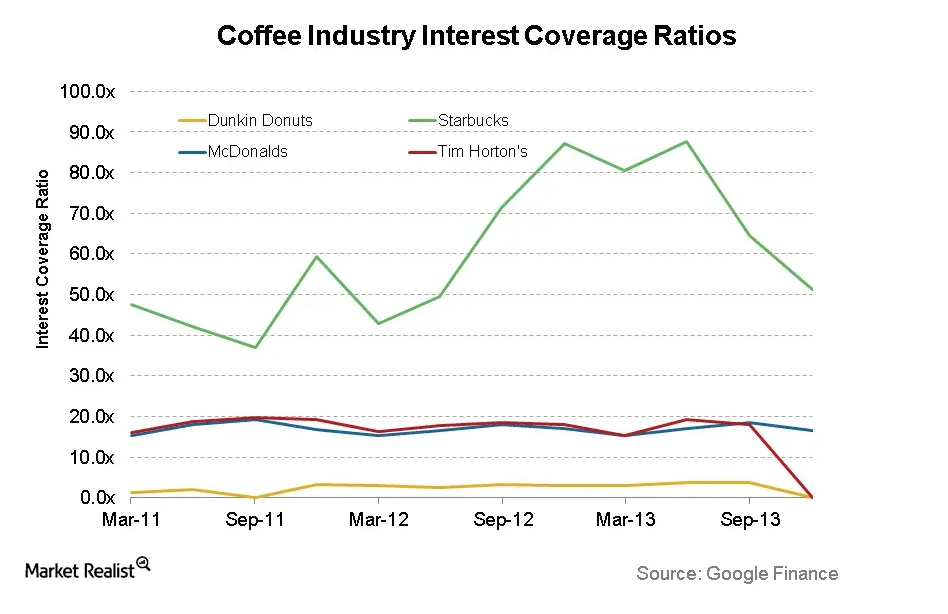 Risk: High leverage and interest payments
It's no big secret that Dunkin' Donuts has the highest relative leverage in the industry. Leverage comes with a number of risks— a substantial risk is the interest paid on debt. Dunkin' Donuts is a relatively small player within the retail coffee industry. Its market capitalization is $4.9 billion, while Starbucks and McDonald's are $52.1 billion and $92.6 billion, respectively. Meanwhile, Dunkin' Brands is only $200 million shy of Starbuck's total debt figure ($1.8 versus $2.0 billion, respectively). The impact this has on Dunkin' Brands' credit ratios is profound. Dunkin' Brands' interest coverage ratio is a minuscule 3.42x, where the industry average is 23.31x and median is 14.18x. What this means is that Dunkin' Brands is only generating enough earnings to cover its interest expense three times over. This is a long-term risk, as the company's senior unsecured loans mature in 2017 and the interest rate is floating—meaning exact future payment amounts are uncertain.
Article continues below advertisement
Article continues below advertisement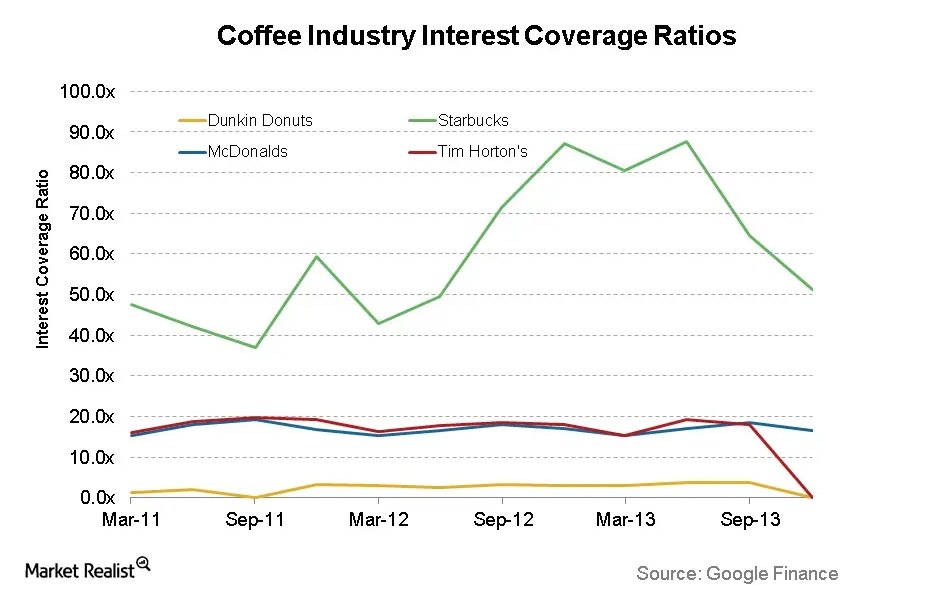 Historically, declining coffee price is one reason why many coffee retailers have performed well over the last two years in particular. Input prices have declined while store-level managers (who are by and large left to set prices in store) haven't shifted the price downward accordingly. This translated into higher gross sales, which the franchises have had to "kick up" to corporate via royalty fees (which constitute 64 % of Dunkin' Revenues). That said, price increases in coffee will likely negatively affect business. Managers will be more likely to raise prices to maintain margins than if the price decreased. The result will probably be reduced gross sales growth by some factor in the near term, which will reduce the royalties Dunkin' Brands can collect. This risk materialized itself as of the beginning of February 2014, when coffee prices spiked due to droughts in South America. The price of one 37,500 pound bag of coffee skyrocketed 8%, to $135, a nine-month high from the most recent trading prices of roughly $125.
U.S. growth opportunity
Article continues below advertisement
Dunkin' Donuts has a major growth opportunity within the United States. Currently, the company has roughly half that of its closest competitor within the coffee retail business, Starbucks. Plus, Starbuck's locations appear concentrated in high-traffic areas. However, they're significantly less saturated than Dunkin' Donuts locations within New England and the tri-state area. If the Dunkin' Brands Group executives are correct in assuming Americans will appreciate the taste and value of their coffee over their competitors', westward and southern expansion should be no issue. The largest hurdle to this expansion is the lack of existing centralized manufacturing locations, which is a large driver in Dunkin's ability to leverage economies of scale and have a flexible business practice at the store level.
That said, the company could open its doors to the prospect of increasing company-owned locations in the long term, as the current figure for company-owned stores in the United States is a grand total of 35. Based on these figures, you can assume there's an organic growth opportunity for value-oriented coffee retail across the remainder of America, which supposedly "runs on Dunkin'."
For an overview of Dunkin's competitor, see the Market Realist series Rethink your drink: An investor's guide to Starbucks Coffee Company.