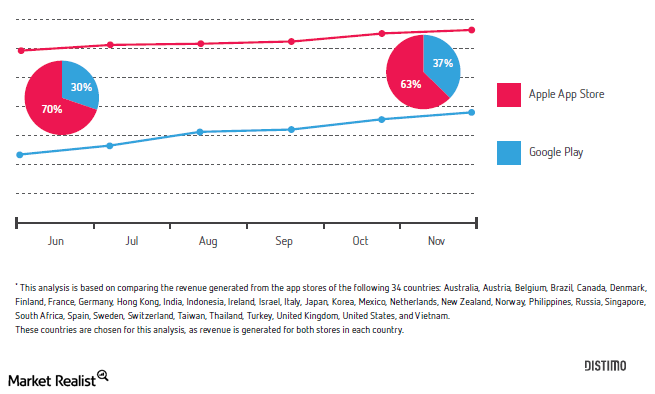 Why Apple's ecosystem is its biggest competitive advantage
Apple's vertical integration
Apple CEO Tim Cook said at a Goldman Sachs conference last year that Apple can be distinguished from other companies due to the company's expertise in software, hardware, and services. On the so-called vertical integration that the company has followed for the last few decades, he said, "Apple has the ability on all three of these spheres to innovate like crazy and cause magic. People are trying desperately to catch up and they are finding it's not so easy to do."
Article continues below advertisement
Vertical integration has given Apple a competitive advantage, as it owns chip manufacturers, controls manufacturing, follows extremely strict software standards, and operates in a nearly closed ecosystem of proprietary retail stores. With these advantages, the company has more control of its value chain and, more importantly, its component costs.
Google's (GOOG) acquisition of Motorola and Microsoft's (MSFT) acquisition of Nokia were made with the objective of pursuing this end-to-end strategy that has until now only worked for Apple.
Apple is known to have the most popular, addictive, and tightly integrated ecosystem of all technology companies. The devices and software Apple makes are designed to work well with each other and sync easily so that preferences and media can be copied or shared with multiple devices without much effort. Applications work on multiple devices at the same time—even with a single purchase—and user interfaces are very similar across devices.
Article continues below advertisement
According to a Harvard Business Review blog post by Ron Adner, when Apple broadened its product portfolio from iPods to iPhones, it carried over not only the technology and software that powered the iPod but also users' entire music collections and iTunes' entire supplier base. The move wasn't about just switching costs, but also about leveraging existing relationships to create an enhanced offering.
Currently, Google (GOOG), Microsoft (MSFT), and Amazon (AMZN) have entered the fray by setting up their own ecosystems, including devices, books, games, music, media, and storage services. Each of these companies has its own distinct strengths and has been trying to grab market share from Apple. Amazon leads in e-commerce, while Google dominates online search and advertising. However, Apple had a head start with the success of its iPods, iTunes software, and iTunes Store, and Apple was also one of the pioneers of touchscreen technology in phones. Apple's App Store recorded more than $10 billion in sales in 2013, as the company announced this month. In December alone, customers spent $1 billion on nearly 3 billion App Store downloads, making December 2013 the most successful month in App Store history.
Article continues below advertisement
At the 2013 Worldwide Developer Conference (the WWDC), Cook said the Apple developer ecosystem includes 6 million developers and that there have been 1.5 million new developers added since WWDC in 2012. Apple said on its recent earnings call that as of January 2014, 80% of iOS devices are running iOS 7. That dwarfs the single-digit adoption percentage measured for the latest version of the Android operating system, and it makes iOS 7 the most popular operating system in the world.
A study by research firm GfK in 2011 said that 84% of iPhone owners plan to purchase another Apple handset when they replace their cellphone, with many smartphone users saying the ecosystem of a mobile OS is a determining factor when upgrading. The study showed that over 70% of consumers felt features and seamless access to content are major factors for continuing with their current mobile OS. So the push for a value-added ecosystem is becoming a greater priority for the industry. "The scope for brands to lure customers from rivals has diminished and the richest rewards will go to those providers that can create the most harmonious user experience and develop this brand loyalty," GfK said.
According to a report from Distimo last month, in 2013, Google Play's revenue share has been growing at Apple's expense. In November 2013, the Apple App Store was still leading—though with 63% relative to 37% for Google Play. In June 2013, Google Play was only responsible for 30%, and accordingly, Apple's share was at 70%.
It was reported in November that Apple's map application has gained popularity among iPhone and iPad users in the U.S, according to ComScore, while Google saw its share fall from 81 million users in September 2012 to 58.7 million in November 2013. Google's refusal to share its turn-by-turn map navigation had led to Apple's decision to develop its own maps offering.