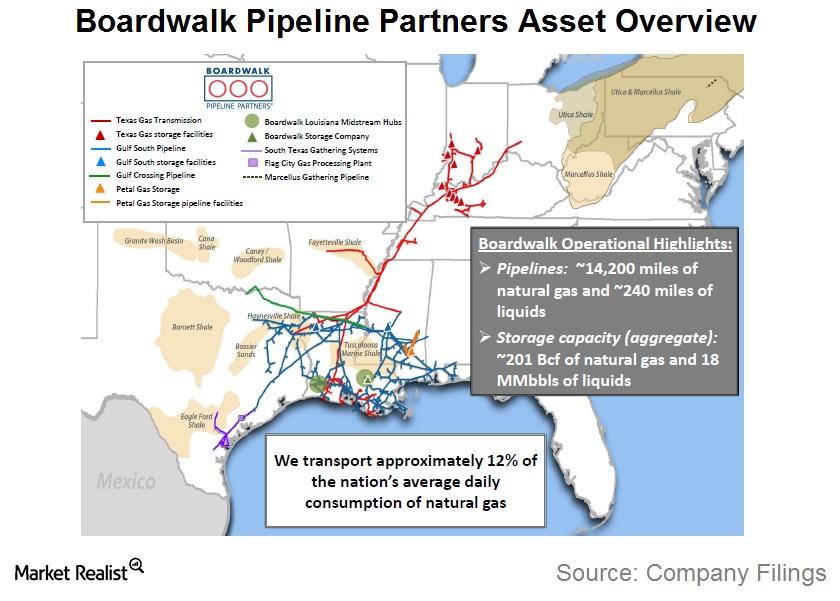 Boardwalk Pipeline Partners: An investor's must-know overview
Boardwalk Pipeline Partners
Boardwalk Pipeline Partners (BWP) is a master limited partnership that provides transportation, storage, gathering, and processing services for natural gas and natural gas liquids. BWP transports ~12% of U.S. average daily consumption of natural gas. The company owns ~14,000 miles of natural gas and NGL pipelines, as well as underground caverns for natural gas and NGL storage. Boardwalk's pipeline systems generally carry gas from the Gulf Coast region, Oklahoma, and Arkansas towards the north and east, to Tennessee, Kentucky, Illinois, Indiana, and Ohio.
Article continues below advertisement
Article continues below advertisement
Boardwalk Pipeline Partners has LTM revenue of $1.2 billion and LTM EBITDA of $689 million. The company is currently trading at $12.45 per unit (as of close on February 26, 2014) and has a market cap of ~$2.7 billion and an enterprise value of ~$6.1 billion. At a current quarterly distribution of $0.10 per unit, the company's implied annualized distribution yield is $0.40 / $12.45, or 3.2%.
BWP's general partner interest, which has management control over the entity and is entitled to certain incentive distribution rights, is owned by Loews Corporation (L), a publicly traded holding company. The GP interest represents a 2% equity interest in BWP. Loews also owned 51% of the equity interest in BWP through limited partner interest. The remaining 47% interest is owned by public unitholders. Loews also has ownership in several other companies, including CNA Financial Corp (CNA), Diamond Offshore Drilling (DO), and Loews Hotels and Resorts.
As we've seen, BWP recently cut its distribution. To read about the drivers behind this distribution cut, please continue to the next part of this series.