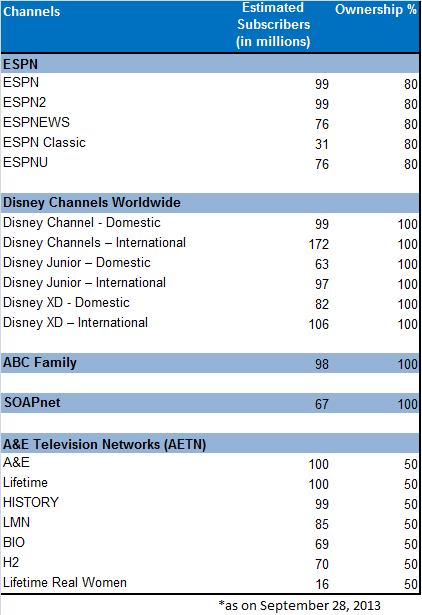 Why ESPN drives Walt Disney's Media Networks revenue
Disney's Media Networks segment
The Media Networks segment is mainly classified as cable networks and broadcasting. The media networks business includes television production operations, television distribution, domestic television stations, and radio networks and stations.
Disney's media division has remained its largest source of revenue. For fiscal 2013, revenues from Media Networks increased 5%, to $20.4 billion, and segment operating income increased 3%, to $6.8 billion. The media division includes ESPN, which represents about 50% of Disney's overall profits. ESPN holds rights for various professional and college sports programming, including the National Football League (the NFL), the National Basketball Association (the NBA), Major League Baseball (the MLB), college football and basketball conferences, the National Association of Stock Car Auto Racing (NASCAR), the Wimbledon Championships, U.S. Open Tennis, and the Masters golf tournament. The network's coverage of live sports, entertainment, expert commentary, news, and stats attracts pay-TV providers and therefore higher ad rates. It has a large and established subscriber base and a clear competitive advantage over other sports channels. To gain more insight into why ESPN is Disney's cash cow, please view the series Why is the media industry prize ESPN worth so much to Disney? by Market Realist analyst Martin Kurlandski.
Cable networks
Its cable networks include ESPN, Disney Channels Worldwide, ABC Family, SOAPnet, and A&E Television Networks (AETN). It also operates the UTV/Bindass networks in India.
The cable networks group produces its own programs or acquires rights from third parties to air programs on its networks. Disney also has interests in joint ventures that operate cable and broadcast programming services and are accounted for under the equity method of accounting.
How is revenue generated?
Article continues below advertisement
Cable networks derive a majority of their revenues from fees charged to multi-channel video programming distributors (MVPDs) for the right to deliver their programming to their customers and, for certain networks (primarily ESPN and ABC Family), advertising. Generally, the company's cable networks operate under multi-year agreements with MVPDs that include contractually determined fees. The amounts that it can charge to MVPDs for its cable network services largely depend on the competitive market and the quality and quantity of programming it can provide. The ability to sell time for commercial announcements and the rates received primarily depend on the size and nature of the audience that the network can deliver to the advertiser as well as overall advertiser demand. The company also sells programming developed by its cable networks worldwide in pay and syndication television markets, in DVD and Blu-ray format, and online. Significant operating expenses include programming and production costs, technical support costs, distribution costs, and operating labor.
Advertising revenues at the Media Networks segment are subject to seasonal advertising patterns and changes in viewership levels. Revenues are typically somewhat higher during the fall and somewhat lower during the summer months. Affiliate revenues are typically collected ratably throughout the year. Certain affiliate revenues at ESPN are deferred until annual programming commitments are met. These commitments are typically satisfied during the second half of Disney's fiscal year, which generally results in higher revenue recognition during this period.
Fiscal 2013 performance
Article continues below advertisement
Cable Networks revenue increased 6%, to $14.45 billion, due to growth at ESPN, the domestic Disney Channels, and A&E Television Networks (AETN). Growth at ESPN was due to increased affiliate and advertising revenues, partially offset by increased programming and production costs. The increase in programming and production costs was due to contractual rate increases for college sports, NFL, MLB, and NBA rights, production costs for new X Games events, and the addition of new college football rights.
Domestic Disney Channels' growth was due to higher affiliate revenues from contractual rate increases, partially offset by higher programming costs driven by more episodes of original programming. Higher equity income from AETN reflected advertising and affiliate revenue growth, along with the benefit of the increase in the company's ownership interest from 42% to 50%.
However, the cable networks segment saw operating income decline by $95 million in 4Q 2013, as ESPN had $172 million less in deferred affiliate fee revenues, which were recognized earlier in the year. Disney said that without the change in deferred affiliate revenue at ESPN, operating income would have increased $77 million with affiliate fee increases at both ESPN and Disney Channel and higher ad revenue at ESPN.
Article continues below advertisement
Disney launched a WatchESPN app in 2011 that allows fans to watch ESPN online, on the go, from their tablets and mobile devices, and through Xbox. Disney has carriage deals with most major pay-TV operators for distributing this app, and it expects to generate ad revenue from its mobile apps such as Watch ESPN and Watch Disney in the near future.
Broadcasting
Its broadcasting businesses include a domestic broadcast network, namely ABC Television Network (ABC), television production and distribution operations, and eight owned domestic television stations. The company also has an interest in Hulu LLC (Hulu), a joint venture that distributes film and television content on the Internet. In fiscal 2012, the company and Univision formed a joint venture to create Fusion, a news, pop culture, and lifestyle television and digital network targeted at English-speaking Hispanic Millennials, which launched in October 2013.
Fiscal 2013 performance
For fiscal 2013, Broadcasting revenues decreased 2%, to 5.9 billion, due to higher primetime programming costs and lower program sales, partially offset by higher affiliate and advertising revenues. Higher primetime programming costs were driven by an increase in the average cost per hour due to a shift of hours from lower-cost reality and primetime news to higher-cost original scripted programming. The decline in program sales reflected higher sales in the prior year for Desperate Housewives, Castle, and Grey's Anatomy, partially offset by current-year increases for Scandal, Revenge, and Once Upon a Time. Growth in advertising revenues was due to higher units delivered at the ABC Television Network, increased network rates, and growth in online advertising, partially offset by lower primetime ratings.