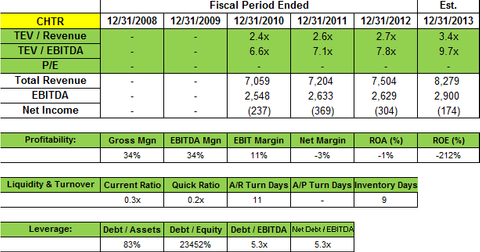 Why did Maverick Capital open new position in Charter Communications?
By Samantha Nielson

Updated
Maverick Capital is a $9 billion long-short equity hedge-fund firm, founded in 1990 by Lee S. Ainslie and Sam Wyly. In 2005, Maverick launched a long-only fund and two market-neutral funds with longer than usual investment lockups. The firm is headquartered in Dallas and has an additional office in New York.
The fund bought new positions in Charter Communication (CHTR), Autodesk Inc (ADSK), Facebook Inc (FB), and Yandex NV (YNDX) in 3Q 2013. It sold its positions in Macy's Inc. (M), F5 Networks Inc (FFIV), Cognizant Tech Solutions (CTSH), and Mastercard Inc (MA).
Abbreviated financial summaries and metrics for these securities are included below. Detailed analysis and recommendations require a subscription (more information at the bottom of the article).
Why buy Charter Communication (CHTR)?
Maverick Capital bought a 3.88% position in Charter Communication in 3Q 2013.
Article continues below advertisement
Charter Communications has been recently in the news as it plans to acquire its larger rival, Time Warner Cable (TWC). Recent news reports indicated that it plans to send an offer letter for a bid at less than $140 a share to TWC next week. Liberty Media Corp (LMCA) is the largest shareholder in Charter Communications. Comcast (CMCSA), a market leader in the U.S. cable industry, is also reported to be in the fray for Time Warner Cable.
The company reported a net loss of $70 million, or $0.68 a share for 3Q 2013, down from $87 million, or $0.87 a share a year ago. Net loss decreased year-over-year primarily due to lower interest expense, lower income tax expense, and higher income from operations. The company posted revenue of $2.10 billion, up 5.4% year-over-year. The revenue grew 12.7%, driven primarily by the acquisition of Cablevision's Bresnan Broadband Holdings, LLC and its subsidiaries, and growth in video, Internet and commercial revenues. Revenue from the its pay TV services increased 15% to $1.04 billion, while revenue from high-speed Internet subscribers rose 23% to $575 million. Revenue from phone services declined 23% to $161 million. It said its total customer and PSU trends improved across its residential and commercial businesses during the third quarter compared to the prior year. It lost 27,000 video customers during the quarter versus 71,000 last year.
Article continues below advertisement
Analysts are expecting a consolidation in the cable TV industry due to increasing competition from telecom providers and high programming costs. The pay-TV market is seeing a gradual move towards fiber-based high-speed video services provided by large telecom and satellite TV operators that is impacting cable TV operators. A recent article on our website stated that while Charter has openly and aggressively pursued Time Warner, any deal would likely be difficult to execute and fraught with risks mainly because Charter is the much smaller company than Time Warner. To fund such a takeover, Charter would likely have to take on substantial additional debt in order to pay TWC shareholders in cash. The consolidation deal chatter has boosted the stocks of all players in the paid TV space.
The fund practices a long/short equity investment philosophy with a fundamental, bottom-up approach with great emphasis on the quality of management teams. According to hedgefundletters.com, instead of trading bonds, currencies, commodities or options, the fund depends on old-fashioned stock picking to generate profits. It is a pure stock picker hedge fund buying what it reckons will beat the market and selling what it thinks will underperform.  Even though the fund picks both long and short positions, it does not deploy pair trades. Its
goal is to preserve and grow its investors' capital.
Founder Lee Ainslie holds a bachelor's degree from the University of Virginia and an MBA from the University of North Carolina at Chapel Hill Kenan–Flagler Business School. Before starting Maverick Capital, Ainslie was a managing director at Tiger Management Corporation. Similar to mentor, Julian Robertson, Ainslie tests his conviction by gauging whether the name is a buy or a sell; there is no such thing as a hold. While Ainslie is the leader and face of the firm, he views his management team as peers and values the team culture at Maverick.