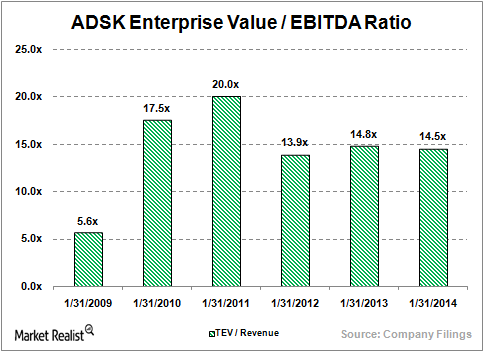 Why did Maverick Capital start new position in Autodesk?
Maverick Capital is a $9 billion long-short equity hedge-fund firm, founded in 1990 by Lee S. Ainslie and Sam Wyly. In 2005, Maverick launched a long-only fund and two market-neutral funds with longer than usual investment lockups. The firm is headquartered in Dallas and has an additional office in New York.
The fund bought new positions in Charter Communication (CHTR), Autodesk Inc (ADSK), Facebook Inc (FB), and Yandex NV (YNDX) in 3Q 2013. It sold its positions in Macy's Inc. (M), F5 Networks Inc (FFIV), Cognizant Tech Solutions (CTSH), and Mastercard Inc (MA).
Abbreviated financial summaries and metrics for these securities are included below. Detailed analysis and recommendations require a subscription (more information at the bottom of the article).
Why buy Autodesk Inc (ADSK)?
Maverick Capital disclosed a 1.35% position in Autodesk in 3Q 2013.
Autodesk revenues in 3Q 2014 rose 1.3% year-over-year, but declined 1.2% quarter-over-quarter to $555.2 million. It posted a profit of $57.6 million, or $0.25 per share, up from $29.4 million, or $0.13 per share, a year earlier.
Article continues below advertisement
It said it saw strong growth in suites and solid execution across its Architecture, Engineering and Construction (AEC) and Manufacturing businesses, which saw 13% revenue increase to to $186 million. Continued global adoption of building information modeling (BIM) drove double-digit growth within its AEC business. Its Manufacturing segment benefited from greater demand for design and digital manufacturing tools, as well as continued momentum within the automotive industry. Manufacturing business segment revenue increased 8% to $142 million. It saw steady adoption of its new cloud and mobile-based services, which complement the Design and Creation suites. Revenue from the Platform Solutions and Emerging Business (PSEB) segment decreased 10% to $183 million compared to the third quarter last year. Revenue from Media and Entertainment business (M&E) segment decreased 9% to $44 million compared to the third quarter last year. Revenue from Flagship products decreased 9% to $275 million compared to the third quarter last year. Revenue from Suites increased 21% to $199 million compared to the third quarter last year. The users of its suites have high maintenance subscription attach and renewal rates, which supports the company's long-term goal of generating 20% more value with its subscription customers.
After posted a weaker-than-expected 2Q 2014 results, Autodesk disclosed in an 8K filing in September that it is restructuring its business, paring staff, and consolidating some leased facilities. It added that of a total $15 million to $20 million in restructuring costs, $12 million to $16 million will be for one-time employee termination benefits. It said it was taking these steps to re-balance staffing levels to better align them with the evolving needs of the business.
Article continues below advertisement
In November, Autodesk announced the acquisition of Britain's Delcam Plc for $277 million, and stated the deal will help further the development and implementation of technology for digital manufacturing. With the recent introduction of more flexible license and service offerings, Autodesk expects to evolve to an even more recurring and ratable revenue business model. It said the addition of recurring revenue streams coming from rental, cloud and consumption-based usage will significantly increase, making for a more predictable business. Its outlook for the fourth quarter includes a business model transition impact of approximately $50 million in revenue. For 4Q 2014, Autodesk expects revenues in the range of $560.0 – $580.0 million.
Autodesk, Inc. operates as a design software and services company worldwide. Its Platform Solutions and Emerging Business segment offers AutoCAD software, a computer-aided design (CAD) application for professional design, drafting, detailing, and visualization in construction, manufacturing, civil engineering, and process plant design fields; and AutoCAD LT, a professional drafting and detailing software. The company's Architecture, Engineering and Construction segment offers Autodesk Revit products, which provide model-based design
and documentation systems; AutoCAD Civil 3D products that offer a surveying, design, analysis, and documentation solution; and AutoCAD Map 3D software, which provides direct access to data needed for infrastructure planning, design, and management. Its Manufacturing segment provides AutoCAD Mechanical software to accelerate the mechanical design process; Autodesk Inventor, which offers a set of tools for 3D mechanical design, simulation, analysis, tooling, visualization, and documentation; and Autodesk Moldflow that facilitates manufacturers to design plastic parts and injection molds, and study the injection molding process. The company's Media and Entertainment segment offers animation products that provide tools for digital sculpting, modeling, animation, effects, rendering, and compositing; and creative finishing products, which offer editing, finishing, and visual effects design and color grading solutions. Autodesk, Inc. also sells consumer products for digital art, personal design and creativity, and home design in various digital storefronts and over the Internet; and offers design and creation suites. The company licenses or sells its products to customers in the architecture, engineering, and construction; manufacturing; and digital media, consumer, and entertainment industries directly, as well as through a network of resellers and distributors. Autodesk, Inc. was founded in 1982 and is headquartered in San Rafael, California.
Article continues below advertisement
The fund practices a long/short equity investment philosophy with a fundamental, bottom-up approach with great emphasis on the quality of management teams. According to hedgefundletters.com, instead of trading bonds, currencies, commodities or options, the fund depends on old-fashioned stock picking to generate profits. It is a pure stock picker hedge fund buying what it reckons will beat the market and selling what it thinks will underperform. Even though the fund picks both long and short positions, it does not deploy pair trades. Its
goal is to preserve and grow its investors' capital.
Founder Lee Ainslie holds a bachelor's degree from the University of Virginia and an MBA from the University of North Carolina at Chapel Hill Kenan–Flagler Business School. Before starting Maverick Capital, Ainslie was a managing director at Tiger Management Corporation. Similar to mentor, Julian Robertson, Ainslie tests his conviction by gauging whether the name is a buy or a sell; there is no such thing as a hold. While Ainslie is the leader and face of the firm, he views his management team as peers and values the team culture at Maverick.