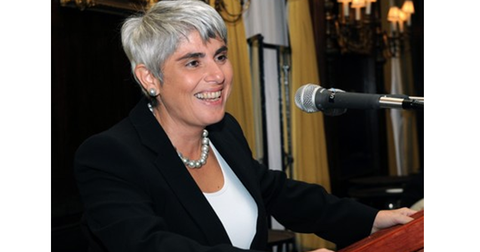 CEO profile: Navios Holdings' Angeliki Frangou helps NM and NMM
By Xun Yao Chen

Updated
Navios Maritime Holdings Inc.
Angeliki Frangou has been Navios Maritime Holdings Inc.'s chairman and CEO since August 25, 2005. Plus, Frangou serves as the chairman and CEO of Navios Partners, an affiliated limited partnership trading on the New York Stock Exchange since August 2007, and as the chairman and CEO of Navios Maritime Acquisition Corporation, an affiliated corporation also trading on the New York Stock Exchange. Frangou has also been the chairman of the board of directors of Navios Logistics since its inception in December 2007. Previously, Frangou was chairman, CEO, and president of International Shipping Enterprises Inc., which acquired Navios Holdings. From 1990 through August 2005, Frangou was the CEO of Maritime Enterprises Management S.A., and its predecessor company, which specialized in the management of dry cargo vessels.
Thoughts: Well, she sure is a superwoman who has an empire of publicly traded shipping companies at her command and is good at multitasking.
Article continues below advertisement
Frangou is the Chairman of IRF European Finance Investments Ltd., listed on the SFM of the London Stock Exchange. As of September 2012, Frangou is also serving as a board member of Eurobank Ergasias S.A. (one of the largest commercial banks in Greece). From April 2004 to July 2005, Frangou served on the board of directors of Emporiki Bank of Greece (then, the second largest retail bank in Greece). From June 2006 until September 2008, she also served as Chairman of Proton Bank, based in Athens, Greece. Frangou is member of the board of the United Kingdom Mutual Steam Ship Assurance Association (Bermuda) Limited, vice chairman of the China Classification Society Mediterranean Committee, and a member of the Hellenic and Black Sea Committee of Bureau Veritas as well as a member of the Greek Committee of Nippon Kaiji Kyokai.
Thoughts: Her wealth is probably in the billions rather than the millions. Her position in Greek banks and ties with other financial institutions could help companies under Navios secure financing needs and possibly at cheaper costs. Her membership or position in other shipping committees could lead Navios over others in terms of managing, maintaining, and repairing ships that meet high-quality safety standards at low costs.
Frangou received a bachelor's degree in mechanical engineering from Fairleigh Dickinson University (summa cum laude) and a master's degree in mechanical engineering from Columbia University.
Thoughts: While she did graduate from an Ivy League, perhaps what's more important is that she enjoys working with numbers. Indeed, she had previously worked as an analyst on Wall Street, and was a trader for a while, working with credit default swaps. That must have taught her how to assess risk and how to hedge against them.