Is craft better? Boston Beer Company's high-quality ingredients
The four main ingredients that Boston Beer Company uses are malt, hops, yeast, and apples. Malts, hops, and yeast are part of most beer-making processes.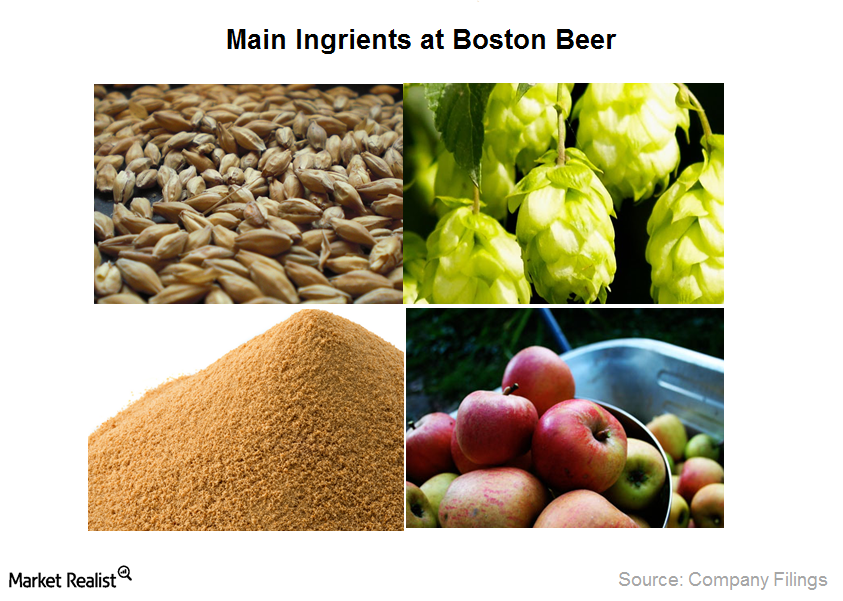 Ingredients used to make beer
The four main ingredients that Boston Beer Company uses are malt, hops, yeast, and apples. Malts, hops, and yeast are part of most beer-making processes. Malts are germinated cereal grains dried using a process called "malting." Germination is the process by which the plant starts to grow out of its seed. This is done by soaking in water. However, they're prevented from developing further by drying with hot air. For simplicity, all three ingredients are added together to make alcohol. But like wine and cooking, the chemistry of each ingredient and the process used to make alcohol will influence the overall product's characteristics and quality.
Malts
Article continues below advertisement
Article continues below advertisement
The malts that Boston Beer Company uses are mainly grown in the United States and Canada, and prices during the last two years have been significantly above the ten-year averages. Prices have come down this year (2013), of course, as with many other crops due to favorable weather conditions. There are two major suppliers in 2012, and SAM has a multi-year contract with one of them. But these are likely to be a threat because there are other vendors out there capable of supplying these needs.
Noble hops
Noble hops is also used to make most of Samuel Adams's beers. Hops are often used to add bitterness, flavor, and aroma to the beer and to balance out the sweetness of malt (you can't detect a hops aroma in a mainstream beer, according to Aaron Brown at Adventures in Alcohol).
Noble hops are produced in various places, known for their superior taste and aroma properties, including Hallertau-Hallertauer, Tettnang-Tettnanger, Hersbruck-Hersbrucker, and Spalt-Spalter from Germany and Saaz-Saazer from the Czech Republic. Because of their superior taste and aroma properties, these hops are rare and more expensive than the ordinary kinds. Ordinary English hops, East Kent Goldings, and English Fuggles are used in many of the company's ales, while United States hops is used in specific ales and lagers.
Article continues below advertisement
Based on its needs, management will enter purchase commitments with six hops dealers. These dealers will then find farmers to meet the beer producer's needs. Payments for German and Czech hops is done in euros, while English hops is bought using pounds. The company doesn't hedge its forward currency commitments, so currency fluctuations could impact the company's profits.
Yeast
Boston Beer Company also maintains a supply of proprietary strains of yeast used in its breweries. Because it would be impossible to duplicate if destroyed, the company maintains secure supplies in several locations. The strains are stored and protected at an outside laboratory. Yeasts are added to malted grains in order to ferment and produce carbon dioxide and alcohol from sugar. Carbon dioxide is what gives the bubbly characteristics of alcoholic beverages like beer, and the type of yeast used will affect type and flavor of beer produced. Different kinds of yeast are used to ferment at varying temperatures. Those used to ferment at higher temperature lead to sweet or fruity beers, while those fermented at lower temperatures are used to make lagers, according to the Food Reference section of About.com.
Apples
Special varieties of apples are used by the firm in its ciders. These are believed to have an important influence on flavor, and they're purchased from European suppliers—some bittersweet apples from France and culinary apples from Italy. The supply of these apples is limited and the company was negatively impacted by a shortage of these apples. Boston Beer Company entered into a purchase agreement to cover its 2013 needs and has been evaluating whether to enter multiple-year contracts. It's likely, in our view, that the company would enter multi-year agreements as its hard cider product grows at a rapid pace and supply needs to be secured.