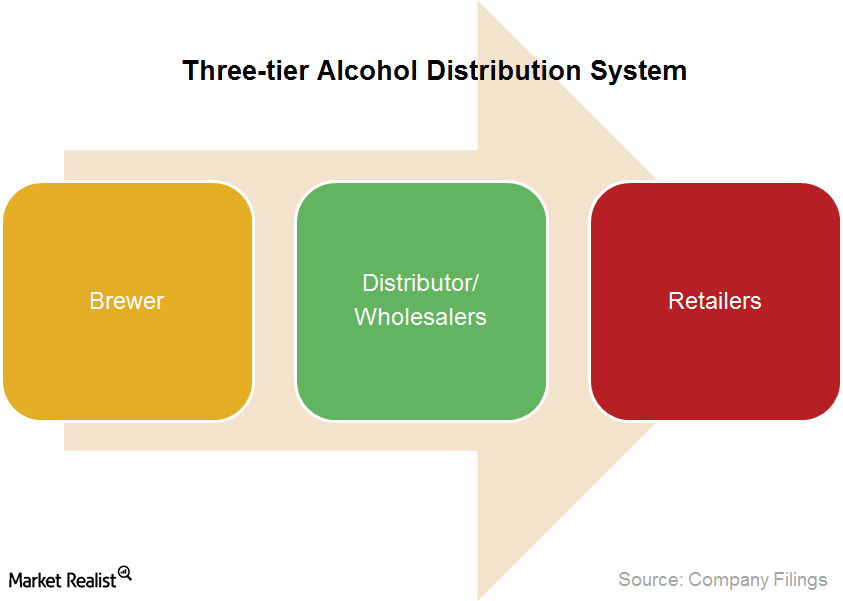 Why Boston Beer Company and peers' beer distribution is important
Distribution
Like other brewers in the United States, Boston Beer Company (SAM) sells its products to distributors and wholesalers, which in turn sell to retailers—part of the three-tier system of alcohol distribution developed in the United States after the repeal of Prohibition. The company has some exposure to Canada, Europe, Israel, the Caribbean, the Pacific Rim, and Mexico, but it's mostly focused on the United States.
Three-tier distribution
Article continues below advertisement
Article continues below advertisement
The three-tier distribution system means Boston Beer has to compete with other brewers for a share of the distributor's attention, time, and selling efforts. In a more mature market like the United States, we see this as slightly less important because as long as consumers like the product, retailers will demand it and wholesales will purchase it.
Coca-Cola
Coca-Cola, for example, has marketed its product with incredible success throughout the 20th century, so that it became one of the most common drinks in people's daily lives. As consumers all wanted Coca-Cola, retailers had no choice other than to purchase Coca-Cola—even if Coca-Cola was asking for higher prices for its product. Bottlers also lost bargaining power because Coca-Cola pretty much dominated the beverage industry.
Red bull's case in China
But in a market like China, where there may not be much brand loyalty, distribution is very critical. When Red Bull tried to enter the Chinese market a few years back, it spent large sums of money on branding and advertising. However, Red Bull lacked a distribution channel to sell goods at stores, so while Red Bull was trying to work its way through that channel, a competitor mimicked Red Bull's product and benefited from Red Bull's spending on marketing.