Higher new build prices mean higher dry bulk shipping share prices
What new build prices reflect The prices of new builds are useful indicators that reflect the dry bulk shipping industry's future fundamental outlook. New prices often rise because of higher orders for ships. Usually, this is the result of managements' speculation that future shipping rates (which can increase or stay the same from the current […]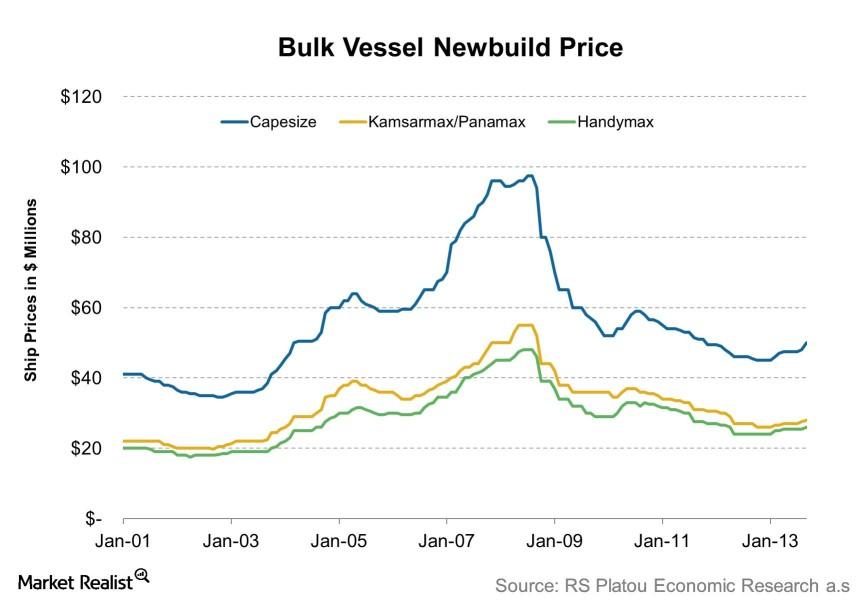 What new build prices reflect
The prices of new builds are useful indicators that reflect the dry bulk shipping industry's future fundamental outlook. New prices often rise because of higher orders for ships. Usually, this is the result of managements' speculation that future shipping rates (which can increase or stay the same from the current level) will be profitable enough to generate good returns from these new assets. Conversely, if future rates are expected to be unprofitable, then demand for new ships and ship prices will fall.
Newbuild vessel prices rose in September
Article continues below advertisement
Article continues below advertisement
According to RS Platou's monthly report, vessel prices for three categories of vessels—Capesize, Panamax, and Handymax—continued to show a rising trend on September. Of the three classes, Capesize jumped the most, by 4.2%, rising from $48 million to $40 million. Panamax and Handymax vessels both saw a ~1.9% increase in vessel price.
Higher prices reflect improving fundamentals for the dry bulk shipping industry. As we've seen, rates for Capesize ships are now at levels unseen since 2010, which have lifted Panamax rates too. Despite many analysts raising cautious signs, higher newbuild price reflects managers' optimism that the dry bulk shipping recovery is alive and well.
Companies issuing new shares to purchase vessels
Investors might have noticed that several companies have been issuing new shares. Unlike new share issuance seen in prior years, current new shares are primarily used to fund new ships that are expected to be quite profitable when they arrive in a few years. While new build prices have yet to return to 2010 highs, it wouldn't be too long before we see such levels as shipping rates continue to recover and companies' earnings normalize.
Higher vessel prices will translate to higher share prices
This development will have a positive impact on share prices. As many might have noticed, when new build prices turned around at the beginning of the year, several dry bulk shipping companies rallied—some earlier than others. September's jump in new build Capesize value is encouraging evidence of a dry bulk recovery. While the price increase appears to be weaker for Panamax and Handymax, they're heading in the right direction. As long as an uptrend maintains, expect shipping companies like DryShips Inc. (DRYS), Diana Shipping Inc. (DSX), Safe Bulkers Inc. (SB) and Navios Maritime Holdings Inc. (NM) to rise higher over the medium to long term. This impact on Navios Maritime Partners LP (NMM) may be limited, since several of its premium contracts aren't expected to mature within the next few years.