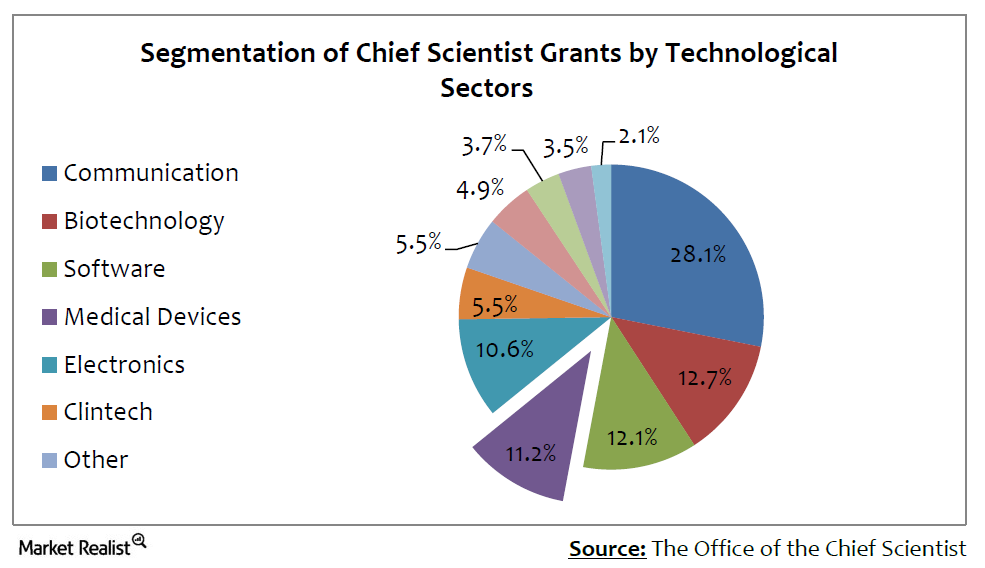 Why Israel is poised to soon lead medical device industry growth
Israel is already a leading medical device market
The size of New Jersey, Israel boasts thousands of new engineers graduating from the Israeli Defense Forces each year and a history of investment in high-tech R&D (research and development). Readily available intellectual talent and capital has made Israel a booming hub for the medical device industry. As of August 2013, Israel is reportedly home to approximately 700 medical device companies while also accumulating the most medical device patents per capita in the world. Further strengths of the Israeli medical device industry include professional interdisciplinarity (high expertise in other relevant fields for many devices, like medicine or electronics), high flexibility in the industry (accommodating changes in the economy or regulatory environments), and a strong imaging sub-sector.
Strong foundation creates opportunities for Israel
The strength of Israel's medical device industry positions the industry to leverage new emerging markets in India and China. With hundreds of companies fueling innovation in their development stages, the country's industry is poised to provide more effective products for equal or lower costs.
U.S. investment is on the rise
Article continues below advertisement
Article continues below advertisement
U.S. companies have taken note of the potential in Israel's device sector. Medtronic purchased Ventnor Technologies in 2009 for $325mm, Covidien engaged in a series of buyouts totaling $650mm, and Stryker purchased an Israeli brain aneurysm device company for $135mm at the end of 2012. Investments from U.S. companies continued, with GE healthcare setting up an R&D shop in Jerusalem and Philips Healthcare establishing an incubator in Israel this past July. Venture capital investments in the medical device industry have risen 4% in the past two quarters. Out of the approximate 700 medical device companies in Israel, 65% haven't reached mature commercial levels and are still in early stages of R&D, so look for these companies to help establish significant growth in device exports and revenue in the near future.
Israel poised to drive significant amount of industry growth
Espicom Business Intelligence forecasts the Israeli market to be valued at $1.096 billion in 2016—a 20% increase over five years. The country looks to the medical device industry for a significant amount of growth. In 2011, out of the $385mm invested in life sciences, two-thirds of that amount was directed towards medical device companies (10% of all capital raised by all sectors). The Israeli government has taken steps to support the industry, including implementing a $222mm OrbiMed fund following a tender released by the country. Alongside other support programs offered by the Chief Scientist, in 2011, the medical device industry received 11.2% of all technological grants.
As the world's population (including baby boomers) continues to age, demand for medical devices is only expected to increase. Most medical device companies in Israel are still in early development stages, and their success depends on future capital availability. Further risks include regulatory hurdles, with more stringent regulation in the future, payer pressures, and the relative weak performance of medical device companies on the TASE (Tel-Aviv Stock Exchange). However, if investment trends continue upward, look for these developing companies to supply a large amount of medical device demand in the future, driving significant growth and revenues.