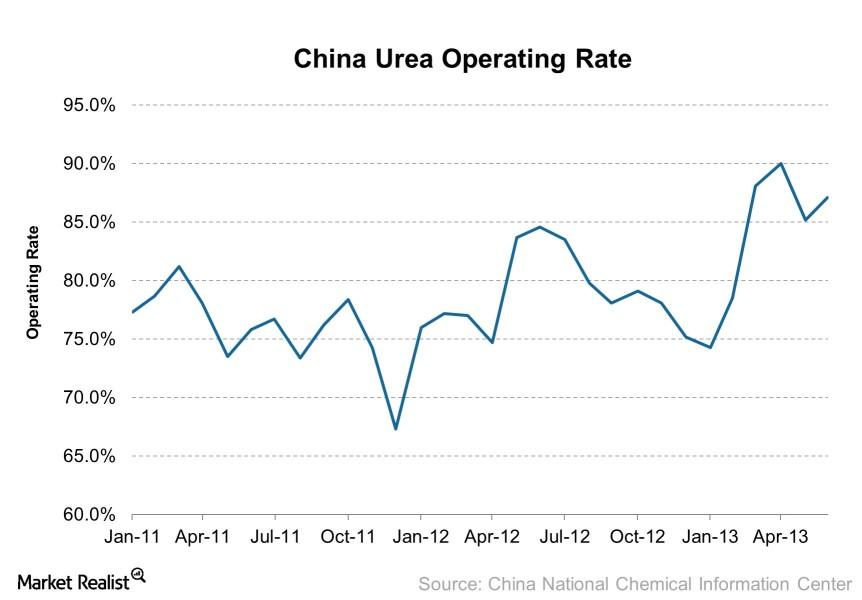 Why Chinese producers are driving nitrogenous fertilizer prices down (Part 2)
By Xun Yao Chen

Nov. 27 2019, Updated 11:58 a.m. ET
Continued from Part 1
Operating rate rises as China becomes more competitive
Historically, the expense of using coal to produce nitrogen-based fertilizers has kept Chinese firms away from increasing production, because they would have had to sell the fertilizers at a loss. As a result, operating rate (capacity utilization) in China has been lower than the rest of the world, with an average operating rate of ~77.5%. But the relative cheapness of coal has made Chinese producers much more competitive in the global market. Encouraged by the lower coal prices, however, Chinese manufacturers have increased output this year, with their operating rate hitting as high a 90% in April. China's operating rate remains above last year high of 85%.
Surge in production driving urea prices down
Article continues below advertisement
The surge in production has driven urea (a type of nitrogenous fertilizer) prices down to as low as 1,889 renminbi per metric tonne at the end of June this year—a 15% decline from the same month last year. Notably, urea prices tend to rise from November to April, as domestic farmers do most of their purchases for annual plantation, which precedes price declines from July to October. During these price decline months, the off season occurs and taxes lower.
Learn more about the importance of Chinese producers in the global market
This analysis continues in Why Chinese producers are driving nitrogenous fertilizer prices down (Part 3).