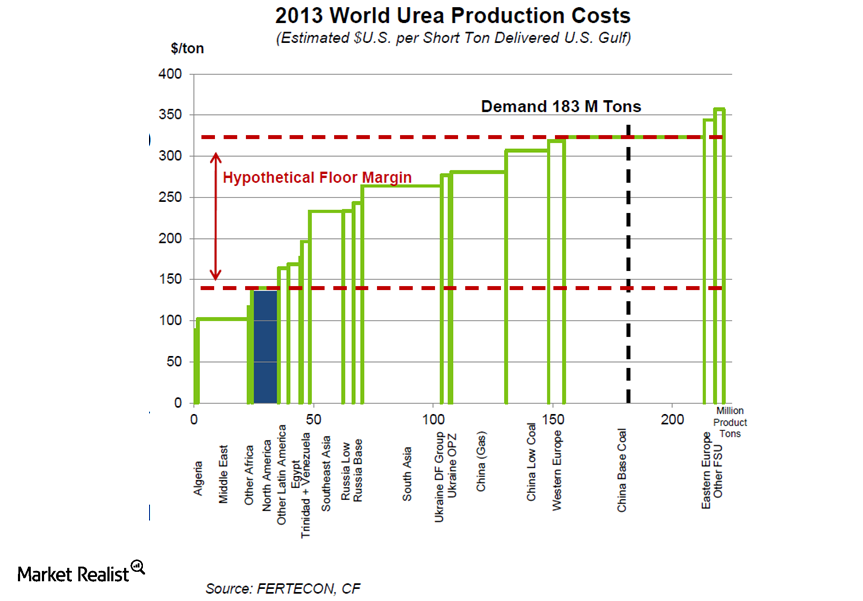 Why Chinese producers are driving nitrogenous fertilizer prices down (Part 1)
How China affects the global fertilizer market
China, the world's largest producer of nitrogen (a chemical used to make nitrogenous fertilizers for growing plants) occupies roughly 40% of global production capacity. Although much of its output is sold to domestic farmers—as an export tax of as much as 75% during the on-season restricts domestic firms from selling in the global market—its export policy can change from year to year. When fertilizer prices are low or when there's excess production or inventory, higher Chinese exports could drive down global nitrogenous fertilizer prices.
China uses coal while other countries use natural gas
Article continues below advertisement
Article continues below advertisement
While China isn't the most expensive producer of nitrogenous fertilizer, it is one of the more expensive producers, unlike the United States. This is because most of its available capacity uses coal as an input for producing nitrogen, while the rest of the world uses natural gas. So the total cash cost of producing nitrogenous fertilizer and delivering it to the U.S. Gulf (southeast boarder) is estimated at ~$320 per short ton (see chart above). Investors should keep in mind, though, that these costs can change from time to time due to variances in raw-material prices.
Low coal prices make Chinese producers more competitive
Due to lower economic growth outlook and demand out of China, with China slowly shifting away from using coal to generate electricity, coal prices have been falling lately. While newcastle prices (a benchmark for all other coal shipped from Australia) stood at $93.05 per metric tonne in February earlier this year, it fell to $77.75 per metric tonne by the end of June. Domestic coal price at Qinhuangdao has fallen from $115 per metric tonne to $111.23 per metric tonne over the same period.
Learn more about the importance of Chinese producers in the global market
This analysis continues in Why Chinese producers are driving nitrogenous fertilizer prices down (Part 2).