Just days shy of a government shutdown, President Donald Trump on Sunday, Dec. 27 signed the stimulus bill that had passed in Congress the weekend prior.
Article continues below advertisement
This stimulus bill is the second the U.S. has passed since the start of the COVID-19 pandemic, and it took a full seven months to come to fruition. As a part of the package, one of the benefits for individual Americans comes in the form of $300 in weekly federal unemployment.
Why did Trump wait so long to sign the second stimulus bill?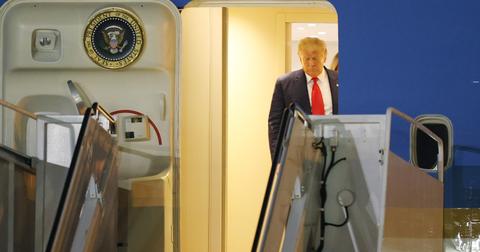 Despite the fact that Trump aides negotiated the $900 billion stimulus bill and the president himself had approved the outcome verbally, Trump decided to wait until Sunday to officially sign off and get the ball rolling.
Article continues below advertisement
Trump said he wanted the bill to be larger, particularly the size of the $600 stimulus checks that go directly to individuals.
The value of $600 is just over half of the average U.S. monthly rent for a two-bedroom unit of $1,180.
While the stimulus bill remained in limbo, Trump continued his efforts to prove election fraud, a story that has long since been debunked. He also vacationed in Florida while crucial members of his administration went on holiday trips elsewhere.
Article continues below advertisement
Now that the bill is through, when will unemployment start back up?
Unfortunately for the 6.7 percent of working-age Americans who were unemployed as of the Nov. 2020 Bureau of Labor Statistics analysis, Trump's delay in signing the bill has serious consequences. This delay directly caused unemployment benefits to lapse. This means people will have to wait days for their relief instead of receiving it on Dec. 26 like they were supposed to.
While a few days may not seem like much, it can be debilitating for individuals and families living without a steady paycheck. This is especially true during the holiday season when out-of-pocket expenses typically increase. Meanwhile, Jan. 1 rolls near and rent and mortgage payments loom.
Article continues below advertisement
The $300 unemployment benefits for Americans were initially approved for 11 consecutive weeks, which would have helped unemployed Americans get a total of $3,300. However, due to Trump's delay and ultimately the benefits lapse, the bill is now only good for 10 weeks, totaling $3,000 dollars, since it expires on March 14, 2021. This means Trump's decision to delay signing the bill has cost each unemployed American $300.
Are the $300 unemployment benefits retroactive?
600 to 700 stimulus checks?
And only 300 unemployment benefits?
This pandemic is ranging and they keep doing these short term deals to help the American people.
American's need long term deals not one time payments and short term benefits from unemployment.

— Summer47 (@TheSummerof47) December 17, 2020
The Washington Post reported the $300 unemployment payments won't be retroactive and make up for missed weeks in a lump sum. However, if someone becomes unemployed in the early days of 2021, they could take advantage of the overflow period (which lasts until April 5) and earn an extra three weeks of $300 payments.
Article continues below advertisement
When will the $600 stimulus check go out to Americans?
In addition to approving a second stimulus check, the bipartisan COVID-19 relief aid will renew programs both Democrats and Republicans agree are critical, including $300 federal unemployment benefits, money to help businesses pay employees,

— Setio Kaiba (@KaibaSetio) December 28, 2020
Most Americans will receive a $600 stimulus check now that the bill is final. However, Trump still wants a $2,000 check to be approved, and the House is currently voting on whether or not to proceed with that addendum to the package.
It's unclear whether the $600 check will be sent out in the meantime or if Americans will have to wait for yet another vote to be approved. However, since the check distribution process is already in place, Americans can likely expect a smoother, quicker experience.