Gateway Computers Had a Surprising Comeback at Walmart
By Dan Clarendon

Apr. 8 2022, Published 3:21 p.m. ET
It's fair to ask what happened to Gateway, a company that was once a major player in the computer industry. Launched from a farmhouse in 1985, Gateway eventually grabbed the industry's third-biggest U.S. market share, behind only Hewlett-Packard and Dell, and 25 percent of the retail PC business.
Article continues below advertisement
But by 2007, the success story was over. That's when Taiwan-based PC manufacturer Acer bought Gateway for $710 million, about a tenth of what the now-defunct American computer company Compaq offered for Gateway 10 years prior. So it came as a surprise when the Gateway brand returned to the market in 2020. Here's the story on Gateway's decline and resurgence…
Gateway's sales volume dropped by more than half in three years.
When Acer agreed to the Gateway deal in December 2007, CNET observed how Gateway went "from PC powerhouse to buyout bargain," attributing the company's decline to a succession of bad quarters, high turnover in the CEO position, and a "schizophrenic" business strategy.
Article continues below advertisement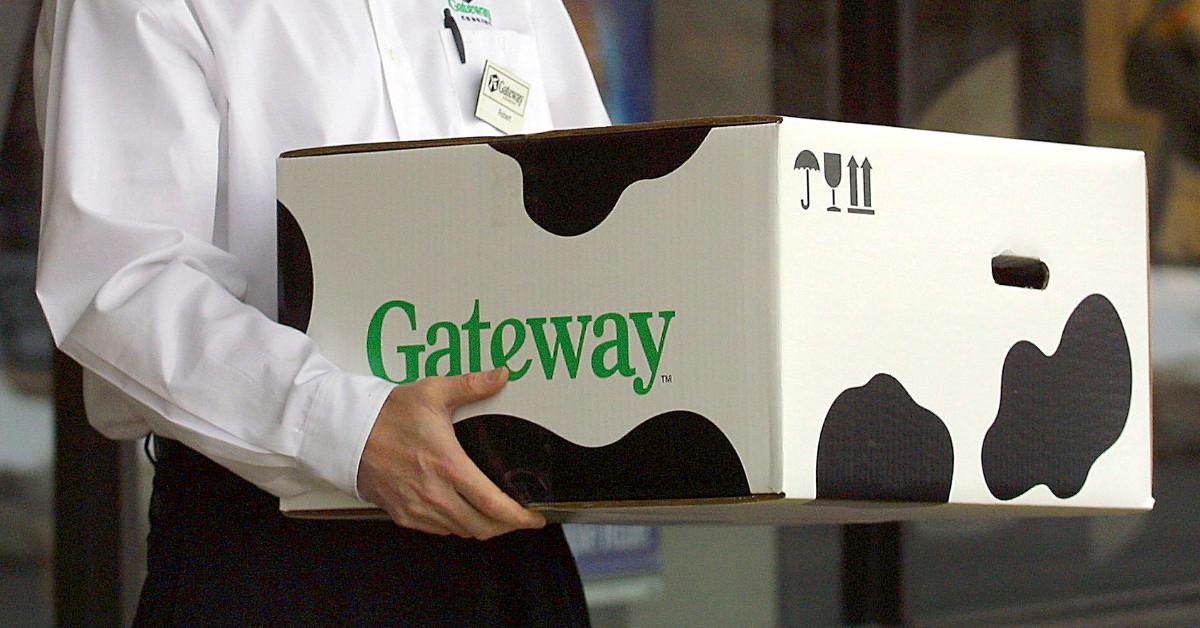 According to the site, the economic downturn in the early 2000s made a big dent in Gateway's business, especially as demand for PCs waned. Gateway went from selling 4.2 million units in 2000 to 1.9 billion three years later. The company opened retail stores, ventured into consumer electronic sector, and bought budget computer maker eMachines, but those tactics didn't pan out.
Article continues below advertisement
And 24/7 Wall St.—which in 2009 dubbed Gateway one of the ten "biggest tech failures" of the past decade—noted that Gateway was slower than its competitors in entering the laptop business.
"Gateway's basically been up on eBay for the last couple years," Samir Bhavnani, an analyst at Current Analysis, told CNET at the time of the Acer deal.
The Gateway brand returned with new laptops in 2020.
In September 2020, Acer and Walmart announced that Gateway computers were returning to the market, with a new line of Walmart-exclusive notebook computers and laptop convertibles starting from $179.
Article continues below advertisement
"The Gateway PC brand and its renowned cow-spotted boxes have been well-loved in the United States since 1985," Jade Zhou, Acer's of global strategic alliances, said in a statement at the time. "Acer is thrilled that Walmart is becoming the exclusive provider of Gateway-branded notebooks and tablets. We are pleased that customers in the United States and Puerto Rico will have the opportunity to enjoy the beloved Gateway brand again through one of the world's top retailers."
Now the Gateway brand is selling dozens of products through Walmart, including its Creator series—which features Nvidia Geforce graphics cards and AMD or Intel i5 processors—and the Ultra Slim series—which boasts THX displays and Tuned by THX audio.
Article continues below advertisement
More recently, PC Gamer hardware writer Jorge Jimenez was surprised to see a Gateway 15.6" FHD Creator Notebook on sale for $800 at Walmart last month. "I thought for a moment I might have time-traveled back to the year 1999," Jimenez quipped. "Was I about to kick my brother off the family computer to play Starcraft again? But no: It's 2022, and Gateway is alive and kicking and this laptop, in particular, actually seems to be a pretty good deal."