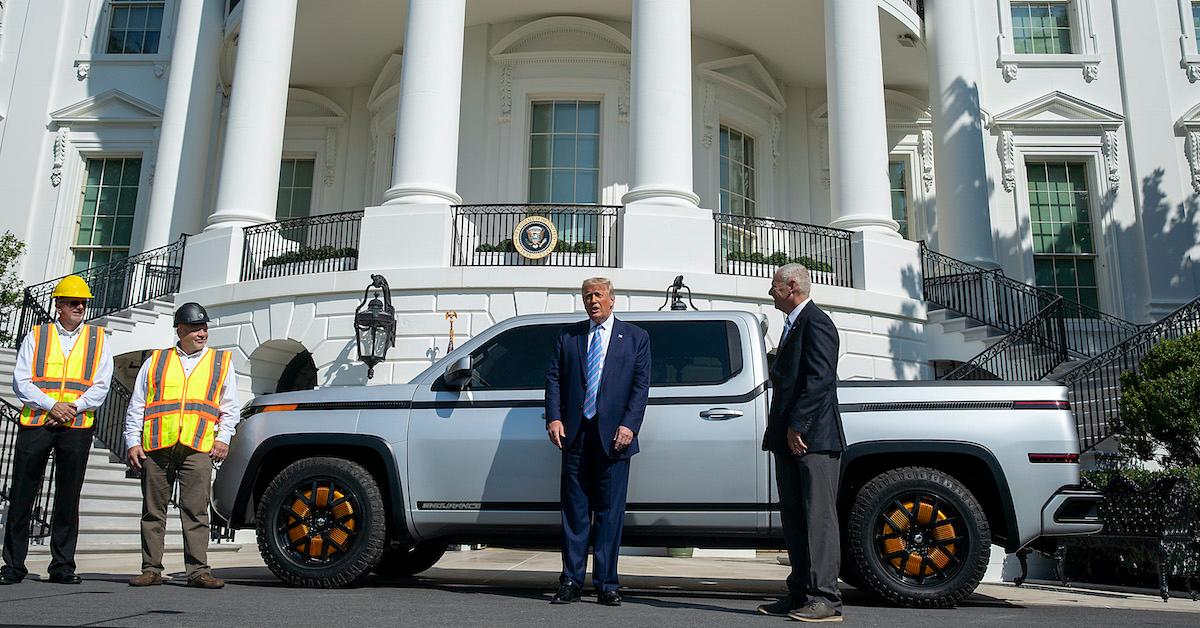 Workhorse Stock Price Shoots Up After Trump Cheers Lordstown's New EV Truck
Workhorse Group Incorporation, an American manufacturing company based in Ohio, experienced a sudden upward trend in stock price. This happened after Lordstown Motors showcased its newly produced 2021 Endurance electric pick-up truck at the White House.
Article continues below advertisement
Article continues below advertisement
The unveiling was witnessed by President Donald Trump, who made encouraging comments, stating that the truck's special feature of all-electric four-wheel-drive is an "incredible concept."
Article continues below advertisement
Workhorse stock news
Workhorse has a 10 percent holding in Lordstown Motors. Trump's positive remarks gave credence to Workhorse's increased public confidence as well as boosting its stock price. The production of the all-electric trucks stirred the interest of investors, causing the stock price to rise by 800 percent. Since Monday after Trump's favorable remarks, the price has gained by 13 percent.
Why Workhorse stock is going up
The stock price of the electric van maker, Lordstown Motors, has been moving upward since June, following speculation by a Wall Street analyst that there would be more business for the electric-van maker. A few days later, Lordstown stock went up by more than 10 percent.
Article continues below advertisement
Article continues below advertisement
An analyst with Roth Capital, Craig Irwin, also speculated there is a high possibility that a merger with a SPAC could be imminent. He went further to illustrate that a takeover similar to the GM-Nikola deal could be on the horizon. Following all these assertions, investors think staking on this company could be worthwhile and viable.
What is Workhorse stock price today?
Though Workhorse stock price has been on the increase since June, it experienced a more upward trend in September. It gained over $6 in the last week of September, which represents a 26 percent increase in price according to the NASDAQ price index. Price jumped by 16 percent since Monday following President Trump's commendations.
Article continues below advertisement
Article continues below advertisement
The stock price recently closed after gaining $3.32, which represents a 13 percent increase within the hours. At the time of writing, the price was at $28.13 on NASDAQ.
Article continues below advertisement
Should I buy Workhorse stock?
Generally, the stock market has been affected by the pandemic, with so many company share prices crashing within the shortest period. But Workhorse stock has possible signs of growth. Besides expert predictions and the current bullish trend in the Workhorse stock, there are signs of viability in investing in its stock. Its shares suggest a promising turn out with emerging new leadership.
Considering the business size and scope of operations, EV cargo and light-duty pickup ventures sound interesting. Workhorse shows great potential to attract bigger business deals and partnerships, as well as boosting viability. The company also has another arm in the drone delivery sector, which presently has high growth potential.
It has a 10 percent stake in Lordstown Motors whose recently unveiled all-electric powered truck is making the news and stirring investor's interests. Lordstown Endurance EV could also be a good source of royalty.
Considering the business environment and potentials of this company, it could be said that its stock is viable enough to buy.