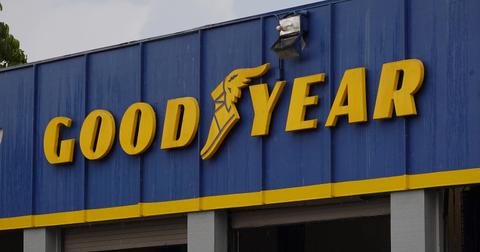 Trump 'Cancels' Goodyear on MAGA Hat Ban
By Ruchi Gupta

Updated
Donald Trump's tweet about Goodyear sent the tiremaker's stock tumbling yesterday. Trump called for a boycott of Goodyear tires, sparking an investor exodus from the stock. Goodyear stock fell as much as 6.0 percent in intraday trading Wednesday before paring some of the losses.
Don't buy GOODYEAR TIRES - They announced a BAN ON MAGA HATS. Get better tires for far less! (This is what the Radical Left Democrats do. Two can play the same game, and we have to start playing it now!).

— Donald J. Trump (@realDonaldTrump) August 19, 2020
Why did Trump call for boycott of Goodyear?
Trump called on his supporters to boycott Goodyear tires over an alleged Goodyear company policy banning employees from wearing hats with the "Make America Great Again" (or "MAGA") political slogan. In addition to asking his supporters to stop buying Goodyear products, Trump threatened to have the Goodyear tires removed from his presidential limousine. Goodyear supplies the presidential limo tires as well as those on vehicles for the U.S. Secret Service, the security agency that protects the president. With his Goodyear boycott tweet, Trump also suggested that the company's products are unnecessarily expensive.
Trump's Goodyear boycott call came in response to an image of a slide shared by a Goodyear employee. The slide showed that materials such as hats with slogans supporting "Black Lives Matter" and LGBT communities were acceptable at work. However, materials with slogans such as "All Lives Matter," "Blue Lives Matter," and "MAGA" were unacceptable.
Yesterday, Goodyear became the focus of a conversation that created some misconceptions about our policies and our company. Goodyear has always wholeheartedly supported both equality and law enforcement and will continue to do so. pic.twitter.com/oO6jUg2rTR

— Goodyear (@goodyear) August 19, 2020
Why did Goodyear ban MAGA hats?
Goodyear disowned the controversial slide that triggered Trump's call for the boycott of its products. However, the company explained that it doesn't encourage its staff to express support for political campaigns, parties, or candidates in the workplace, and that it doesn't tolerate workplace discrimination or harassment.
National YouGov/CBS Poll:

Biden 51% (+10)
Trump 41%

A 6 point shift towards Biden in 2 months

— Political Polls (@PpollingNumbers) July 26, 2020
"MAGA" was Trump's campaign slogan in the 2016 presidential race. Another tough contest awaits Trump in a few months, with some polls showing that Trump is trailing Joe Biden by as much as 10 percent for the November presidential election.
What is Goodyear's stock price today?
In premarket trading today, Goodyear stock had risen more than 1.0 percent to above $9.60. After Trump called for the boycott of the company's products, the stock fell 2.36 percent to close at $9.50 yesterday, marking one of its worst days this month. Goodyear stock is down about 40 percent this year and is 45 percent below its 52-week high of $17.20.
The most bullish analyst on Wall Street has a $20 price target on Goodyear stock, implying the stock could more than double. But the most bearish analyst predicts a 40 percent downside for the stock, targeting about $6. Goodyear stock carries a consensus "hold" recommendation from analysts.