Should You Buy AON Stock Like Warren Buffett or Wait?
Berkshire Hathaway, which is led by the legendary value investor Warren Buffett, has disclosed a new stake in British insurance company Aon Inc. (AON). It isn't clear whether it was the Oracle of Omaha or Ted Weschler and Todd Combs, the other two investment managers at Berkshire Hathaway who bought the shares. Should you also buy AON stock or give it a miss?
Article continues below advertisement
Many investors tend to follow legendary fund managers. However, over the last few years following Buffett hasn't been a very profitable strategy. For example, Buffett was selling Apple stock gradually over the last few quarters even as the iPhone maker continued to make new highs.
AON stock and Berkshire Hathaway
Berkshire Hathaway bought over 4 million shares of AON in the first quarter of 2021 and the stake is valued at just above $942 million. While AON stock was trading higher in pre-market on May 18 and opened higher for the day, it soon pared its gains.
Article continues below advertisement
Berkshire Hathaway has captive insurance operations through its subsidiary GEICO. The business generates a lot of float for the conglomerate, which Buffett then invests in stocks or uses to acquire companies. However, while Buffett has been hunting for an "elephant-sized acquisition" for over two years, he hasn't been able to strike a deal.
Article continues below advertisement
Buffett has also looked at buying stocks overseas. In 2020, he invested in five Japanese trading companies. Berkshire Hathaway has also invested in Chinese company BYD.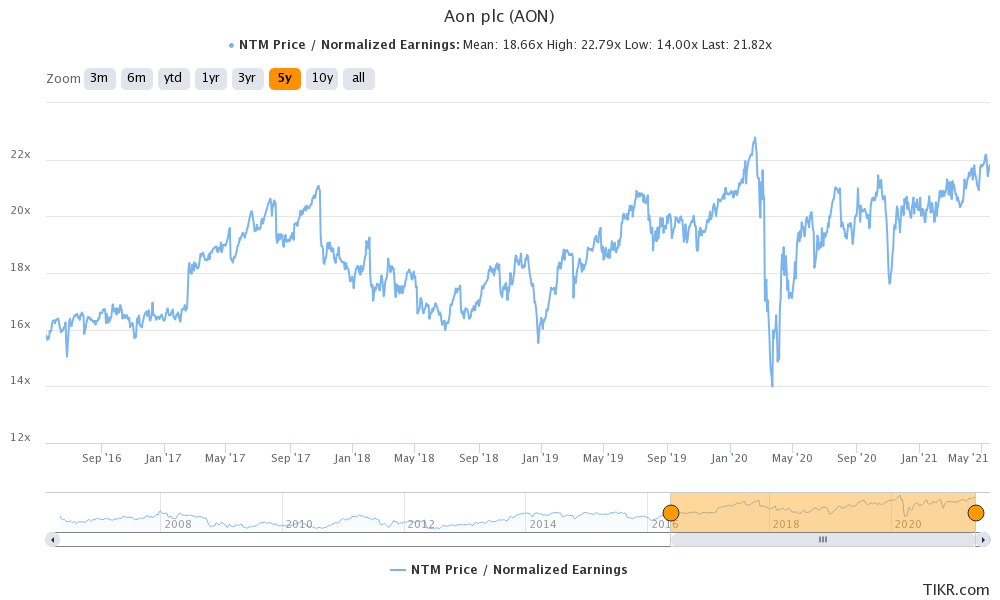 Article continues below advertisement
AON stock valuation
AON stock trades at an NTM PE multiple of 21.8x. The multiple has averaged 19.2x and 18.7x over the last three and five years, respectively. The broader markets have also seen an expansion of trading multiples over the last few years. Massive fiscal stimulus and accommodative monetary policy have catapulted U.S. stock markets to record highs.
Is AON stock undervalued?
Looking at some of the other multiples, AON trades at a price-to-book value multiple of 13.5x, which is also higher than its historical average. While Buffett is known for his value investment principles, AON stock doesn't really look undervalued.
Article continues below advertisement
AON stock forecast
According to the estimates compiled by CNN Business, analysts don't have a very optimistic view of the insurance company. Its median target price of $255.50 is similar to the current prices. The stock's highest target price of $300 is a 17.5 percent premium, while the lowest target price of $226 is an 11.5 percent discount over the current prices.
Article continues below advertisement
Only seven of the 17 analysts covering AON have rated it as a buy or higher, while eight have rated it as a hold. Two analysts have a sell rating on the stock.
Article continues below advertisement
AON stock isn't a good buy.
AON's revenues have increased in low single digits in the last two years and the growth isn't expected to pick up much over the next two years. While the growth rates are tepid, the stock looks richly valued and is trading at a significant premium over its historical trading multiples. AON stock doesn't look like a compelling buy at these prices even though Berkshire Hathaway has taken a stake in the company.
What price to buy AON stock?
If AON stock corrects around 10 percent from the levels that it's currently trading at, it could be worthwhile a look. For now, I would give the stock a miss at these prices.