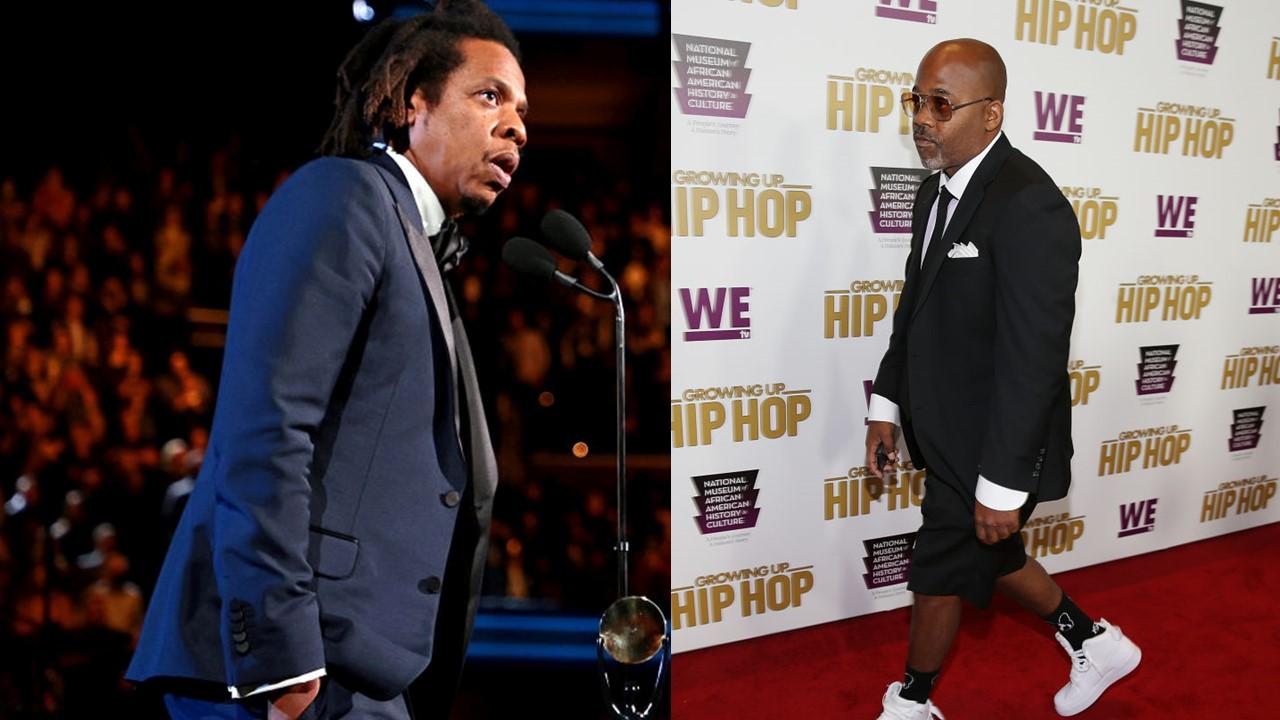 'Reasonable Doubt' NFT Lawsuit: Why Roc-A-Fella Is Suing Dame Dash
By Rachel Curry

Mar. 17 2022, Published 12:40 p.m. ET
Founded in 1996, Roc-A-Fella Records made waves immediately after hitting the scene. With the release of co-founder Jay-Z's Reasonable Doubt record that same year, Damon "Dame" Dash and Kareem "Biggs" Burke were on the up and up. Decades later, Roc-A-Fella is suing Dash over alleged copyright infringement and an attempt to sell Reasonable Doubt as an NFT.
Article continues below advertisement
Dash vehemently denies the claims and says he was trying to sell his stake in Roc-A-Fella records as an NFT after the label offered to buy him out at what he felt was an offensively low price. Now, the label says its exploring settlement options, but Dash says there isn't a settlement in sight because he did nothing wrong.
The "Reasonable Doubt" NFT lawsuit's origins date back to last year.
In June 2021, Dash was preparing to sell an NFT at an auction on the SuperFarm marketplace. Roc-A-Fella complains that Dash was attempting to sell Jay-Z's Reasonable Doubt album, known for hits like Can't Knock the Hustle and Dead Presidents II, as an NFT. The auction was expected to close on June 25 — the 25th anniversary of the album's release.
Article continues below advertisement
The label interfered and the auction was canceled, but the lawsuit proceeded. Roc-A-Fella says Dash was in the process of finding another venue to consummate this improper transaction.
Dash insists that Jay-Z and Roc-A-Fella misunderstand his intent. He reports that he was trying to sell his stake in Roc-A-Fella as an NFT after the label offered to buy him out for a low price.
Article continues below advertisement
Despite Dash and Jay-Z falling out in 2005, the two—plus their third co-founder Burke—retain a third of the company's equity. Jay-Z's first album Reasonable Doubt falls under this ownership, which means that Dash doesn't solely own and determine how the album is used.
Despite Dash's insistence that his intention differed from the label's complaint, the way he portrayed the NFT ahead of the auction says otherwise. The announcement said, "SuperFarm is proud to announce, in collaboration with Damon Dash, the auction of Damon's ownership of the copyright to Jay-Z's first album Reasonable Doubt."
Article continues below advertisement
Dash attempted to auction his share in Roc-A-Fella for $10 million in 2020, and this is potentially another push to maximize his earnings and exit. Dash's financial troubles have been noted in the media over the years, including the foreclosure of two Tribeca lofts with $7.3 million remaining on the mortgages. Meanwhile, Jay-Z boasts a $1.3 billion net worth and continues to expand his business ventures (some of which have succeeded, while others—like The Parent Co. Holding Corp. cannabis SPAC—have not).
Roc-A-Fella says it's exploring settlement options—but Dame Dash says otherwise.
In the case's latest updates, Roc-A-Fella attorney Alex Spiro says both Dash and Roc-A-Fella are "in the process of meeting and conferring to determine whether they can reach a settlement agreement that would resolve this case."
Article continues below advertisement
In response, Dash wrote on his Instagram:
"Please don't believe this hype we are no where near a settlement.. they accused me of doing something i did not do and now they have to prove it…and i can sell my share anytime I want #askthejudge and #jayz and @biggsburke if you wanna settle this holla at me…we use to hustle together…court is corny…let's talk like men for the culture… I dare y'all to respond #doitfortheculture"
In the meantime, Dash's NFT sale has been temporarily blocked. If the Roc-A-Fella co-founders aren't able to reach an agreement in court, Roc-A-Fella's legal team will proceed with additional motions to prevent Dash from selling any part of Reasonable Doubt.
Jay-Z's first album has been deemed culture-shifting and historical by many reviewers and it's unlikely Roc-A-Fella will step down from the fight.