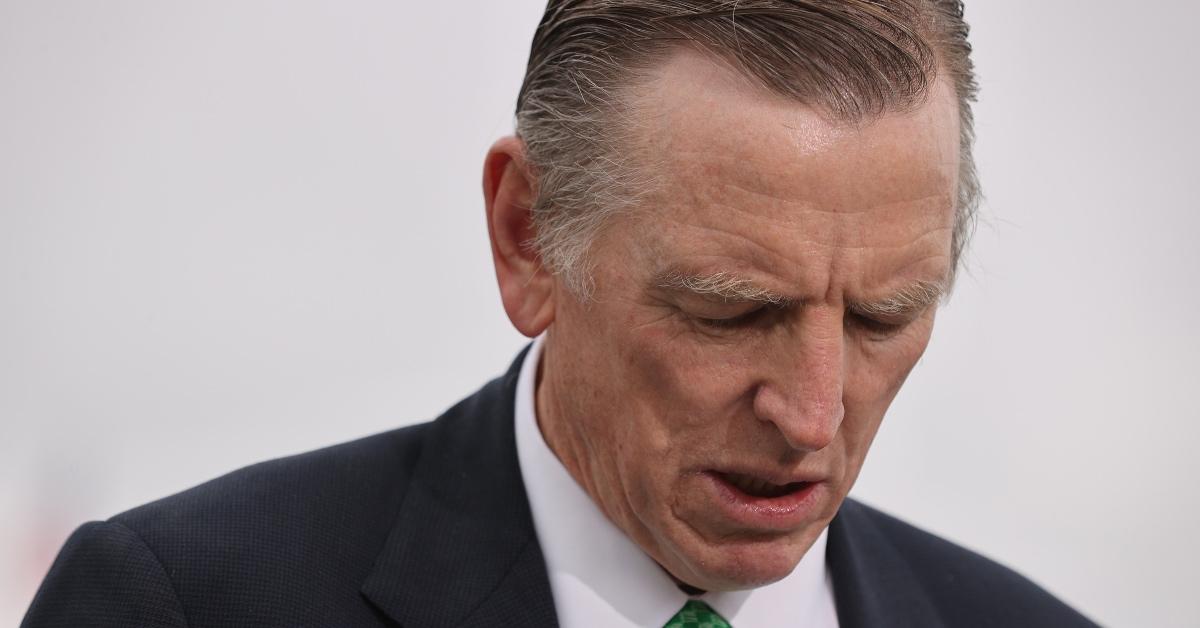 Paul Gosar Censured Over Cartoon: Will It Impact His Net Worth?
Paul Gosar's career might have taken a turn south after the House voted on Nov. 17 in favor of censuring the Arizona Congressman over a violent cartoon he released via Twitter. The cartoon was a depiction of Gosar killing Democratic Rep. Alexandria Ocasio-Cortez "with a sword" and attacking President Joe Biden, according to Time.
Article continues below advertisement
Although censure acts as a formal process that disproves a politician's behavior or actions, it doesn't always result in them being removed from their political position. In Gosar's case, however, House Speaker Nancy Pelosi and Ocasio-Cortez are calling for him to be removed from Congress. Could Gosar's career and net worth be in jeopardy?
Paul Anthony Gosar
U.S. Representative for Arizona's 4th Congressional District
Net worth: $5 million (unconfirmed)
Paul Gosar became a U.S. politican in 2010. Prior to that, he owned and operated his own dental practice out of Flagstaff, Ariz. for 25 years. Gosar's political agenda typically includes increasing the employment rate, fighting back against illegal immigration, and cutting back on "wasteful" government spending.
Spouse: Maude Gosar
Kids: 3
Date of Birth: Nov. 27, 1958
Education: Bachelor's Degree from Creighton University (1981)
DDS from Creighton Boyne School of Dentistry (1985)
Article continues below advertisement
In terms of net worth, $5 million is the figure that's circulating the internet, although it hasn't been confirmed. With the House's recent move to censure Goslar, it isn't clear how the decision will impact his career in Congress. However, Goslar doesn't seem to be too worried. He hasn't apologized yet or admitted that his actions might have been out of line.
Gosar doesn't appear to be taking the censure as a threat to his political career or his net worth.
Serving as a Rep. from Arizona's 4th Congressional District certainly has its perks. Congressional salaries as of April 2018 were $174,000 for most senators, representatives, and delegates. Although it isn't clear whether Goslar is earning $174,000 annually serving as a congressman, his salary is presumed to be somewhere around this number.
Article continues below advertisement
In the meantime, the House decided to strip Gosar of his committee assignments, which includes "a seat on the House Oversight Committee, a panel on which he had served alongside Ocasio-Cortez," according to Yahoo! News.
So far, Gosar hasn't apologized publicly for the inappropriate cartoon he shared via Twitter.
During a U.S. House Debate on Resolution to Censure Rep. Paul Gosar, Ocasio-Cortez commented on the cartoon in which she was the primary subject.
Article continues below advertisement
Ocasio-Cortez said, "What I believe is unprecedented is for a member of House leadership of either party to be unable to condemn incitement of violence against a member of this body. It is sad...it is a sad day in which a member who leads a political party in the United States of America cannot bring themselves to say that issuing a depiction of murdering a member of congress is wrong."
Ocasio-Cortez's comment signifies that Gosar has yet to come forward with a public apology. Instead, he replied to the censure and said, "If I must join Alexander Hamilton—the first person attempted to be censored by this House—so be it, it is done."
Article continues below advertisement
On. Nov. 9, prior to the House voting in favor of the censure, Gosar had already started to defend his cartoon involving the killing of Ocasio-Cortez by tweeting another cartoon. In this cartoon, one character is saying "Your cartoon anime scares me with your jet pack flying and light sabers," while the other is replying with "It's a cartoon. Relax."
Article continues below advertisement
What was Paul Goslar's profession prior to joining Congress?
Goslar entered the world of politics in 2010 with "no prior experience," according to his biography. He believes in adopting policies that "allow for more individual liberty and less government involvement." Before he became actively involved in politics, Gosar owned his own dental practice in Flagstaff for 25 years.
Gosar was once recognized as the "Dentist of the Year" by the Arizona Dental Association and inducted into the Arizona Dental Association's Hall of Fame.