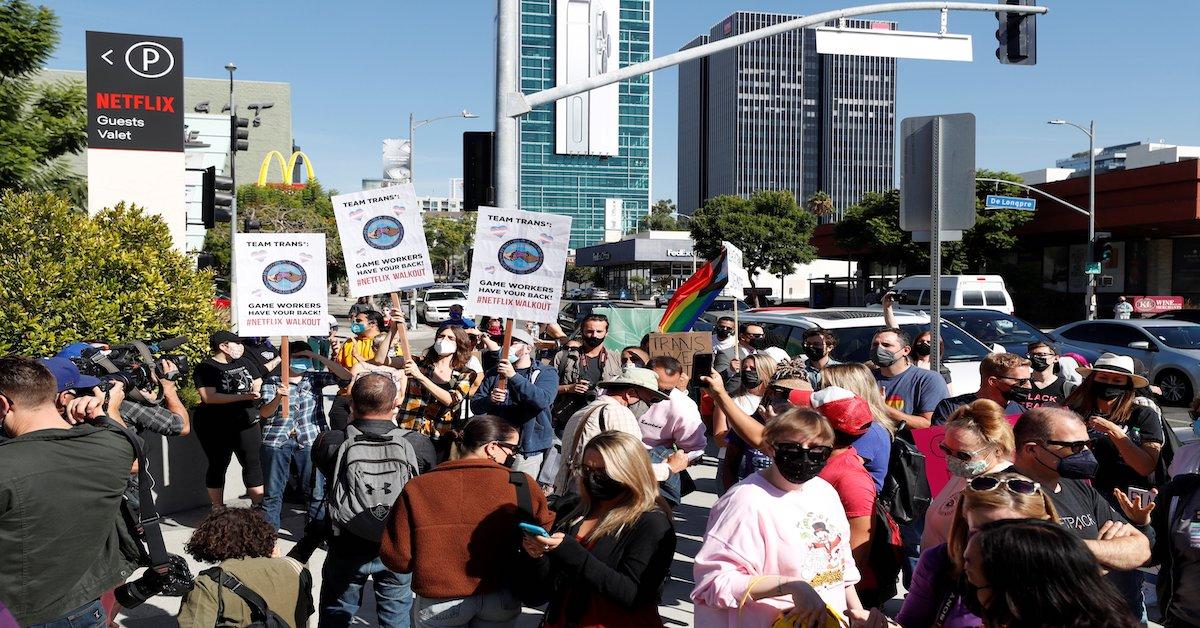 Why Netflix Employees Stage a Walkout, and Why Some Viewers Are Boycotting in Solidarity.
By Robin Hill-Gray

Oct. 20 2021, Published 6:16 p.m. ET
Netflix has been in hot water over its release of Dave Chappelle's latest comedy special The Closer. Chappelle's name and comedy have never not been attached to controversy, but this time it elicited roars on the streets of L.A. in the form of protest.
Article continues below advertisement
What initially began with Netflix employees discussing their opinions on Chappelle's content grew into a larger beast. One transgender employee was suspended (and then quickly reinstated) after they tweeted a thread of their concerns and opinions on the severity of Chappelle's comments. Additionally, a group of employees were suspended for attending a meeting they were not invited to regarding the special.
Netflix lashed out at an employee who released privileged data.
Additionally, an unnamed employee was fired for sharing extremely sensitive data on the financial figures surrounding The Closer's revenue. Netflix maintained that while they understand some employees may be acting out of hurt, releasing privileged internal data is unacceptable regardless of the content.
Article continues below advertisement
How Netflix exec Ted Sarandos poured gasoline on the fire:
Ted Sarandos, -CEO and Chief Content Officer of Netflix added fuel to the fire (and is a large reason for the present protests erupting) when he released an internal memo to staff on his position over the special. Posted exclusively on Variety, some of Sarandos' main points were the following:
Article continues below advertisement
"With The Closer, we understand that the concern is not about offensive-to-some content but titles which could increase real world harm (such as further marginalizing already marginalized groups, hate, violence etc.) Last year, we heard similar concerns about 365 Days and violence against women. While some employees disagree, we have a strong belief that content on screen doesn't directly translate to real-world harm."
The exec went on to refer to other controversial shows Netflix has aired that could have been perceived as promoting direct harm, including 13 Reasons Why and the newest Netflix hit, Squid Game. His goal in citing these other features was to maintain that content can be viewed in various ways, especially when it focuses on a touchy subject such as suicide, death, and marginalized communities. It is for this reason that Sarandos felt justified in his decision. But this point that he attempted to drive home did little to remedy the effects of his actions.
Article continues below advertisement
Netflix employee walk out in protest.
As of this morning, the scheduled Netflix employee walkout was underway and drew hundreds. The protest has been sitting in Twitter's trending section all day and it is likely that will carry into the next few days as more and more people show their support with the hashtag NetflixWalkout.
Article continues below advertisement
Many Netflix employees and fans alike feel Sarandos' main priority was to defend Chappelle instead of reassuring staff that he values and respects their concerns.
Can Netflix extinguish the fire or is too late?
In a poorly timed and "tail between his legs" fashion, Ted Sarandos released a public apology today where he admits he "screwed up those communications."
He goes on to say, "I should have first and foremost acknowledged in those emails that a group of our employees were in pain, and they were feeling really hurt from a business decision that we made. And I, instead of acknowledging that first, I went right into some rationales."
While self-reflection is a trait many people respect, most felt the apology addressed the salt on the wound, but not for the wound itself. Whether or not this apology is enough to tame this Netflix wildfire is unsure, but it has definitely proven to be futile in its attempts to pull back the protests that have already received worldwide applause.