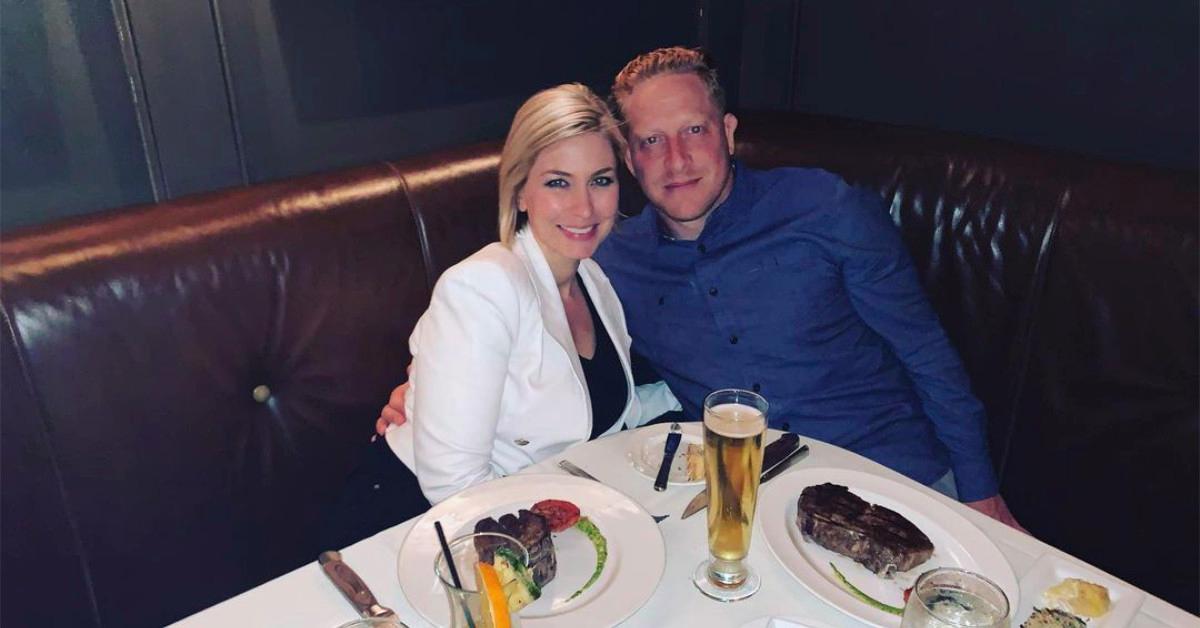 Morgan Brennan's Husband Made His Soccer Fandom Known During Her CNBC Broadcast
Since Morgan Brennan started filming CNBC segments from home, her husband has been sneaking memorabilia into her shots—including a token of his love for a certain Italian soccer team. As regular CNBC viewers know, Brennan is the co-anchor of the 10 a.m. ET hour of Squawk on the Street, the cable channel's weekday morning show broadcast live from the New York Stock Exchange.
Article continues below advertisement
Article continues below advertisement
Brennan joined CNBC in 2013 after a few years working at Forbes, where she covered business, finance, and real estate. Once onboard at CNBC, Brennan worked as a general assignment reporter, and to this day, she covers manufacturing, defense, space, and other sectors. Her husband, Matt Cacciotti, stays offscreen, but he's big into finance, too, as the founder and CEO of a full-service brokerage. Read on for more details about Cacciotti and his life with Brennan.
Matt Cacciotti accrued his net worth in trading
Current information about Cacciotti's net worth isn't readily available, but his LinkedIn profile reveals he's the CEO and founder of Gold Street Trading, a full-service brokerage based in White Plains, N.Y., that he founded in 2010.
Article continues below advertisement
"GST operates with a dedication to servicing its customers," the company's website explains. "We built GST with a common understanding and priority: that a professional, trusted brokerage presence with market knowledge and world-class execution will service customers best. Since our inception, we have continually expanded our market presence to increase our coverage and services offered."
Article continues below advertisement
Article continues below advertisement
In 2005, Cacciotti became the president of MMC Trading, a company that traded crude oil and energy futures and options, among other products. (In fact, Brennan quoted him for a 2009 Forbes article about rising oil prices.) And earlier in his career, he worked as a runner and clerk for COMEX and NYMEX, according to his LinkedIn profile.
Fans have gotten glimpses of his and Brennan's home life—including his Roma fandom
As Brennan anchored CNBC broadcasts from home in April 2020, Twitter users took notice of her home decor, especially an item of neckwear. "Love the Totti scarf," one person tweeted at the time, after spotting the scarf—commemorating Associazione Sportiva Roma player Francesco Totti—hanging from an armchair.
Article continues below advertisement
Article continues below advertisement
"My die-hard-@ASRomaEN-fan husband has apparently gotten into the broadcast-from-home," Brennan replied, adding the hashtags #WFHLife and #ForzaRoma. A Twitter account appearing to belong to Cacciotti also shared an image of the Totti scarf behind Brennan.
Article continues below advertisement
Cacciotti's Totti keepsake made headlines in Italy, with Sky Sport publishing an article about a U.S. journalist "[going] live with the Roma scarf." ("Boy, that escalated quickly," Morgan tweeted at the time, sharing a link to that news story.)
Shortly thereafter, another viewer commented Brennan on the "amazing" wall carving behind her. "Thank you!" she responded. "We inherited it with the house, along with some very cool sculptures outside. It's a midcentury-modern fixer-upper, but the artwork and the lack of a single 90-degree angle made the house a must for my husband and me."