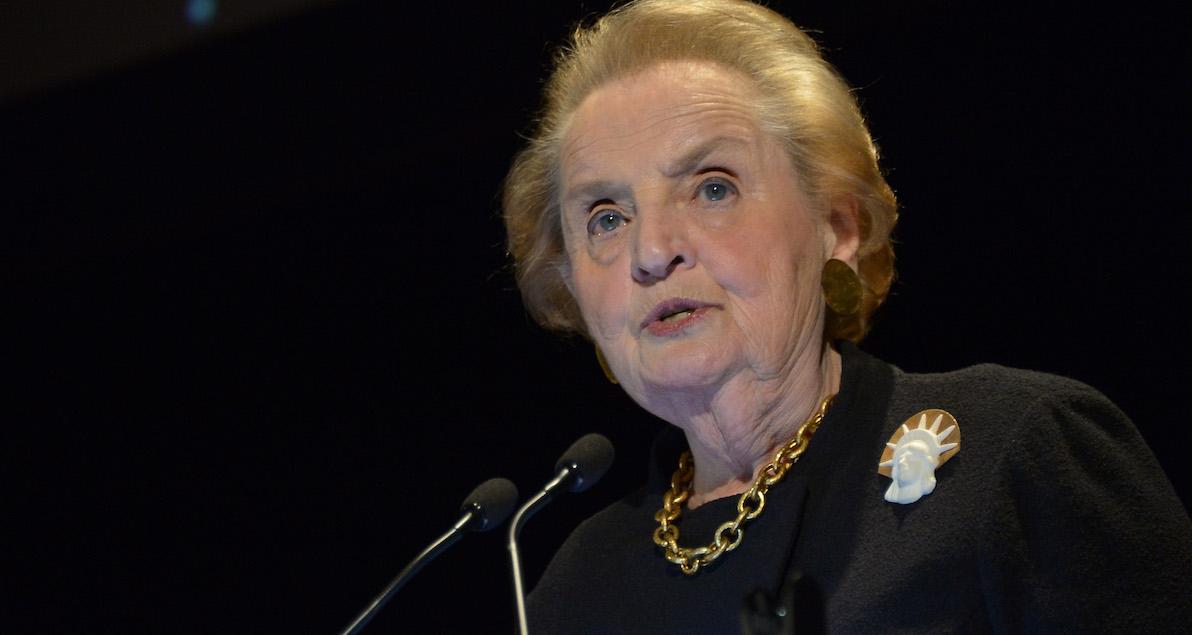 Madeleine Albright's Net Worth and Legacy Following Her Death at 84
The United States' first female Secretary of State Madeleine Albright has died at age 84 following a battle with cancer. Her family shared the news of the feminist icon's passing, prompting many political figures to share their condolences.
Article continues below advertisement
Article continues below advertisement
"As the first woman to serve as America's top diplomat, Madeleine Albright was a champion for democratic values," Barack Obama tweeted. "Michelle and I send our thoughts to the Albright family and everyone who knew and served with a truly remarkable woman."
Bill Clinton also released a statement, adding, "Madeleine's passing is an immense loss to the world in a time when we need the lessons of her life the most, but we know her legacy will live on through all the students she taught so well at Georgetown, everyone who was inspired by her remarkable journey from refugee to Secretary of State, and the many people around the world who are alive and living better lives because of her service."
Madeleine Albright arrived in America in 1948, after fleeing the Nazis during World War II.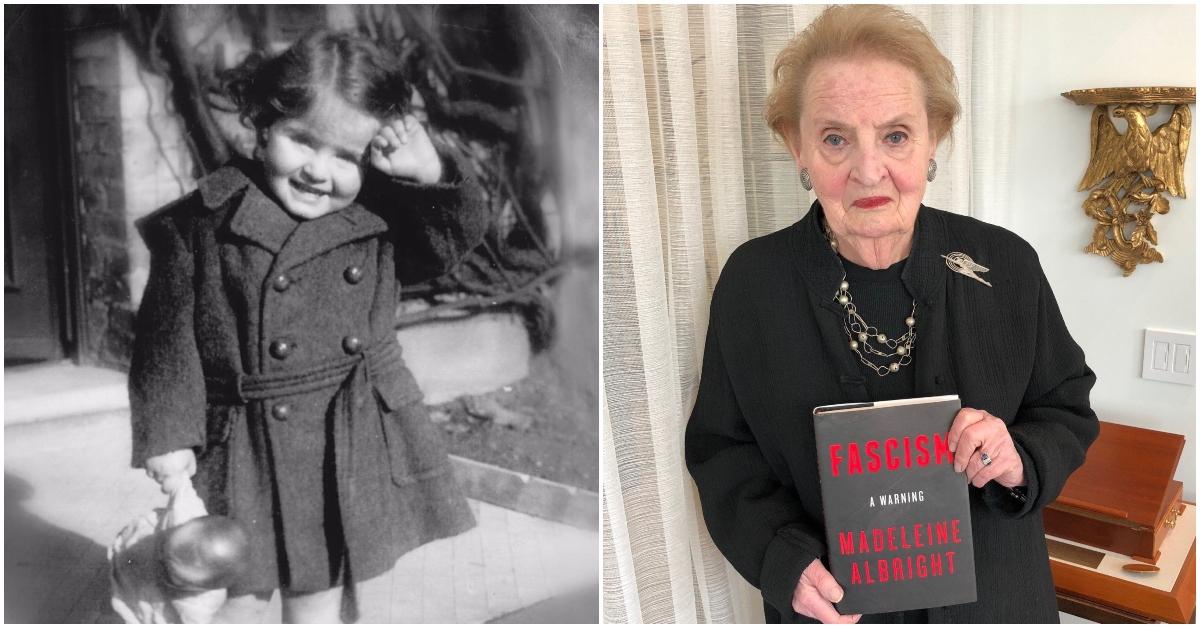 Born in Prague, Czechoslovakia, Albright's family fled their hometown in 1939, after being forced into exile by the Nazis. After living in England for a few years, Albright eventually made her way to the United States in 1948.
Her father eventually landed a job as a professor in Colorado, where Albright spent her teen years. She went on to attend Wellesley College on a full scholarship and graduated in 1959 with a degree in political science.
Article continues below advertisement
She met her ex-husband, Joseph Medill Patterson Albright, the nephew of Newsday owner and wife of Harry Frank Guggenheim Alicia Patterson, shortly after graduation while working at The Denver Post.
The couple welcomed twin daughters in 1961, and in 1967, Albright gave birth to another daughter, while attending Columbia's Department of Public Law and Government, where she obtained an M.A. and Ph.D.
Madeleine Albright went from academia to U.S. Ambassador in 1993.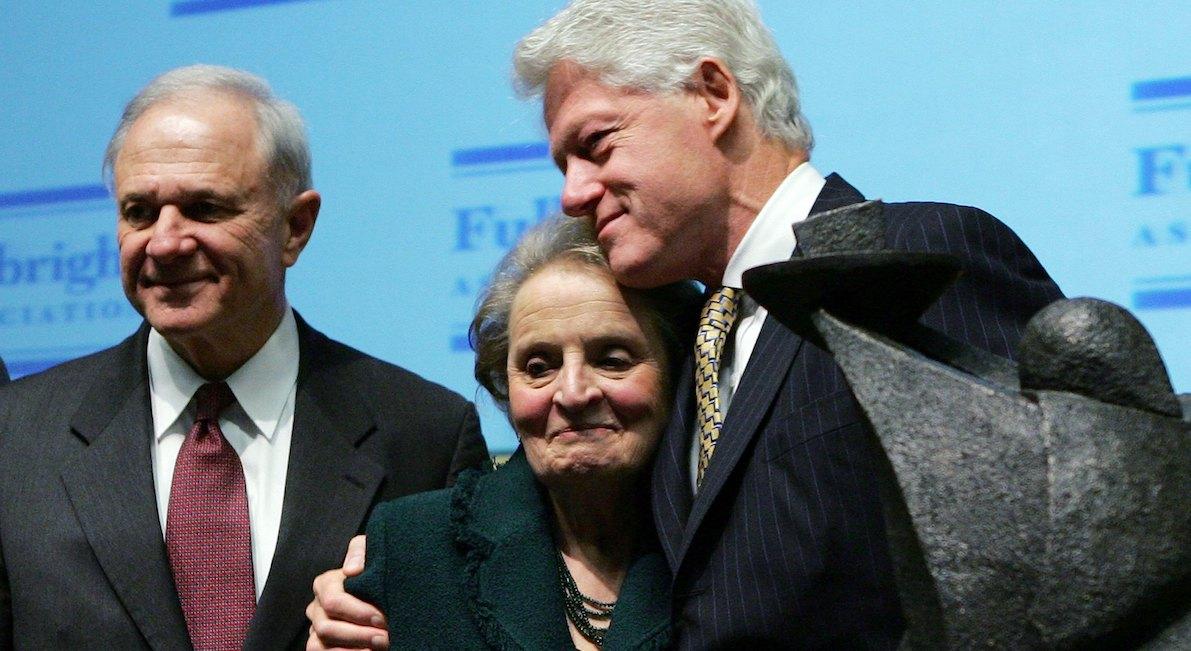 After a stint at Georgetown University, former President Bill Clinton appointed Albright as a United States Ambassador to the United Nations and before long she was named the first female U.S. Secretary of State in 1997.
Among her accomplishments in the role were the transfer of sovereignty over Hong Kong and meeting with Kim Jong-il in 2001 during an official state visit to North Korea.
Article continues below advertisement
Article continues below advertisement
"I think that our main regret, all of ours, is obviously that we haven't been able to accomplish more on the Middle East," she told PBS Frontline of her time working with President Clinton. "And I think a big regret is the fact that we haven't gotten all the support out of Congress that is necessary to carry on a robust foreign policy. So the size of the budget for foreign policy I think is something that he regrets."
Article continues below advertisement
Since her time as Secretary of State, Albright has become a feminist icon, appearing in TV shows such as Gilmore Girls and Parks and Recreation. Albright was also inducted into the National Women's Hall of Fame.
Article continues below advertisement
What was Madeleine Albright's net worth?
At the time of her death, Albright's net worth was estimated at $10 million, according to Celebrity Net Worth. Along with politics, Albright founded the consulting the Albright Group, as well as invested in stocks and was a co-investor in the $350 million investment vehicle Helios Tower Africa along with George Soros and Jacob Rothschild.
Article continues below advertisement
Madeleine Albright
Former U.S. Secretary of State
Madeleine Albright was a former U.S. ambassador and the first female Secretary of State under President Bill Clinton. Albright was also known for being a feminist icon and was awarded the Presidential Medal of Freedom by President Barack Obama in 2012. She died in 2022 at the age of 84.
Birthdate: May 15, 1937
Birthplace: Prague, Czechoslovakia
Father: Josef Korbel
Mother: Anna Korbel (née Spieglová)
Marriage: Joseph Medill Patterson (1959-1982)
Children: Three daughters —  Alice Patterson Albright, Anne Korbel Albright, and Katherine Medill Albright
Education: Wellesley College (B.A.), Columbia University (M.A. and Ph.D.)
Albright was also an author, publishing several books including her memoir, Madame Secretary: A Memoir, and Read My Pins, which provides an intimate look at Albright's life through the brooches she wore.
"On good days, when I wanted to project prosperity and happiness, I'd put on suns, ladybugs, flowers, and hot-air balloons that signified high hopes. On bad days, I'd reach for spiders and carnivorous animals," she said of her fashion statement brooches.
"For me, they were always just a way I could communicate with people. Who knew a little inanimate object could say so much."
It's safe to say, Albright's legacy will live on for generations to come.