Is It Possible to Buy Cardano's ADA on Coinbase?
Cardano is a cryptocurrency that seeks change. A lot of investors are wondering if they can snag ADA on Coinbase.
In 2017, Ethereum and Bitshares co-founder Charles Hoskinson launched a company called Cardano. By Jan. 24, 2021, Cardano's ADA treasury of tokens exceeded $0.36 per token or $100 million total—but the treasury's two-year peak only lasted for a moment. With this rally, Coinbase cryptocurrency traders may want to get in on the Cardano party before it swells even further.
Article continues below advertisement
Article continues below advertisement
But can you use the popular trading platform Coinbase to get your own ADA tokens?
Coinbase doesn't trade Cardano ADA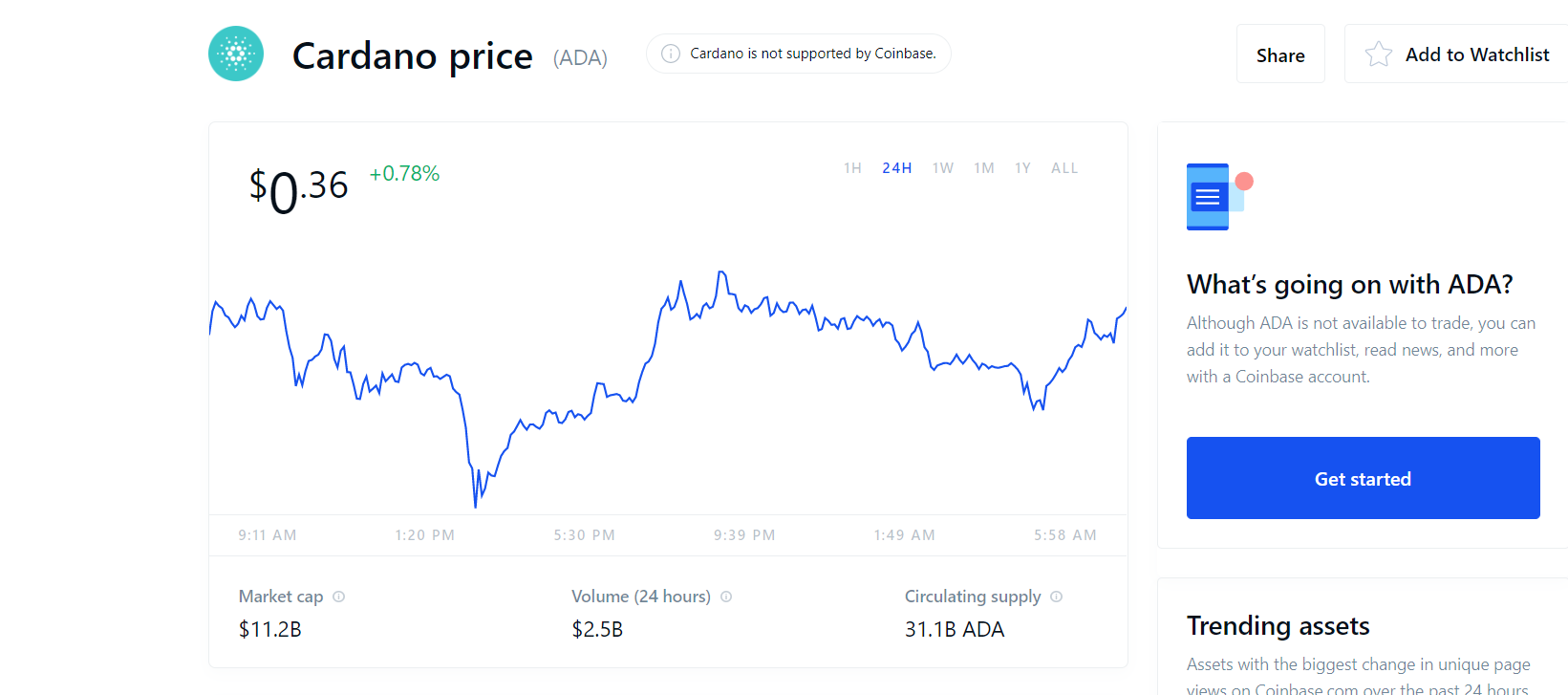 Fans of Cardano (ADA) may be disappointed to hear that Coinbase doesn't offer ADA tokens to trade. Despite the fact that the cryptocurrency trading platform has 35 million active users across 100 nations, there are still numerous altcoins that haven't made it to the platform. Cardano just so happens to be one of them.
Article continues below advertisement
Coinbase does offer trading for Ethereum's ETH, which is an alternative to Cardano's ADA—in fact, Cardano's token is sometimes called the "Ethereum killer."
Use Coinbase to watch ADA
While you can't actively trade Cardano's blockchain cryptocurrency on Coinbase, you can use the platform to watch and learn about ADA's latest moves. According to Coinbase, you can "add it to your watchlist, read news, and more."
Article continues below advertisement
Article continues below advertisement
Platforms that trade Cardano ADA
If you can't get Cardano on Coinbase, where can you go?
Investors can look to Kraken for ADA activity. After signing up and verifying your account, you just need to fund your account and purchase ADA. Kraken notes that it provides advanced charting tools and margin trading once a purchase has been made. However, make sure to do your research—margin trading carries its own set of risks.
Article continues below advertisement
Another option is Binance. You can make a bank transfer to trade Cardano coins, or simply use the values from other coin holdings on the platform to make a viable trade. Binance even allows deposits using a credit card if that's your preference. It's kind of like margin trading, but you owe the credit card company instead of the brokerage.
Article continues below advertisement
There's also Bittrex, though it accepts only wire transfers. You can purchase ADA by trading it for Bitcoin, USD, or USDT. These alternatives to Coinbase could allow you to fill up on Cardano before the next big rally.
Article continues below advertisement
Cardano claims to make big changes—do they live up to it?
Head to Cardano's website and you'll see the company is big on change. In fact, it claims to have the "tools and technologies required to create possibility for the many, as well as the few, and bring about positive global change." The team who developed the ADA coin is made up of academics, which may explain why ADA is named after 19th-century mathematician Ada Lovelace.
One thing worth noting is that the Cardano Foundation holds stakeholders of all levels accountable. Whereas it seems like a community with plenty of checks and balances, it's also plausible that the initiative's executives are in it for themselves. I suppose there's only one way to find out, though, and that's by trading ADA on your own.