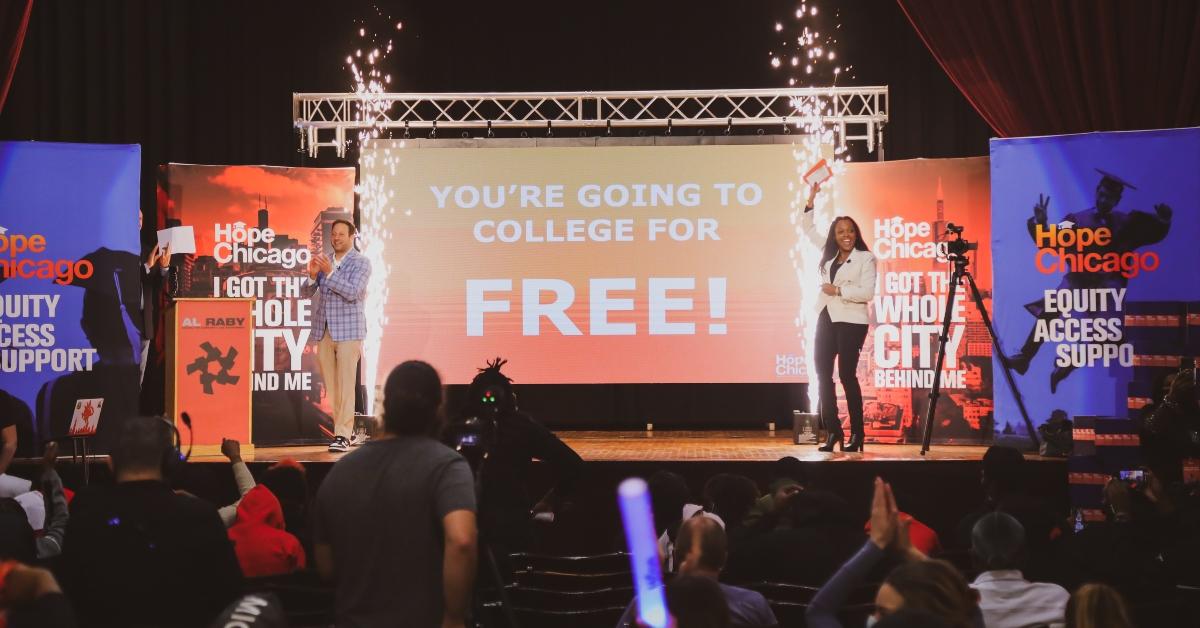 Hope Chicago Provides Free College Tuition for High School Students
In April, 4,000 students at five Chicago high schools were surprised to receive free college tuition from the non-profit organization Hope Chicago. The organization is committed to investing $1 billion in scholarships for Chicago students and their parents over the next decade. Here's more information about Hope Chicago, its free college tuition program, and how to apply.
Article continues below advertisement
What is Hope Chicago?
Hope Chicago is a non-profit organization launched in 2021 by Chicago businessmen Ted Koenig and Pete Kadens. The organization's mission is to reduce economic and social inequity by providing free college tuition to Chicago Public School graduates and their parents.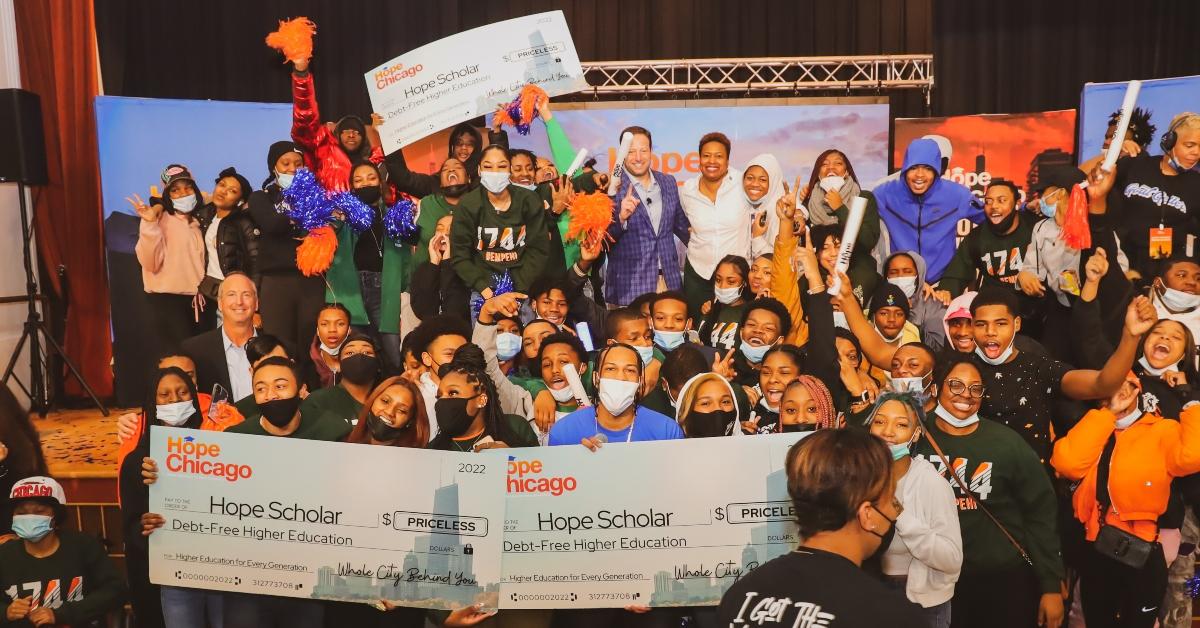 Article continues below advertisement
Kadens launched a similar program in Toledo, Ohio, in 2020. Koenig and Kadens enlisted the help of former Chicago Public Schools superintendent Janice Jackson, now CEO of Hope Chicago.
The group's goal is to provide scholarships to about 24,000 high school students and 6,000 of their family members over the next 10 years.
Article continues below advertisement
According to data from the Chicago Public Schools district, only about 67 percent of CPS students who graduated in the 2019–2020 school year enrolled in college. Research by Hope Chicago found that 90 percent of CPS 9th graders want to go to school, but high college costs are the main reason they don't attend or eventually drop out.
"Hope Chicago's unprecedented scholarship program is a tremendous opportunity for our CPS students and parents to build a path towards a successful future," said Chicago Mayor Lori Lightfoot.
Article continues below advertisement
The "multigenerational" scholarship program also provides funding for one parent or guardian in the student's family to receive free tuition to a two-year or four-year non-profit college or industry training certificate program.
"I believe that poverty is a multigenerational issue, and so we have to solve it with multigenerational options," Kadens told Crain's Chicago Business.
Article continues below advertisement
Who qualifies for a Hope Chicago scholarship?
Unlike most scholarship programs, there aren't any GPA requirements to qualify for a Hope Chicago scholarship. The program is open to all students who graduate after attending 11th or 12th grade at a partner high school.
The Hope Chicago scholarships are only available for students (and their parents) who attend one of the five Chicago high schools. The group says it hopes to add more partner high schools eventually. The current partner schools are:
Benito Juarez Community Academy in Pilsen

Al Raby High School in Garfield Park

Morgan Park High School in Morgan Park

Noble-Johnson College Prep in Englewood

Farragut Career Academy in Little Village
Article continues below advertisement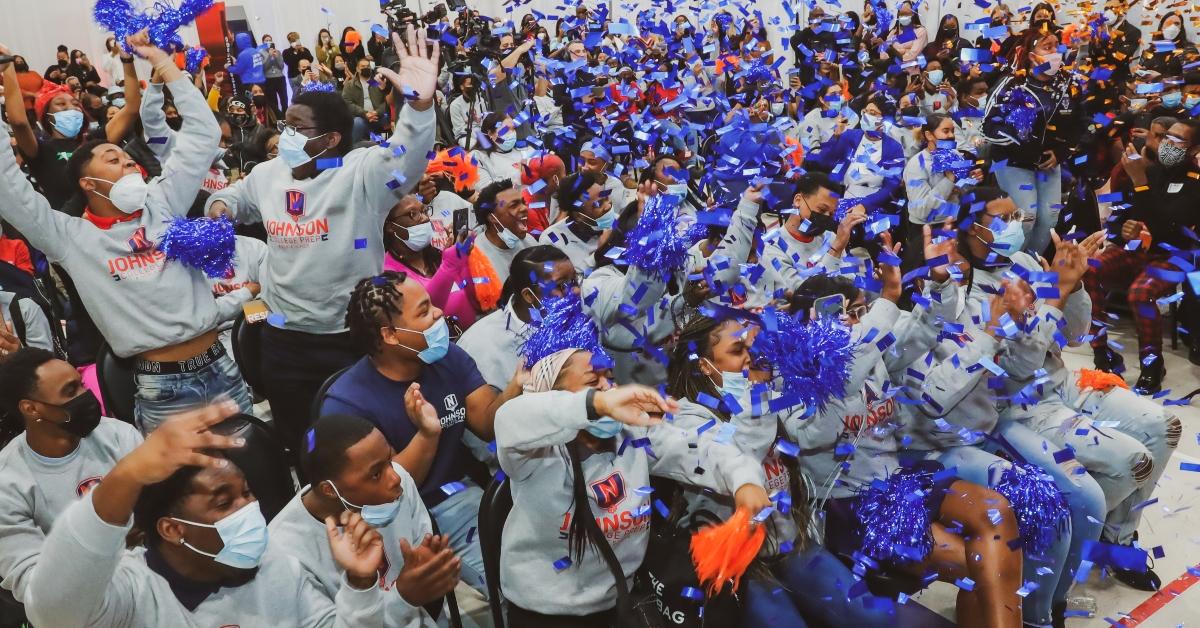 The scholarships can also only be used at the colleges, universities, and vocational schools that partner with Hope Chicago. Currently, about 20 post-secondary institutions, mainly in Illinois, partner with the group. Hope Chicago plans to expand the number of university partners in the future.
What does a Hope Chicago scholarship pay for?
Hope Chicago gives students a "gap-closing" scholarship that covers tuition as well as housing, books, fees, and surcharges. Hope Scholars also receive a laptop and a small annual stipend to cover other necessary expenses.