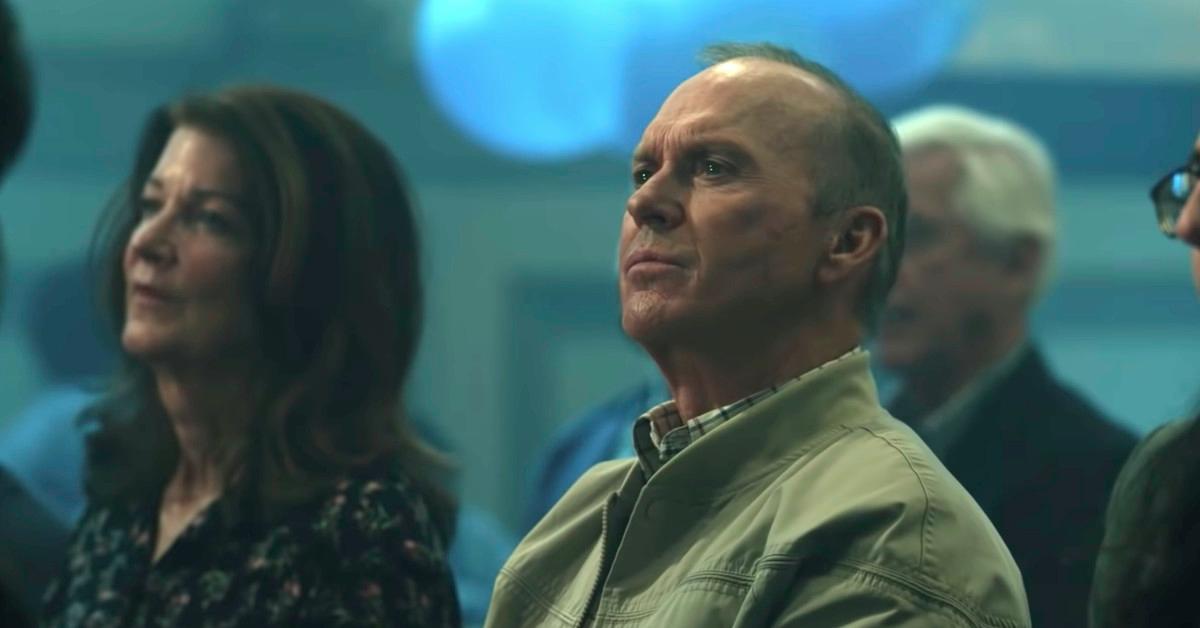 Michael Keaton Tackles the Opioid Crisis in David-and-Goliath Miniseries 'Dopesick'
Dr. Samuel Finnix isn't a real person, but he might as well be. As Rolling Stone reports, Michael Keaton's character in the new Hulu miniseries Dopesick is a fictional composite, meaning he could represent any number of doctors who have gotten caught up in the opioid crisis.
Article continues below advertisement
In the eight-part series—which premieres on Hulu on Oct. 13—Finnix is a country doctor living and working in Finch Creek, a fictional mining town in Virginia. He has doubts about OxyContin, but a sales pitch from a Purdue Pharma rep changes his mind, and he starts prescribing the opioid to his patients. "These people, my people, trusted me," Finnix confesses in the trailer. "I can't believe how many of them are dead now."
Keaton says 'Dopesick' exposes "white-collar America and its guilt"
Dopesick depicts how Purdue Pharma marketed OxyContin as being addictive to less than 1 percent of users, as the trailer shows. And in a recent interview with Parade, Keaton said Dopesick is a "David-and-Goliath story" that "shines a light on white-collar America and its guilt."
Article continues below advertisement
He went on: "If you really look at the exponential damage often done by white-collar crime, compared to some kid … a kid out in the country selling a bag of weed to maybe help pay his rent, or maybe just put a few bucks in his pocket because he wants to go see something … how do you even compare the two? And that is clearer now, I think."
Article continues below advertisement
The Oscar-nominated actor explained that he grew up outside Pittsburgh, Penn., not far from the Dopesick setting. "It doesn't take long to get really deep into West Virginia, southeastern Ohio, and way down in southwestern Pennsylvania," he said. "What you learn is, that's the hot seat of where a lot of these stories take place, but it's all over. It's upstate New York, Maine, rural, and even out here where I am, out west. It's all over."
Other 'Dopesick' stars play real-life figures
Though Keaton's character and Kaitlyn Dever's coal miner character are composites, some Dopesick cast members play well-known figures. Michael Stuhlbarg, for example, plays Richard Sackler, the former president of Purdue Pharma.
Article continues below advertisement
"The show is the trial that Purdue Pharma and the Sackler family never had," Dopesick creator Danny Strong told W Magazine. "The goal is to lay out the crime of that company and the lies of that family." (In testimony in federal bankruptcy court, Sackler said that he, his family, and Purdue Pharma are not responsible for the opioid crisis in the United States, as The New York Times reports.)
Strong also revealed that he visualized Dopesick as a story about the Sacklers before deciding to extrapolate outward. "[I] thought, this story is much bigger than just the Sackler family," he said. "The bigger story is about the institutions that are supposed to protect us from this criminal organization, who not only failed us but helped them, and in certain instances benefitted themselves. There are so many levels to it, and it's really profound."