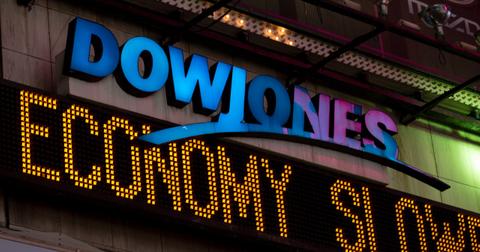 How Much Is a Dow Jones Point Worth?
By Ruchi Gupta

Updated
The Dow Jones Industrial Average, also known as the DJIA or Dow Jones, is one of the most commonly used stock market indicators. You may have heard about the Dow Jones gaining or losing a certain number of points in financial news reports. What are the points and what do they mean?
Article continues below advertisement
Happy Birthday Dow Jones Industrial Avg!! May 26, 1896: Dow Jones index begins with an average of 12 industrial stocks (closing is 40.94). Components included Chicago Gas Company, American Cotton Oil Company and General Electric $DJIA

— J.C. Parets (@allstarcharts) May 26, 2020
How the Dow Jones stock index works
Currently, the Dow Jones features 30 large companies across multiple sectors. Originally, the index tracked 12 major companies in production industries. The index's company list is reviewed regularly. During the review, some companies get dropped from the index and new ones are added.
Article continues below advertisement
As recently as 2011 Exxon was the biggest company on earth. Now it's been booted from the Dow Jones Index.
Thanks to all who have helped!https://t.co/nptSaBjeYm

— Bill McKibben (@billmckibben) August 24, 2020
Dow component companies are thought to have a significant impact on the economy. Therefore, the Dow index is one of the popular tools investors use to assess U.S. economic conditions. When the Dow gains points, the economy is thought to be doing well. In contrast, the economy is thought to be doing badly when the Dow is losing points.
Article continues below advertisement
Interesting that Dow Jones picked Walgreens and not Facebook to replace GE in the DJIA

— Felix Salmon (@felixsalmon) June 19, 2018
The Dow Jones is a price-weighted stock market index, unlike the S&P 500 index which is weighted by the market cap. Therefore, changes in Dow points reflect the changes in component companies' stock prices. Being a price-weighted index, stocks with higher prices have a greater influence on Dow point changes than those with lower prices.
Article continues below advertisement
Dow points change constantly throughout a trading day in line with changes in component companies' stock prices. In addition to points, changes in the Dow's value can also be expressed as a percentage.
How much is a point "worth" on the Dow?
In individual stock prices, a point equals $1. Therefore, when financial news reports say that Facebook stock gained or lost 10 points, they mean that the stock's price rose or fell by $10. When it comes to stock indexes like the Dow Jones, that may not be exactly the case. Investors should understand points in context when used in the stock market.
Article continues below advertisement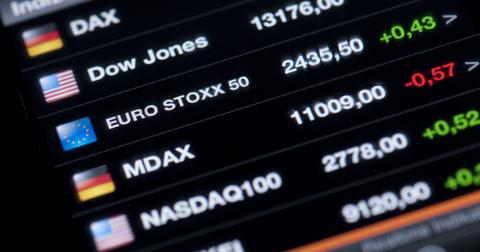 Dow Jones points do represent dollars. However, one Dow point doesn't exactly equate to $1, although that was the case in the past. The Dow Jones used to be a truly average index when it started in the 1890s. Back then, the Dow's value was calculated by adding up component companies' stock prices and dividing the sum by the number of companies in the index.
Article continues below advertisement
In the past, Dow points represented dollars in a 1:1 ratio. However, that isn't the case anymore. A special factor called the Dow Divisor is used to calculate the Dow's value instead of the number of component companies. Using a divisor for the calculation means that a single Dow point isn't exactly worth $1.
How does the Dow Divisor work?
Originally, the Dow was a simple price average. However, changes were made along the way to make the index a better stock market and economy barometer. A divisor was introduced to calculate the Dow's value in a bid to account for changes like stock splits, mergers, and spin-offs, which can impact prices. The Dow Divisor is a special number that keeps changing.
Article continues below advertisement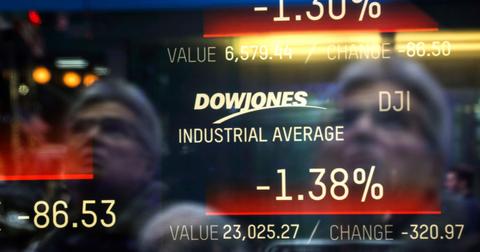 Due to using a divisor, a change of $1 in the aggregate price of Dow companies often results in a movement of several points. For example, a $100 increase in the aggregate price of Dow stocks may result in the index adding 300 points. Although Dow points represent dollars, a point is actually worth less than $1.
Since the Dow Jones index only present 30 companies, some investors think that it falls short as a complete economic barometer. Also, some investors fault the Dow as a gauge of U.S. economic conditions because many of its component companies derive a significant amount of their revenue outside the country.