President-elect Joe Biden re-drafted a climate plan this year, which ultimately gives the U.S. until 2030 to achieve some serious environmental change. Renewable energy sources are a huge part of the plan.
Article continues below advertisement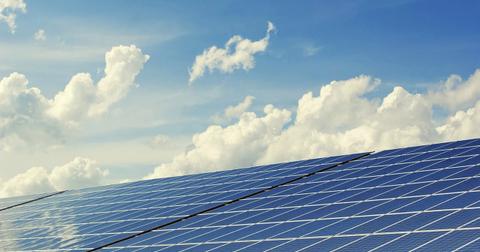 What is renewable energy?
Renewable energy is a clean energy that comes from regularly replenished sources. Last year, renewable energy accounted for about 12.5 percent of U.S. energy consumption. The primary types of renewable energy include solar and wind power. For the latter, off-shore wind is a growing interest.
Article continues below advertisement
According to the Environmental Defense Fund, methane accounts for about a quarter of today's global warming. As for what's causing methane expulsion, shale gas development isn't the only player, but it's a big one. With all that in mind, alternative and renewable energy stocks are growing increasingly popular and many have proved lucrative for investors.
What are the best renewable energy stocks?
With the global renewable energy market expected to reach a valuation of $2.15 billion by 2025 compared to a growth rate of 4.9 percent from 2018, you will want to look at these stocks.
Article continues below advertisement
The Invesco Solar ETF (TAN on the NYSE ARCA) includes a basket of solar companies. Some of them are SolarEdge Technologies, Sunrun, Enphase Energy, and First Solar. TAN has grown consistently since the beginning of the year. In fact, TAN's YTD growth rate is more than 130 percent. As of Nov. 13, TAN stocks are trading at $73.68 per share.
If you are looking for individual stocks in the renewable energy sector, here are a few to consider:
Canadian Solar (CSIQ on the Nasdaq Exchange) is currently trading at $39.42 per share. It has grown 75 percent YTD and holds a market cap of $2.34 billion. The stock is also a solid way to geographically diversify your portfolio outside of the U.S. market.
JinkoSolar Holding (JKS on the NYSE) is currently trading at $63.44 per share. Its YTD bull run of 166 percent is nothing to ignore.
NextEra Energy (NEE on the NYSE) is a wind energy company that's trading at $76.67 with a YTD rise of 28.51 percent.
Article continues below advertisement
What is alternative energy?
Alternative energy constitutes any type of power that's sourced from something besides fossil fuels. Renewable energy is a type of alternative energy, but it isn't the only kind there is. Some forms of alternative energy are hydroelectric, biomass, geothermal, ocean, and hydrogen power.
What are the best alternative energy stocks?
The Invesco WilderHill Clean Energy ETF (PBW) includes more than just solar. This alternative energy basket makes impact investing easy. The companies include Plug Power, NIO, Livent, and TPI Composites. PBW has grown more than 113 percent YTD with its shares currently trading at $74.43 per share.
If you want to pick stocks, consider these individual stocks in the alternative energy industry:
Tesla (TSLA on the Nasdaq Exchange) is the third most popular stock for Millennial investors. It's also a growth machine with a bump of more than 325 percent since Jan. 2.
Plug Power (PLUG on the Nasdaq Exchange) is a hydrogen energy stock that's currently trading at $23.45 per share. This former penny stock has been on a whirlwind bull run since the start of the year. The stock has jumped 623 percent.
Albemarle (ALB on the NYSE) is a lithium company that's currently trading at $118.64 per share. This year has been a wild ride, but overall the stock has risen 63 percent since the beginning of 2020.