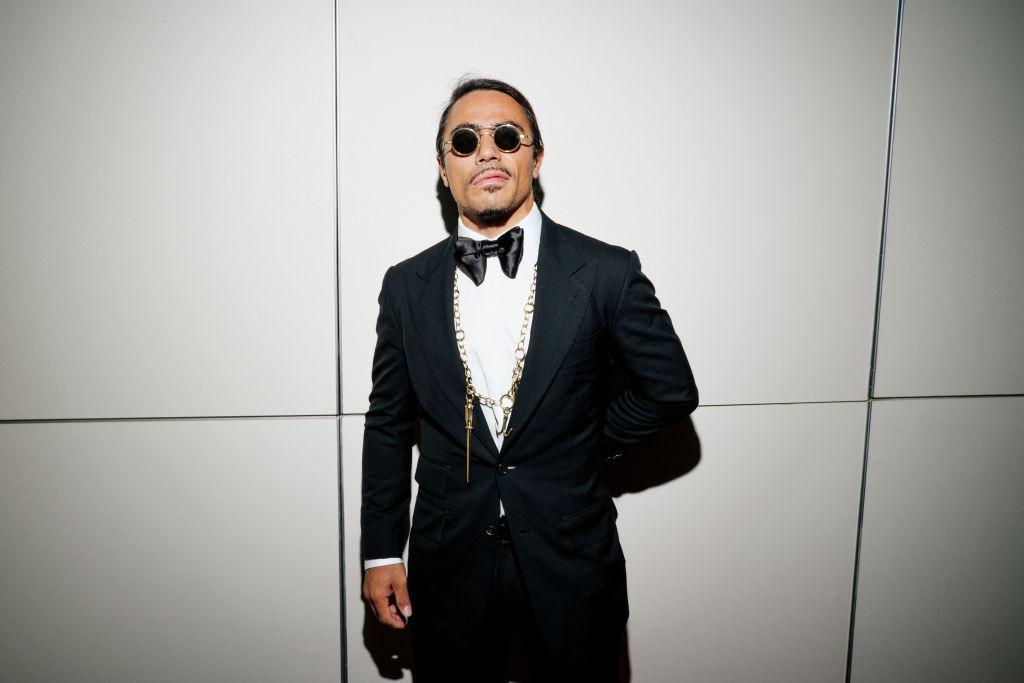 FIFA Investigating Chef Salt Bae's Appearance in World Cup Celebration
Celebrity chef Salt Bae is in hot water with FIFA after he joined the on-field celebration when Argentina won the World Cup on Dec. 18, 2022. Bae is seen in pictures holding the World Cup trophy, which is a no-no in the eyes of FIFA.
Article continues below advertisement
FIFA rules restrict who can hold the trophy to a "very select" group of people like those who actually won the trophy. FIFA is investigating how "individuals gained undue access to the pitch" and says it will take the "appropriate internal action," BBC Sport reports.
Article continues below advertisement
Who is Salt Bae, and what is his net worth?
Salt Bae's real name is Nusret Gökçe, and he's a Turkish chef who became famous to millions from a meme of him that went viral on social media and the internet in 2017. The meme, which shows Gökçe preparing a steak by sprinkling salt down his forearm, also gave him his nickname "Salt Bae."
Nusret Gökçe (Salt Bae)
Restaurateur, Chef, and Social Media Personality
Nusret Gökçe became internet-famous when a video of him preparing a steak with a unique way of sprinkling the salt went viral in 2017. The video earned him the nickname "Salt Bae." The Turkish-born chef owns the steak restaurant chain, Nusr-Et.
Age: 39
Birthplace: Erzurum, Turkey
Article continues below advertisement
According to The U.S. Sun, Salt Bae has an estimated net worth of over $48 million. Most of his wealth comes from his international steak restaurant chain, Nusr-Et.
Born in Erzurum, Turkey, Salt Bae started working as a butcher's apprentice when he was around 11 years old to help earn money for his family. His skill in preparing meat was noticed the first time he was allowed to touch a knife, his bio on the Nusr-Et website reads.
Article continues below advertisement
Salt Bae served some time in the Turkish military, and afterward, he set out to hone his craft of preparing the perfect steak. He traveled to different restaurants around the world, including Argentina and the U.S., and volunteered his time in their kitchens to gain experience.
In 2010, Salt Bae opened his first restaurant in Istanbul. Four years later, with several locations throughout Turkey, he opened his first restaurant outside of the country in Dubai. As Salt Bae's restaurants gained more notoriety, they attracted A-list celebrities. There are now about 22 Nusr-Et restaurants across the globe, seven of which are in the U.S.
Article continues below advertisement
But it's the videos that went viral in 2017 that really put Salt Bae on the map. The Jan. 7, 2017, Instagram post has racked up almost 17 million views.
Article continues below advertisement
Many criticize Salt Bae's appearance during the World Cup celebration.
After Salt Bae's appearance in Argentina's World Cup win celebration, he is going viral again. People all over social media are criticizing Salt Bae for the stunt. Videos on social media show him trying to get the attention of soccer legend Lionel Messi and holding the World Cup trophy before players who won the cup got a chance.
"Salt Bae pretending to flick salt onto the trophy is definitely the lowest point of that World Cup, including human rights," tweeted Mick Birchall.
Article continues below advertisement
"Salt Bae is hereby banned from the 2023 @opencup Final," stated the official Twitter page for the U.S. Open Cup.
"Salt Bae should be invited to more ceremonies he has nothing to do with. He'd have been great at the queen's funeral. Wrestling the coffin off the pallbearers for selfies," tweeted @Danny_McMoomins.