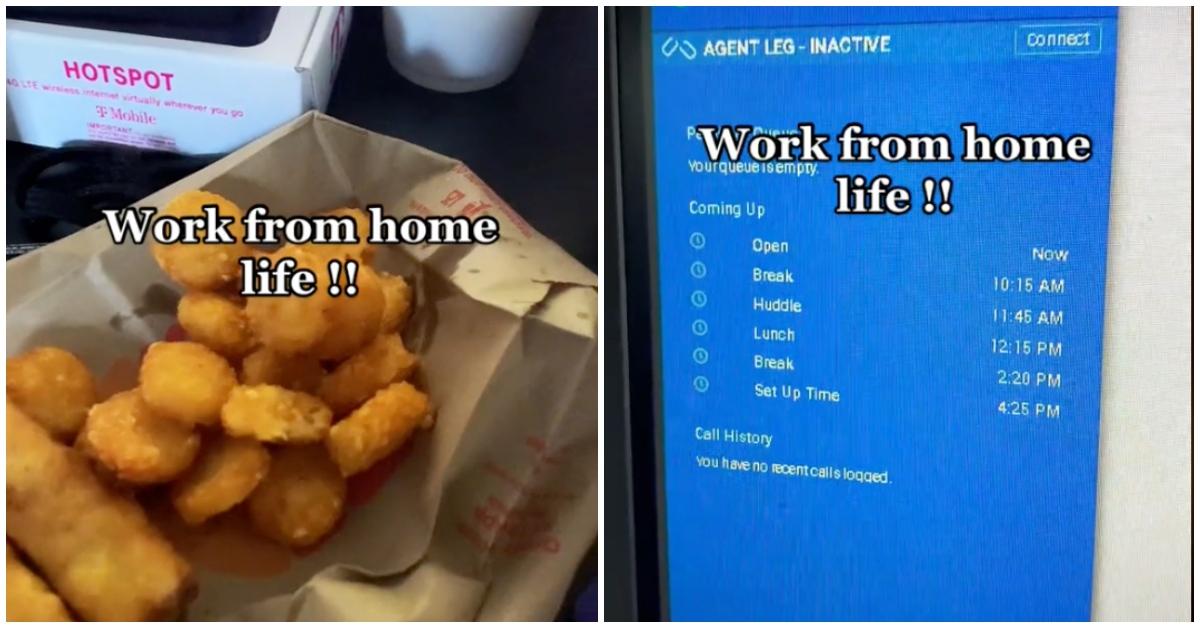 Woman Brags About Easy WFH Job on TikTok, Calls It "Free Money"
Following the COVID-19 pandemic, many are sticking with work-from-home jobs to avoid commuting and because, in most jobs, employees can get more done from the comfort of their homes.
In fact, according to a survey by Stanford, working from home increased productivity by 13 percent, and led to an increase in work satisfaction.
Article continues below advertisement
Now, a woman is going viral on TikTok after claiming her work-from-home job is basically free money.
The 15-second video has been watched more than 3,000 times so far and features a user by the name of @bbygirlchantel bragging about her current WFH situation.
TikToker claims WFH job is "not free money, but it might as well be."
Showing off her computer screen with an empty queue (and what looks like hash browns and french toast sticks from Burger King), the woman goes on to explain that she has been signed on to her job for 34 minutes and hasn't received one call.
"This is why I love working from home," she adds. "No, it's not free money but it might as well be."
Article continues below advertisement
In case you are wondering, the TikToker works in support, but didn't name her company.
"Many companies use this phone system. No we probably do not work for the same company," she wrote in the comment section. "I cannot disclose the name of my job online. We aren't able to."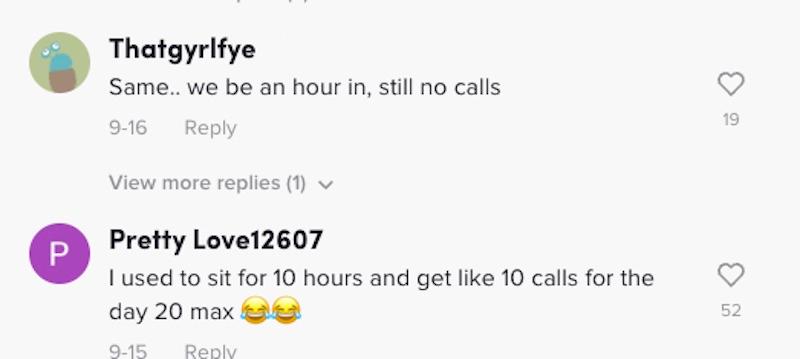 Article continues below advertisement
Others who worked doing similar jobs commented and agreed that it's definitely a stress-free career.
"I used to sit for 10 hours and get like 10 calls for the day 20 max," one person wrote before another added, "Same... we be an hour in, still no calls."
However, the TikToker did admit to getting her first call... after 43 minutes.
"Usually how it goes lol but I made it to 43 minutes before getting a call," she responded, after someone claimed making the video was going to jinx her.
Article continues below advertisement
Many on TikTok were curious how to get an easy WFH job.

It isn't guaranteed that all WFH jobs involving customer service and calls are easy. Many had the opposite experience and shared some horror stories on the social media platform.
"I need that wfh job mine calls back to back to back," one commenter shared. Another agreed, adding, "I be getting calls every 2 minutes."
A third chimed in, "Nope not my WFH job I had could never. We were taking 120+ calls a day."
Article continues below advertisement
Let's just say @bbygirlchantel is lucky when it comes to her WFH job! However, if you are looking for WFH jobs with little experience, we've got you covered!