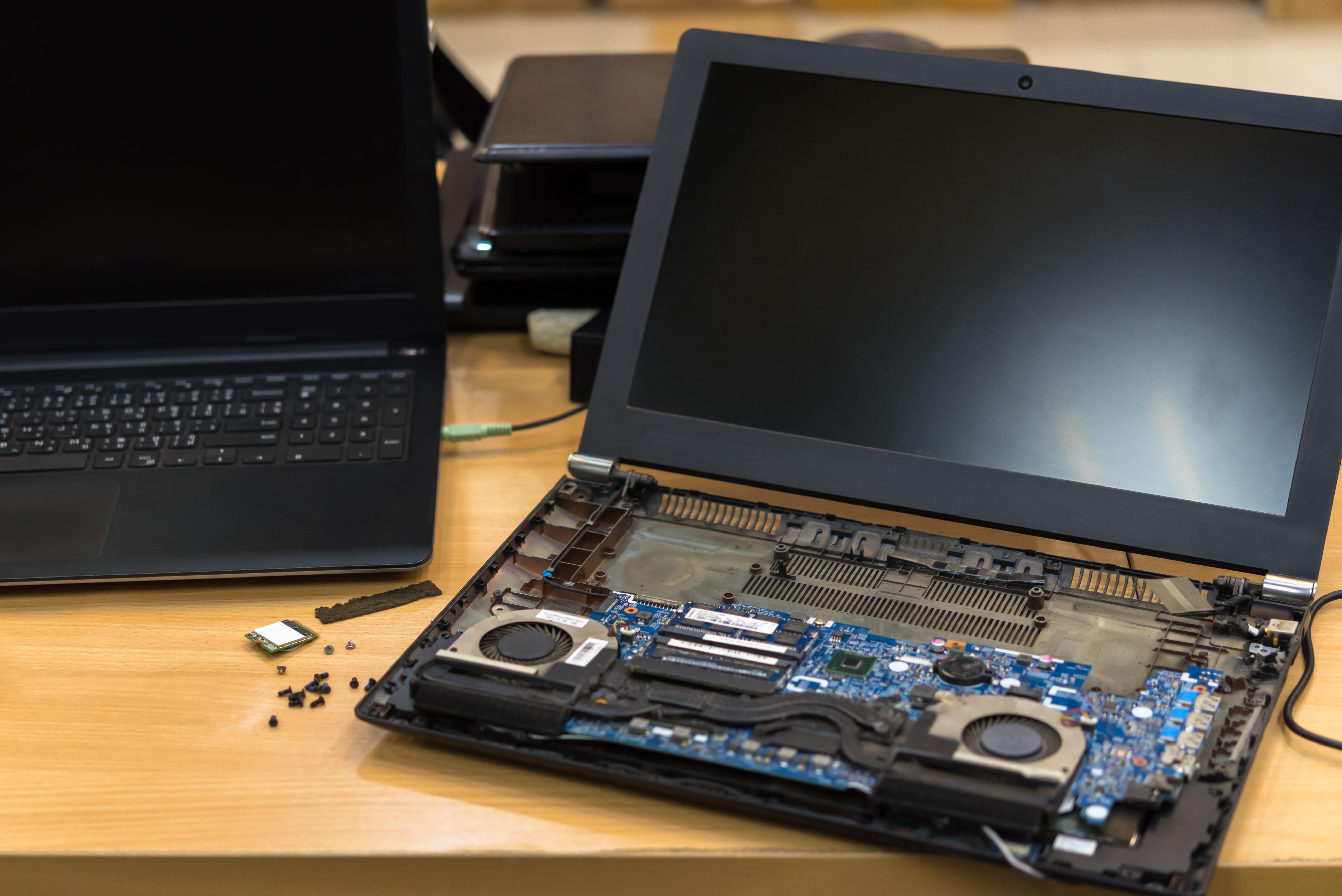 AMD Ryzen Mobile 4000 CPUs Ready to Take On Intel
Rivals Advanced Micro Devices (NYSE:AMD) and Intel (NASDAQ:INTC) had a laptop face-off at CES (Consumer Electronics Show) 2020. AMD unveiled its new third-generation Ryzen Mobile 4000 series CPUs (central processing unit) built on TSMC's 7 nm (nanometer) node. These CPUs are scheduled to hit the market on January 21. With these new CPUs, the company is looking to duke it out with Intel in the laptop space.
Article continues below advertisement
AMD has already surpassed Intel in the desktop CPU space. However, it lags Intel in the laptop CPU space in terms of performance and power optimization. It took AMD some time to convince laptop OEMs (original equipment manufacturer) to adopt Ryzen Mobile and optimize their systems. Even though AMD's management denies it, the company did benefit from Intel's CPU supply shortage, which started in the second half of 2018. As Intel failed to deliver CPUs, many OEMs switched to AMD's Ryzen, which was visible in the market share data. AMD's x86 laptop CPU market share rose from 8.8% in the second quarter of 2018 to 14.7% in the third quarter of 2019, according to Mercury Research data published by Tom's Hardware.
AMD's Ryzen Mobile wasn't even in any flagship products until last year. Hence, when Microsoft launched its flagship Ryzen-powered Surface Laptop 3 on October 2, 2019, AMD stock rose 3%. The new Ryzen Mobile 4000 series, as AMD claims, beats out Intel's 10 nm Ice Lake mobile CPUs and its latest desktop CPUs in gaming and high-performance computing.
Article continues below advertisement
AMD launches Ryzen Mobile 4000 series at CES 2020
On January 6, AMD CEO Lisa Su took the stage at CES 2020 and announced four new products. The broadest range of products was the 7 nm Ryzen Mobile 4000 series, which comprises seven CPUs. Five of these CPUs are U-series for ultrathin laptops and have lower TDP (thermal design power) of 15 watts. The remaining two are H-series for high-performance laptops and have higher TDP of 45 watts.
With the Ryzen Mobile 4000, AMD mobile CPUs underwent a generational shift from 12 nm Zen+ to 7 nm Zen 2 architecture. The new CPUs have put AMD ahead of Intel, which is still stuck on its 10 nm Ice Lake mobile CPU. A smaller process node improves a CPU's performance and reduces its power draw. AMD's Zen 2 architecture delivered a 15% IPC (instructions per clock) boost over its predecessor, Zen.
Su showed that the 7 nm Ryzen Mobile 4000 had a 124% better performance per watt than its predecessor, enabling it to offer better battery life. However, she didn't compare the battery life to Intel's CPUs. Given that AMD's previous generation lagged Intel in terms of battery life, third-party reviews will shed some light on which CPU comes out on top in that respect.
Article continues below advertisement
AMD Ryzen 7 4800 U versus Intel i7-1068G7
With the Ryzen 7 4800 U, AMD introduced eight Zen 2 cores and 12 threads in the laptop variant, which is double Intel's Ice Lake Core i7-1068G7's four cores and eight threads. Ryzen 7 4800 U has a boost clock speed of 4.2 GHz compared to the i7-1068G7's 4.1 GHz.
AMD's Ryzen 7 4800 U has a core, clock speed, and process node advantage, which makes it faster than Intel's i7-1068G7. Gizmodo, in its CES coverage, compared AMD's Ryzen 7 4800 U's performance to that of Intel's i7-1068G7 mobile CPU. The site reported that AMD claimed its CPU was over 90% faster in multithreaded workloads, which is practical given Ryzen's double core count.
AMD's Ryzen Mobile 4000 beats Intel's Ice Lake in graphics performance
Gizmodo noted that AMD claimed its CPUs are over 4% faster in single-threaded workloads and over 28% faster in terms of graphics performance. The secret behind the 28% graphics improvement is the integrated Vega GPU (graphics processing unit) inside Ryzen chips. Su highlighted that the Ryzen 7 4800 U had eight Radeon Vega graphics cores optimized for the CPU. This optimization delivered a 59% improvement over the previous generation.
Article continues below advertisement
Intel lagged in terms of GPU technology for a long time. In fact, it even collaborated with AMD in 2018 to integrate the latter's Vega GPU into its Kaby Lake G mobile platform. However, Intel ended the partnership last year after it started developing its own discrete GPU. Its first attempt was visible in the i7-1068G7, which housed its Gen 11 Iris Plus GPU. AMD's 28% faster graphics performance showed that its efforts in optimizing its Vega GPUs were successful.
According to Gizmodo, AMD exec Frank Azor compared the Ryzen 7 4800 U's graphics performance to those of Intel's ninth-generation 14 nm i7-9750H laptop CPU and i7-9700K desktop CPU. Azor noted that AMD's CPU was 39% faster than Intel's laptop CPU and 13% faster than its desktop CPU. The site also said that AMD hadn't revealed the Ryzen 7 4800 H's graphics performance—probably because it might feature a discrete GPU.
Article continues below advertisement
AMD optimizes CPU and GPU performance with SmartShift
Su talked to several tech magazines after AMD's CES event. In an interview compiled by AnandTech, she stated that AMD is striving to achieve a differentiated performance by giving OEMs features to differentiate silicon designs. AMD unveiled SmartShift technology, which dynamically balances power between CPUs and GPUs depending on the workload, thereby accelerating performance. Although this technology is in the testing phase, it improved Ryzen Mobile's performance by up to 10% in some games.
Digital Trends believes that SmartShift could differentiate AMD laptops from those that combine Intel, AMD, and Nvidia components.

AMD's strategy to expand in the laptop space
Now, the question is whether OEMs will adopt AMD's new Ryzen Mobile 4000 series CPUs. At CES 2020, Su unveiled only two Ryzen Mobile–powered laptops:
The Lenovo Yoga Slim 7 ultrathin laptop, which will be available in April for $850.
The Asus Zephyrus G14 laptop for gaming, which will be available in late March.
According to The Verge, Lenovo will offer both an AMD variant and an Intel variant of the same laptop, with some tweaks. In contrast, Asus will pair the Ryzen 7 4800HS with the Nvidia GeForce RTX 2060 GPU, reported TechRadar. The site added that Asus would launch two more Ryzen 4000–powered gaming laptops, the A15 and the A17, in late March.
Article continues below advertisement
At CES 2020, Su stated that 12 Ryzen 4000 laptop designs would launch by March, and up to 100 would launch throughout the year, up from 50 laptop designs in 2019. According to a recent Digital Trends article, AMD needs more laptop designs to become a contender to Intel in the laptop space. Laptops are a whole different ball game than desktops. Intel hasn't been innovating much on the desktop front, but it's been doing so with its laptops. Digital Trends stated that AMD has to enter more flagship laptops, such as Apple's MacBook or Dell's XPS 13, to beat Intel in the field.
Intel competition is coming
Even if laptop OEMs start adopting AMD Ryzen Mobile CPUs, Intel will release new laptop CPUs to beat the competition. According to Tom's Hardware, Intel has provided a glimpse of its 14 nm 8-core, 16-thread Comet Lake H CPU and its 10 nm Tiger Lake CPU with integrated Xe GPU (Intel's in-house discrete GPU). The company hasn't provided any details about these CPUs other than that they'll arrive in 2020. However, it has said that the integrated Xe GPU will deliver double the performance of the Gen 11 Iris Plus. Ryzen 7 Mobile CPUs are competitive with Ice Lake CPUs, which feature Gen 11 integrated GPUs.
As per AnandTech, Su said, "I'm expecting to have very stiff competition, whether you're talking about process technology, microarchitecture, or packaging technologies. I'm also expecting us to do quite well, because that's our job."
AMD eyes laptop market share in 2020 and beyond
AMD's CES 2020 announcements show that it aims to take laptop CPU market share from Intel in 2020 and beyond. It's looking to become competitive in the premium laptop segment by optimizing its CPU, GPU, and software technology. The biggest challenge for AMD in the laptop form factor is battery life. The company is working with OEMs to optimize its silicon with its design and deliver a differentiated performance.