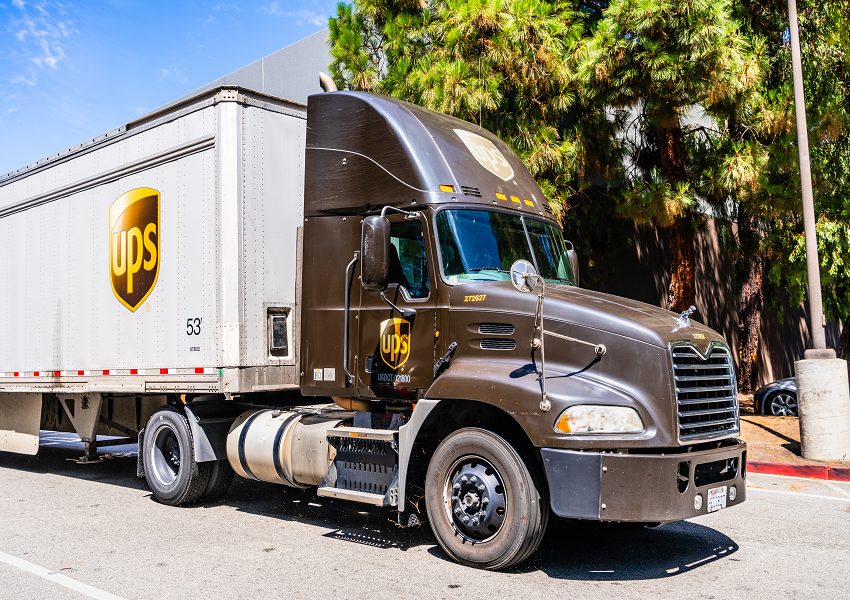 UPS Beats Q3 Earnings Estimate, Stock Falls on Revenue Miss
United Parcel Service (UPS) reported impressive Q3 earnings results this morning. UPS's adjusted Q3 earnings of $2.07 were a penny ahead of Wall Street's estimate of $2.06 and up 13.7 year-over-year. Higher revenues and efficient cost management boosted the company's Q3 earnings.
Despite robust bottom-line results, UPS stock plunged nearly 3% in the premarket trade as revenues marginally fell short of analysts' estimate. The company's third-quarter revenue of $18.32 billion missed Wall Street's expectations of $18.35 billion.
Nonetheless, quarterly revenues grew 5% on a year-over-year basis, mainly driven by higher domestic volumes. UPS's US Domestic segment's revenue surged 10% year-over-year to $11.46 billion, led by a 9% rise in total US market volumes.
Article continues below advertisement
UPS Q3 revenue in detail
The next-day service mainly drove the company's overall volume demand during the third quarter. UPS reported a 24% year-over-year increase in next-day air volumes during the quarter. The company also registered robust volume growth from B2C and B2B shipper. Retail, healthcare, and high-tech remained the prominent sectors that drove US volume.
During the UPS earnings release today, UPS chairman and CEO David Abney, said, "The investments we are making in new facilities and automation in our network, coupled with solid execution of our strategies, are producing strong results, including strong, positive operating leverage." He added, "We see significant near-term benefits to both top- and bottom-line results in the U.S. and continued momentum into the future."
UPS's International segment's revenue remained almost flat year-over-year at $3.5 billion. The company stated that it recorded "volume growth on intra-European trade lanes and virtually all Asia trade lanes except Asia-U.S." UPS's Supply Chain and Freight division's revenue fell 4.5% year-over-year to $3.37 billion due to softer trade.
Article continues below advertisement
Improved margins for UPS
UPS's adjusted operating profit grew 20.1% year-over-year to $2.19 billion. The rise was due to higher revenues and efficient cost management. The company's adjusted operating margin expanded by 150 basis points year-over-year to 12% in the third quarter.
UPS also so operating profit growth across its Domestic and International segments. In the US Domestic division, the company's adjusted operating profit grew 25.7% year-over-year to $1.24 billion, mainly driven by higher revenue. The adjusted operating margin of the division expanded by 130 basis points year-over-year to 10.8%.
The International segment's adjusted operating profit increased by 20.3% to $693 million. Meanwhile, margins grew by 320 basis points to 19.8%. However, operating profits at the Supply Chain and Freight segment fell 1.5% year-over-year to $256 million.
UPS reiterates fiscal 2019 earnings outlook
Buoyed by better-than-expected Q3 earnings results, UPS reaffirmed its 2019 outlook. UPS CFO Brian Newman said, "Positive impacts from our transformation initiatives are visible in our results." He also noted that improvements in "network efficiencies" and "new solutions" would "open more growth opportunities" for the company.
UPS still anticipates fiscal 2019 EPS to come in between $7.45 and $7.75, reflecting year-over-year growth of 3%–7%. The mid-point of the EPS guidance range is $7.60, which is higher than the analysts' consensus estimate of $7.51.
Article continues below advertisement
UPS reduced the higher-end guidance range of its effective tax rates for fiscal 2019. The company now expects an effective tax rate between 22% and 23%, instead of the earlier projection of 22%–24%. The delivery giant also raised the adjusted free cash flow expectations. It now anticipates generating a free cash flow of over $4 billion, higher than the previous guidance range of $3.5 billion–$4 billion.
Peers' performance
UPS's Q3 earnings results are contrary to its arch-rival FedEx's (FDX) quarterly performance. FedEx had reported dismal first-quarter fiscal 2020 results last month. The company's revenues and earnings not only missed analysts' estimates but also declined significantly year-over-year. FedEx revealed that a global trade and production slowdown really hurt its Q1 2020 results.
Some of the major logistics companies will report their third-quarter results in a few weeks. Analysts' expectations for the majority of logistic companies suggest that the global trade slowdown will hurt their financials.
Analysts expect XPO Logistics' (XPO) Q3 revenues to decline by 1.5% year-over-year. However, they expect XPO's EPS to rise by 16.9%. For Old Dominion Freight Line (ODFL), Wall Street expects revenues and earnings to remain almost flat year-over-year. While XPO will report its Q3 results on October 28, ODFL plans to report on October 24.