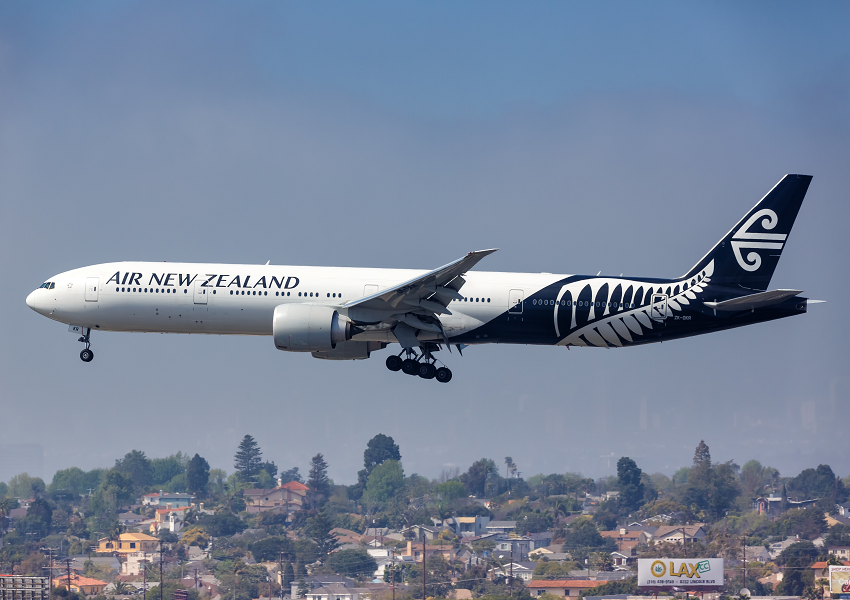 Boeing: Eight Dreamliner Orders from Air New Zealand
Air New Zealand announced this morning that it had signed a deal with Boeing (BA) to buy eight 787-10 Dreamliner planes, according to Reuters. It took almost four months for Air New Zealand to confirm the orders.
The New Zealand–based air carrier announced in late May that it would buy eight Dreamliners. In a May 26 report, Reuters revealed that Boeing had beat out its rival Airbus in a hotly contested deal. The transaction was valued at $2.7 billion at list price. Airbus had proposed its wide-body A350 jets to Air New Zealand.
Article continues below advertisement
Air New Zealand is a longtime buyer of Boeing 787 Dreamliner variants. The airline already owns 13 Boeing 787-9 Dreamliner models equipped with Rolls-Royce Holdings engines. However, New Zealand's flagship air carrier is facing frequent troubles with its Rolls-Royce jet engines. Therefore, this time, it's asked Boeing to provide General Electric's (GE) GEnx-1B engines to power the 787-10 Dreamliner aircraft.
With its latest transaction with Boeing, Air New Zealand intends to boost its fuel efficiency by replacing eight older 777-200ER fleets with new Dreamliners. Per the agreement, Boeing will ship its first 787-10 Dreamliner in late 2022. The company will deliver the remaining aircraft in intervals through 2027.
Article continues below advertisement
Boeing 787 Dreamliner
The 787 Dreamliner series planes are Boeing's long-haul, midsize, wide-body aircraft. The company manufactures three variants of the series: the 787-8, 787-9, and 787-10. The variants' seating capacities range from 248 to 336 in a two-class configuration. Boeing claims that its Dreamliners are 20%–25% more fuel-efficient than its older models such as the 777 and 767.
Boeing started the production of the Dreamliner in 2007, and the first smaller-model 787-8 made its first flight in December 2009. The next successor, the 787-9 Dreamliner, made its first flight in September 2013, followed by the largest 787-10 model in March 2017.
Since the launch of the Dreamliner program in 2007, Boeing has received total orders for 1,464 jets as of August 31. As of August's end, it had delivered 882 aircraft, bringing its total order backlog for Dreamliners to 582.
Customers for Boeing's 787 Dreamliner series include major US carriers American Airlines (AAL), United Airlines (UAL), and Air Lease Corporation (AL). American Airlines has placed orders for 67 Dreamliners, of which it's received 42 as of August's end. United has ordered 64, of which it's received 46 as of the same date. Boeing has received 53 Dreamliner orders from Air Lease Corporation. It's shipped 22 of these aircraft as of August's end.
Article continues below advertisement
Wide-body aircraft orders
Boeing desperately needed new deals for its wide-body planes, as orders for its narrow-body 737 MAX jets have been frozen since mid-March. Airlines around the world halted orders for MAX planes after the model experienced two deadly accidents in a short span of time. The 737 MAX has been facing a worldwide flying ban since mid-March.
Boeing 737 MAX accounts for approximately 70% of total commercial jet orders. Therefore, the dried-up orders for MAX aircraft are hurting the company's overall aircraft orderbook. Between January and August, Boeing's firm orders stood at net -85 planes. Its net orders were also negatively affected by the cancellation of 200 MAX orders by India's bankrupt Jet Airways.
On the other hand, the company has won several orders for its wide-body aircraft this year. From January to August, Boeing has received 98 orders for its wide-body planes. The aircraft manufacturer's 787 Dreamliner series jets received the most orders at 52 aircraft. The 767 and 777 series got orders for ten and 36 airplanes, respectively, in the first eight months of 2019.
Continued order wins for wide-body aircraft reflects that global airlines still rely on Boeing despite its ongoing MAX troubles. The uncertainty over the 737 MAX's return still looms. The delay in regulatory approval cost Boeing billions of dollars in compensation costs to MAX customers, a lower production rate, and increased storage and maintenance costs. Therefore, wide-body aircraft orders are crucial for Boeing to ensure incremental cash flows, revenue, and earnings.
Stock performance
The ongoing MAX crisis has weighed on Boeing's YTD (year-to-date) stock performance. At the start of 2019, the stock was riding high on its optimistic outlook for higher aircraft orders and incremental output, revenue, earnings, and cash flows. However, following the Ethiopian Airlines crash on March 10, its outlook dimmed.
Since March 10, Boeing stock has fallen approximately 10.8%. Since its MAX crisis, its YTD return has eroded to 16.9% from about 31% as of March 8. Before the Ethiopian Airlines tragedy, Boeing stock was the top performer among its Dow Jones 30 peers. However, it's now slipped to the 16th spot.
The stock has underperformed the US iShares Aerospace & Defense ETF (ITA), which is up 31% YTD. The ETF's portfolio constitutes companies engaged in the manufacturing, assembling, and distribution of aerospace and defense equipment.
Correction: Due to a typographical error, an earlier version of this article suggested that Air New Zealand already owned 130 Dreamliners instead of 13.