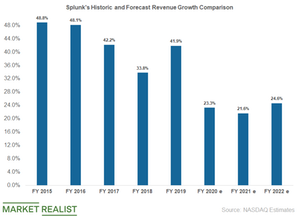 Why Splunk Fell 5.4% despite Earnings Beat
Stock declined despite earnings beat
Splunk (SPLK) announced its first-quarter results (year ending in January) yesterday. It reported sales of $425 million with adjusted EPS of $0.02. Splunk reported sales of $311.6 million and EPS of -$0.07 in the prior-year quarter. Wall Street estimated the company to post sales of $396.0 million and EPS of -$0.14.
Splunk's sales rose by an impressive 36% YoY in the first quarter. In the second quarter, Splunk estimates sales of $485 million. This is again above Wall Street estimates of $479.4 million. It has also forecast sales of $2.25 billion in fiscal 2019, marginally higher than analyst estimates of $2.22 billion.
Article continues below advertisement
Article continues below advertisement
So why did Splunk stock fall over 5% despite earnings and revenue beat?
It is likely that investors booked a profit, which resulted in a drop for Splunk stock. Splunk stock has lost close to 7% this month. Despite the recent pullback, Splunk stock is up 23% in 2019.
PE multiple
Splunk stock is trading at a forward PE multiple of 57.2x. Comparatively, its EPS are expected to rise by 44% in 2020 and by 34% in 2020. Its earnings are expected to rise at a compound annual growth rate of 35.0% in the next five years. Though the stock still looks overvalued considering its PE multiple, it is supported by a robust growth rate.
Upside potential
Splunk stock has increased at an annual rate of 22% in the last five years. In comparison, its sales rose at a compound annual growth rate of 43.0% while earnings rose by an impressive 86.0%.
Out of the 43 analysts covering Splunk, 33 recommend a "buy," ten recommend a "hold," and none recommend a "sell." The average 12-month target price for Splunk stands at $151.66, indicating an upside potential of 18% from its current price.