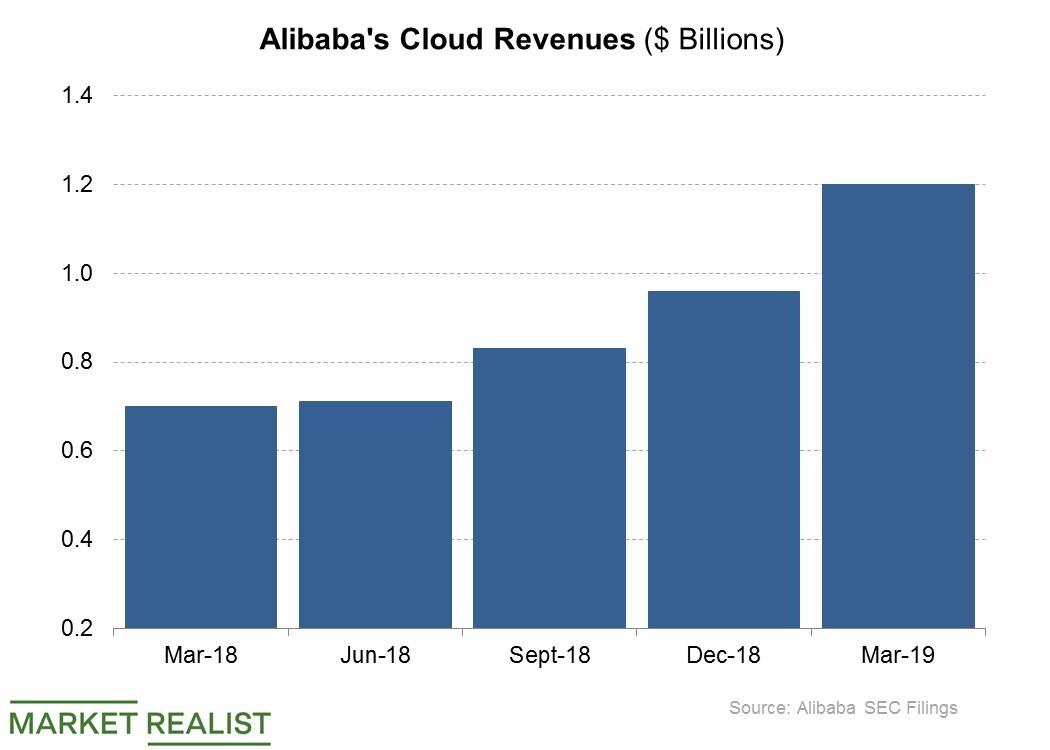 What's in the Cloud Market for Alibaba?
Alibaba's cloud revenue jumps 76%
More than $180 billion is up for grabs in the global cloud computing market this year, and Alibaba (BABA) is one of the major contenders for this revenue opportunity. In the race for cloud dollars, Alibaba has identified the competitive pricing of its cloud products as a major competitive tool.
In an investor briefing document released this month alongside its fiscal 2019 fourth-quarter earnings results, Alibaba said that it was leveraging scale to lower costs and passing those cost-saving benefits on to its cloud customers. As a result, customers are able to purchase more cloud products from Alibaba, driving up its cloud revenue.
Alibaba's cloud revenue increased 76% YoY (year-over-year) to $1.2 billion in the fourth quarter, with the company saying that the growth had been driven by increased average spending per customer.
Article continues below advertisement
Fastest-growing major cloud company
The 76% increase in its cloud revenue made Alibaba the fastest-growing major cloud vendor in the quarter. Amazon (AMZN) and Microsoft (MSFT) recorded cloud revenue growth of 41% and 73% YoY, respectively, in their comparable quarters. Cloud revenue fell 2.0% YoY at IBM (IBM) in the quarter. Google (GOOGL) currently doesn't break out its cloud sales, but its revenue jumped 23% YoY in the segment that houses its cloud business.
According to Gartner estimates, $182.4 billion will be spent on cloud services in 2019, with spending rising to $331.2 billion in 2022. Alibaba seems to have some advantages in the battle for cloud dollars, as it leads in Asia, the fastest-growing cloud region, according to Research and Markets.