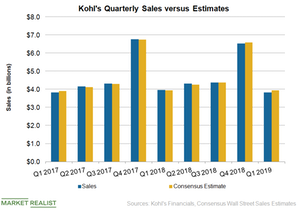 What Dragged Kohl's Sales Down in the First Quarter?
Headwinds in the first quarter
After six consecutive quarters of same-store sales growth, Kohl's (KSS) disappointed investors by reporting a 3.4% decline in its same-store sales in the first quarter of fiscal 2019, which ended on May 4. Kohl's net sales declined 3.3% to $3.82 billion and came in behind analysts' estimate of $3.94 billion.
Kohl's blamed three factors for its poor sales performance: unfavorable weather, soft sales in the home merchandise category, and lower-than-desired results from key promotional events. Unfavorable weather led to a high-single-digit decline in the company's spring seasonal goods.
Merchandise categories that performed well in the first quarter included children's, men's, and women's, while home and footwear failed to impress. Kohl's digital sales rose by high single digits in the first quarter.
Article continues below advertisement
Article continues below advertisement
Kohl's sales forecast
Kohl's now expects its fiscal 2019 same-store sales to be flat to slightly down following weakness in the first quarter. The company expects softness in sales to continue in the second quarter and a return to growth in the second half of fiscal 2019, backed by its strategic initiatives.
Kohl's expects the roll-out of its Amazon returns program to all its stores as a key driver of customer traffic. The company is also expecting its sales to benefit from several brand launches, including the launch of Nine West and Scott Living. Kohl's plans to launch shoes, handbags, and an exclusive line of apparel for the Nine West brand in fall 2019. The company has partnered with Jonathan and Drew Scott to launch an exclusive home lifestyle collection called Scott Living this fall.
Kohl's is also adding many brands to its beauty business, and it intends to roll out the pilot of its new beauty concept to 11 additional stores.
However, an uncertain macro environment and growing competition from online and discount retailers might continue to act as headwinds for Kohl's sales growth.