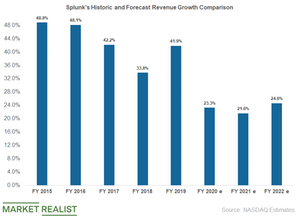 What Are Splunk's Key Revenue Drivers?
Strong portfolio of products
Splunk (SPLK) is banking on its enviable portfolio of products and solutions to drive its revenue growth. In the first quarter of fiscal 2020, Splunk's software revenue rose 54% to $265 million and accounted for 62% of its total sales.
During the company's earnings call, CEO Doug Merritt stated, "Our Data Stream Processor and Data Fabric Search products complements Splunk Enterprise to deliver the next generation Splunk platform that works against a vastly expanded data landscape. Data Stream Processor accesses, analyze and transforms vast amounts of data in motion, in real time and routes it to multiple destinations."
Splunk's Data Fabric Search helps customers to perform complex analytics functions against huge data sets stored in Splunk Enterprise and other proprietary platforms.
Article continues below advertisement
Article continues below advertisement
Increasing customer base
Splunk won a contract with Chipotle whereby the latter used products to increase sales by deriving insights from its mobile application orders and rewards program. Chipotle managed to increase its digital sales by 100% in its last quarter.
Madrid-based El Corte Inglés is one of the largest department stores in the world and has expanded the use of Splunk Enterprise. LATAM Airlines has also expanded the use of Splunk Cloud to better monitor its website and customer applications in order to resolve customer issues, improve ticketing processes, and increase revenue.
Other notable wins for Splunk include Slack, Cerner, and Brink. Splunk added 400 new enterprise customers in the first quarter, bringing its total customer base to 18,000. While Splunk continues to gain new customers, the company is also able to successfully expand deployments (on-premises and in the cloud) for existing customers.
These factors have led Splunk to increase its revenue outlook for 2020. Splunk expects sales of $2.25 billion in 2020, up from its previous guidance of $2.20 billion.