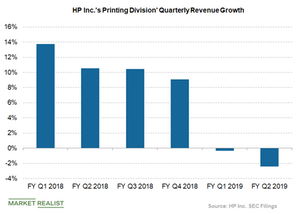 Weak Supplies Continue to Pull Down HP's Printing Revenues
Printing business performance
HP's (HPQ) printing business has not been doing well for the past few quarters. The printing business revenue growth has been declining for the past five quarters on a YoY basis. In the second quarter of fiscal 2019, HP's printing revenue declined 2.4% YoY to $5.12 billion. Total hardware units dropped 4% YoY due to a decline in both commercial and consumer hardware units by 3% and 4%, respectively, in the quarter. Supplies net revenue also declined 3% YoY in Q2 2019. Currency didn't impact the printing or supplies business in the quarter.
Article continues below advertisement
Article continues below advertisement
HP's high-margin printer supplies revenue remained sluggish in the quarter, especially in the EMEA (Europe, the Middle East, and Africa) region. During the first quarter, the company had forecasted the HP printer supplies revenue to remain weak and decline 3% throughout 2019 due to soft demand in the EMEA region.
Efforts to revive the business
HP is making efforts to improve its supplies business, primarily in the EMEA region. In Q2, the company has increased both its brand protection activities and online marketing. The company is also focusing on growing its contractual businesses. For instance, HP won several large Managed Print Service contracts in the quarter to provide a comprehensive portfolio of solutions and services, including A3, DesignJet and PageWide products.
The company is also progressing in the 3D Printing business and has expanded its portfolio with the newly launched and most advanced Multi Jet Fusion systems to date, the Jet Fusion 5200.