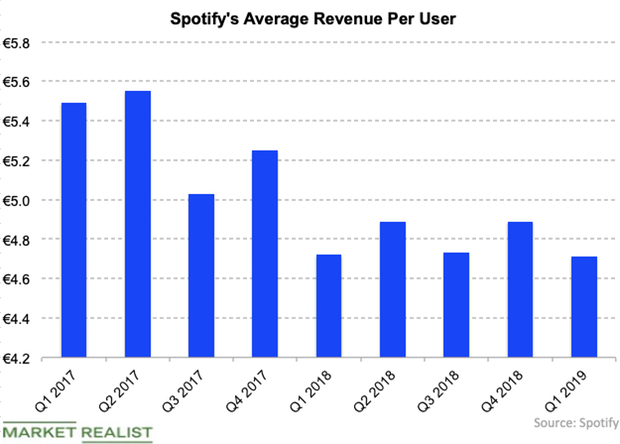 Spotify's Average Revenue per User Continues to Decline
Spotify made 4.71 euros per user in Q1
Spotify's (SPOT) average revenue per user (or ARPU) has been declining over the past several quarters. The company said that it had an ARPU of 4.71 euros in the first quarter of 2019 compared to 4.89 euros per user in the fourth quarter of 2018 and 4.72 euros in the first quarter of 2018.
The main reason behind this decreasing ARPU is that the music streaming giant has been providing more and more promotions. Additionally, its student and family plans, which have helped it grow, have pushed down the ARPU, as they are available at a steep discount when looked at on a per-user basis. However, the company is not concerned about the declining ARPU. Spotify thinks that users of these plans are very sticky in the long term and lead to a much lower churn.
Article continues below advertisement
Most of Spotify's users are based in the US and Europe
The company said that the decline in its ARPU has been due to shifts in product and geographic mix. Spotify expects a low single-digit decline in its ARPU for the rest of the year.
65% of the company's users and 70% of its subscribers are based in North America and Europe, which are lucrative regions. Unlike other Internet companies, Spotify's users are mostly based in developed markets, where it can make more money per user both by charging a higher subscription rate per user as well as by eking out more revenue from advertisers.
For example, Spotify charges $9.99 a month to its users in the US, while in India, where income is much lower, it charges subscribers only 119 rupees (or $1.71) per month.