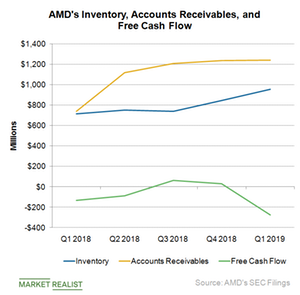 Should Investors Worry about AMD's Negative Cash Flow?
AMD's EPS
Most semiconductor companies' first-quarter earnings hit two-year lows as weak economic demand impacted their revenue and profit margins. Advanced Micro Devices (AMD) was not immune to this weakness and reported non-GAAP (generally accepted accounting principle) EPS of $0.06 in the first quarter, down 45.5% YoY.
Article continues below advertisement
Cash flow
AMD increased its inventory by $110 million sequentially to $955 million in the first quarter. The majority of the inventory is from new products, which the company plans to launch in the second quarter. Low-profit margins, higher inventory, and the timing of the receivables pushed AMD's operating cash flow into the red at -$213 million in the first quarter. Adding a capital expenditure of $62 million resulted in a FCF (free cash flow) of -$275 million in the first quarter.
The first half of the year has been tough on AMD's cash flows, as the company spends a huge amount on product ramp-up. The company's cash flows in the second half of the year should be strong as it realizes seasonal revenue. The company expects to report positive FCF for the full-year 2019.
Cash and debt position
AMD reduced its debt by ~$400 million from $1.7 billion in the first quarter of 2018 to $1.36 billion in the first quarter of 2019. Its gross leverage reduced from 3.4x to 1.8x as it lowered its debt and increased its EBITDA (earnings before interest, tax, depreciation, and amortization). At the end of the first quarter, it had cash reserves of $1.2 billion, resulting in net debt of around $160 million.
AMD has significantly improved its balance sheet and is well-positioned to withstand a short-term headwind.
Check out all the data we have added to our quote pages. Now you can get a valuation snapshot, earnings and revenue estimates, and historical data as well as dividend info. Take a look!