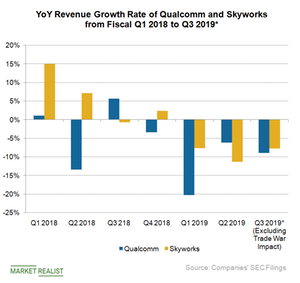 Qualcomm and Skyworks Hardest Hit by Huawei Ban
Huawei ban
The US-China trade war has resulted in the involvement of governments in private companies' business. Back in 2018, Qualcomm (QCOM) was caught up in the trade war as China used the Qualcomm-NXP Semiconductors acquisition as a means to negotiate with the United States. The end outcome was Qualcomm withdrawing from the NXP deal.
Now, Huawei is caught up in the expanding trade war. In mid-May, the US Commerce Department placed Huawei and its 70 affiliates in the "Entity List," which means US firms will have to secure licenses in order to transfer or ship technology to Huawei. This move has significantly impacted Huawei as it depends largely on US firms for components used in 5G (fifth generation), mobile phones, and laptops.
Even though the ban will be technically implemented on August 19, many US chip companies have halted shipments to the Chinese firm. Huawei has challenged the ban in the US court stating that the ban is based on speculation and not on evidence.
Article continues below advertisement
Article continues below advertisement
Qualcomm and Skyworks hardest hit by Huawei ban
In The Art of War, Sun-Tzu said, the one "who wishes to fight must first count the cost." Some of the cost of the trade war is being paid by the US semiconductor industry. The VanEck Vectors Semiconductor ETF fell 14.3% in May. Qualcomm and Skyworks (SWKS) have reported the biggest declines of more than 23%.
Qualcomm licenses its technology and also supplies chips for Huawei's high-end smartphones. Qualcomm has been receiving a licensing fee of $150 million every quarter from Huawei as part of its licensing settlement. Analysts expected that the 5G technology would help Qualcomm increase its licensing revenue from Huawei to $500 million.
However, Qualcomm's licensing opportunity from Huawei will be postponed until the trade war settles. Moreover, Qualcomm earns 65% of its revenue from China and more than 10% from Huawei. The trade war will bring significant declines to Qualcomm's earnings this year.
Skyworks earns more than 80% of its revenue from China as it supplies connectivity chips to the world's second-largest smartphone maker, Huawei. Its biggest customer is Apple, which earns 20% of its revenue from China. Both Qualcomm and Skyworks will be impacted by slowing end demand from China and the exclusion of sales from Huawei.