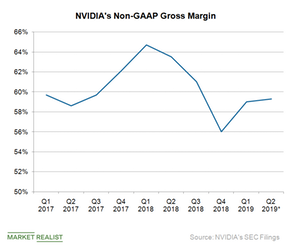 NVIDIA's Gross Margin Hit by Weaker Product Mix
NVIDIA's profitability
NVIDIA (NVDA) has the most advanced GPU (graphics processing unit) technology, which helps it command a higher price for its GPUs, thereby increasing its ASP (average selling price).
A major contributor to NVIDIA's gross margin is its product mix. The gross margin of the data center and professional visualization business is higher than the company's average of ~60%, whereas those of the game console Tegra SoC (system on chip) and crypto-related GPUs are lower.
Article continues below advertisement
Article continues below advertisement
NVIDIA's gross margin
In the first quarter of fiscal 2020, NVIDIA's non-GAAP (generally accepted accounting principle) gross profit fell 37% YoY (year-over-year) to $1.3 billion, or 59% of its revenue. This 37% decline was driven by a 31% YoY decline in revenue and a weaker product mix. The company saw a decline in higher-margin data center GPUs and a surge in mid and low-range gaming GPUs.
On a sequential basis, NVIDIA's gross profit rose 6%, as a $128 million charge from dynamic random-access memory boards and other components (which had affected its previous quarter's gross profit) was absent in the quarter.
In the second quarter of fiscal 2020, NVIDIA expects a non-GAAP gross margin of 59.5%. On NVIDIA's fiscal 2020 first-quarter earnings call, its CFO, Colette Kress, stated that its gross margin would benefit from 15% sequential revenue growth, which would be partially offset by a weaker product mix that's skewed toward the lower-margin Tegra SoC for the Nintendo Switch.