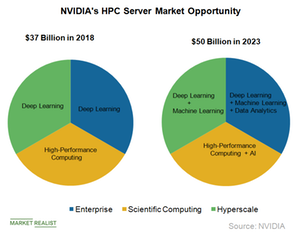 NVIDIA's Data Center Revenue: Inference, Rendering, and Edge
NVIDIA's data center growth drivers
The US-China trade war has created demand uncertainty, especially in the tech industry. Many hyperscale data centers purchased in advance of the trade war to avoid tariffs, and this change in purchase patterns impacted NVIDIA's (NVDA) and Intel's data center revenue. However, NVIDIA saw strong demand in the inference, enterprise and edge server, and render segments.
Article continues below advertisement
Article continues below advertisement
Inference
More hyperscalers are using NVIDIA's T4 for their inference workload. During NVIDIA's fiscal 2020 first-quarter earnings call, CEO Jensen Huang stated that inference revenue grew both YoY (year-over-year) and sequentially and accounted for double-digit percentage growth in its data center revenue during the quarter.
He explained that CSPs[1.cloud service providers] are using NVIDIA's T4 offering to accelerate inference models that support conversational AI, which consists of three components—speech recognition, natural language understanding, and text-to-speech. The computing flexibility offered by NVIDIA's T4 allows CSPs to run almost any type of inference model.
Edge computing
Huang stated that after CSPs' successful adoption, NVIDIA brought T4 inference to enterprise and edge servers. He explained that data sovereignty issues, data privacy issues, and quick-response scenarios have created a strong need for edge computing. Therefore, NVIDIA launched T4 edge servers in the middle of the first quarter of fiscal 2020 and partnered with major OEMs[2.original equipment manufacturers] to make them available to enterprises.
The T4 servers are optimized to run NVIDIA CUDA-X AI acceleration libraries. Huang believes that the growing amount of data and adoption of data analytics by several companies across different sectors could drive T4 demand through fiscal 2020.
Rendering
Huang stated that NVIDIA has unveiled the RTX Server, which packs 40 GPUs[3.graphics processing units] into 32 servers and is optimized for rendering, remote workstations, and cloud gaming workloads. He stated that leading studios such as Disney and Pixar are adopting NVIDIA's RTX servers.